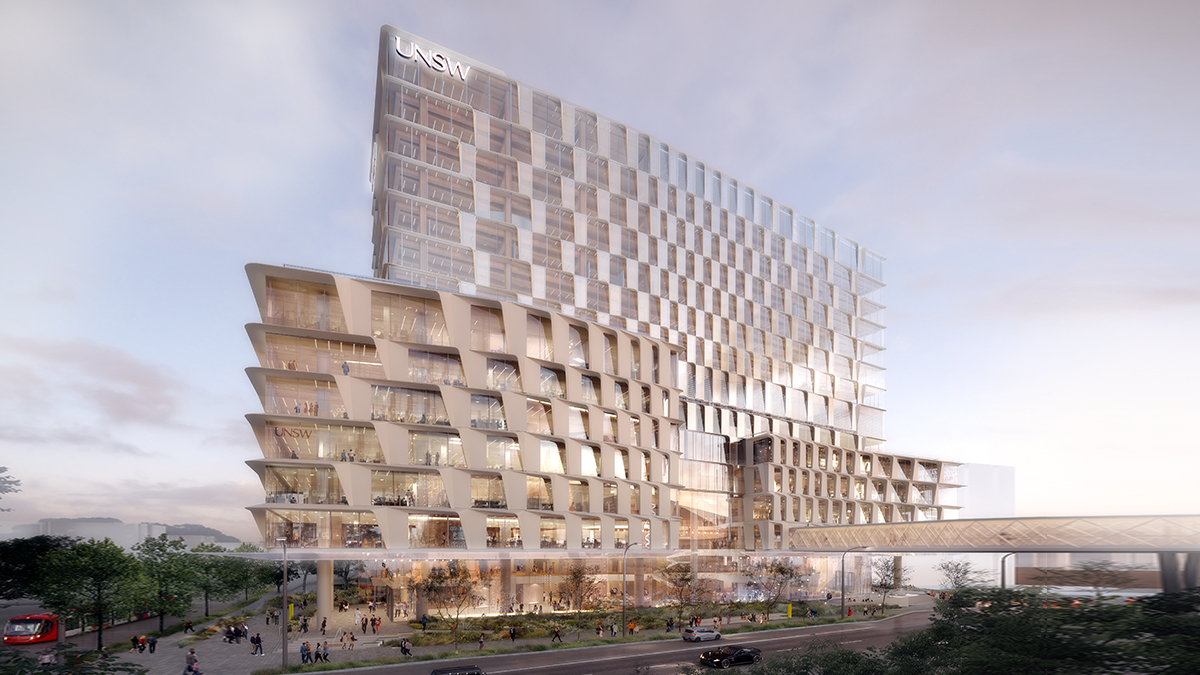 Former UNSW President and Vice-Chancellor, Professor Ian Jacobs, said the approval is an exciting milestone in a collaboration that has been decades in the making.
UNSW Sydney has secured the State Significant Development Approval for the UNSW Health Translation Hub (UNSW HTH) for a dedicated 15-storey, 35,600 square metre clinical health, education and research building.
A significant project for UNSW, the UNSW HTH will integrate health education, training and research with acute healthcare services, directly benefiting patients, carers and the NSW community. UNSW's expansion into the Randwick Health & Innovation Precinct is on track to be completed in 2025.
Professor Ian Jacobs welcomed news of the development approval.
"This is an exciting milestone in a visionary collaboration, decades in the making. We are one step closer to bringing together academics, clinicians, industry partners and public health officials with the shared goal of advancing health outcomes locally and further afield," Prof. Jacobs said.
"This development will improve health in NSW and Australia while also achieving physical and working integration between the hospitals and the new Health Translation Hub. It will elevate us to the forefront of health research and education internationally.
"UNSW has had teaching hospital affiliations on the Randwick Hospitals' Campus for nearly 60 years. This new building and our commitment to major investment in the precinct will take our partnership to a new level."
Located on the corner of High Street and Botany Street, the UNSW HTH includes:   
Purpose-built spaces for researchers, educators and industry partners to work alongside clinicians
Education, training and research rooms
Clinical schools and ambulatory care clinics
Food and beverage retail along with supporting amenities including allied health services
Space for community and cultural events
Publicly accessible open space for the community
Pedestrian prioritised pathways, including bridge links, to easily connect to UNSW's Kensington Campus and the broader Randwick Hospitals Campus.
UNSW Estate Management has managed the development process and has worked with some of Australia's leading consultants including Architectus, Aspect Studios, Yerrabingin and Arup to develop the Health Translation Hub. The UNSW HTH has been developed to support the acceleration of improved health services for communities locally and globally. The UNSW HTH is not just a building but instead a place which will drive UNSW's vision to realise future health benefits.
The new UNSW Plaza, with 2500 square metres of publicly accessible open space, will help to create an engaging and welcoming place for staff, students, patients, community and industry partners who are attracted to research, learn, work and socialise.
The UNSW HTH will sit adjacent to the Sydney Children's Stage 1 and Children's Comprehensive Cancer Centre building. These two buildings will accompany the Acute Services Building (ASB), currently in construction, to expand the Randwick Health & Innovation Precinct. UNSW has approximately 5000 square metres of space in the ASB which will promote the physical and working integration between UNSW and the Hospital.
Comments