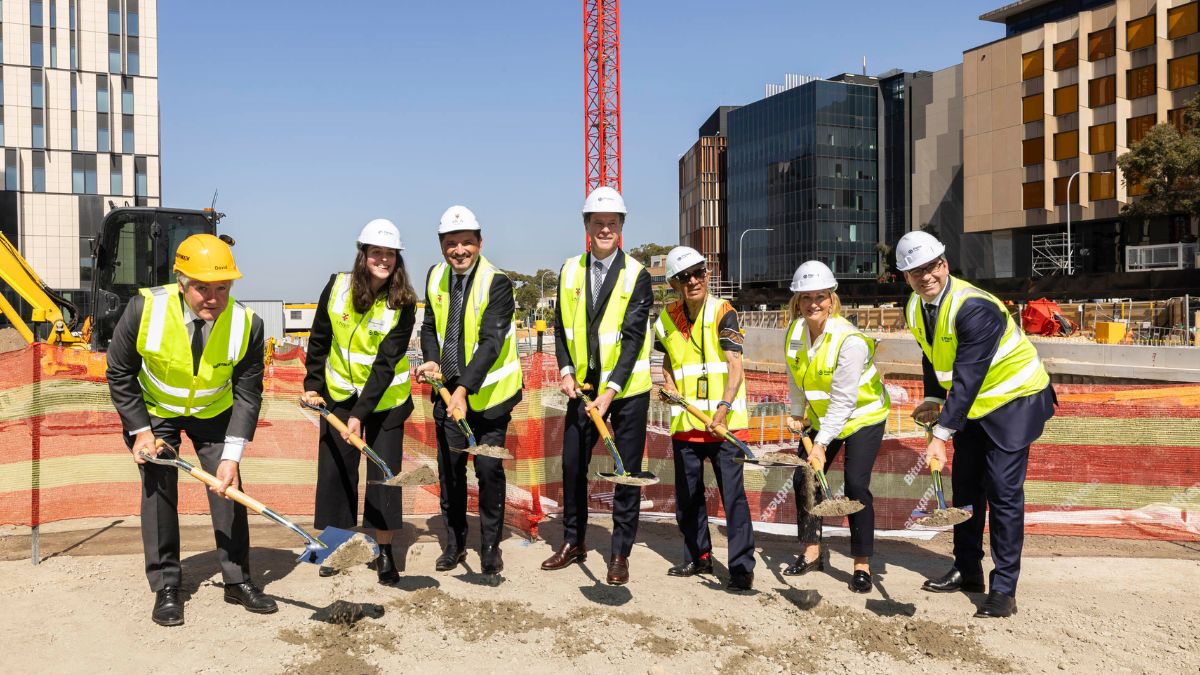 Major work is underway on the $600 million UNSW Health Translation Hub.
The Health Translation Hub (HTH) is one of the marquee developments within the Randwick Health & Innovation Precinct. NSW Premier the Hon. Chris Minns joined UNSW leaders, Plenary Health and partners to mark the official start of major work. 
The HTH will bring together educators, researchers, clinicians, industry partners and public health officials to drive excellence and support the rapid translation of innovative research and education into improved patient care and better community health outcomes. 
UNSW's newest facility will be situated adjacent to the new Prince of Wales Hospital Acute Services Building and will include direct connections to UNSW's Kensington campus and the future Sydney Children's Hospital Stage 1 and Minderoo Children's Comprehensive Cancer Centre. It will enable seamless integration with UNSW and the four Randwick hospitals, putting the precinct at the forefront of international health research and education. 
Opportunities to increase energy efficiency and reduce energy consumption have been incorporated in every stage of the design. Targeting a 6 Star Green Star rating, it will be the first building in NSW and only the second in Australia to achieve such a rating under the new Green Building Council of Australia scheme. 
An expansive 2,500 square metres of north-facing open public space will help to create an engaging and welcoming place for staff, students, patients, industry partners and the public. 
"Medical research is an essential part of providing world-class healthcare," Premier Minns said. "This project will enable the rapid translation of research and education into improved patient care and better community health outcomes. We look forward to seeing this collaboration come to fruition."
UNSW's Provost, Scientia Professor Vlado Perkovic said the UNSW HTH will realise the University's aspiration to improve health by working in close partnership with the leading healthcare institutions within the precinct, building on more than 60 years of partnership and teaching hospital affiliations. 
"Healthcare is ripe for transformation," Prof. Perkovic said. "Through our dynamic collaborations with government, industry and academia, we will catalyse and drive breakthrough innovations and address our future healthcare needs." 
The long-term development partnership involves the Plenary Health consortium funding, developing and operating the 35,600-square-metre facility, supported by an initial 20-year commitment from UNSW to occupy 65% of the available space. The remaining space is available to industry, providing a unique opportunity for like-minded partners to co-locate with the University and within the multi-hospital precinct. 
Construction is due to be completed in 2025. 
Photo credit: Ken Leanfore. From L to R: David Beslich, Co-Chairman and Executive Director, Hansen Yuncken; Ms Anna Danyushevsky, UNSW student and Chair of the Randwick Health & Innovation Precinct Student and Early Career Reference Group; Scientia Professor Vlado Perkovic, UNSW Provost; the Hon. Chris Minns MP, NSW Premier; Uncle Vic Simms, Bidjigal man and respected Elder from La Perouse; Dr. Marjorie O'Neill MP, Member for Coogee; and Mr Sergio Calcarao, Managing Director Origination, Plenary Health.
Comments