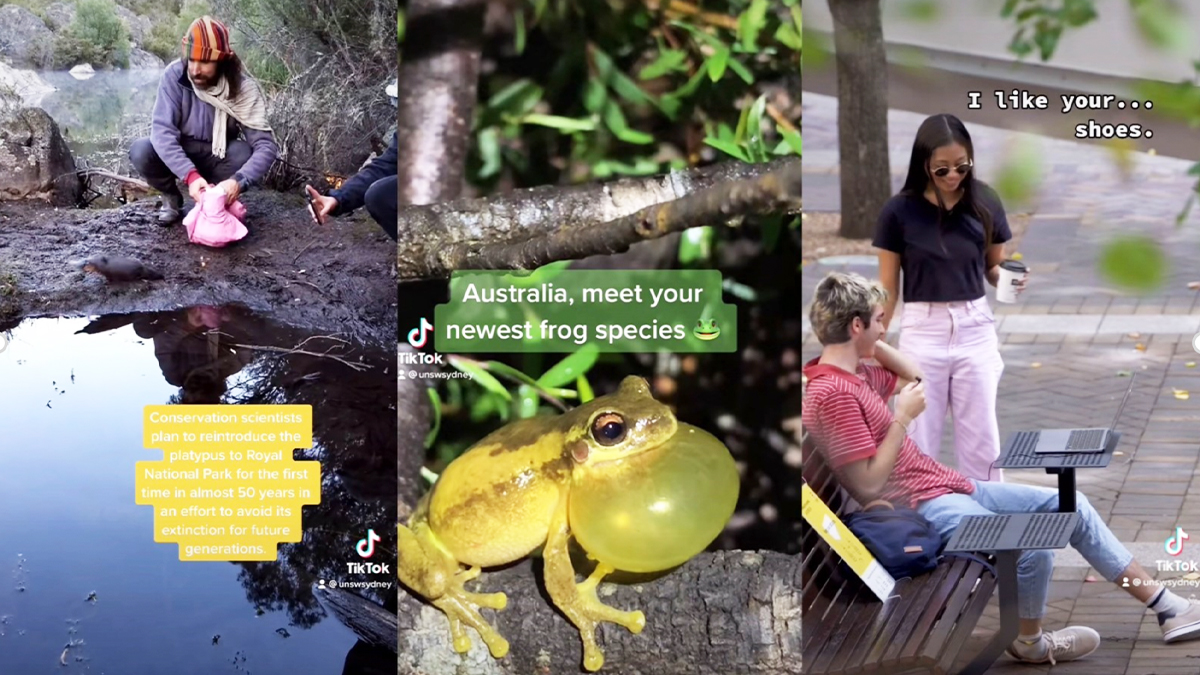 UNSW leads the way in the future of higher education social media. 
UNSW Sydney has reached one million engagements on TikTok – the first University in Australia and New Zealand to do so. With over eight million views across 150 videos, UNSW is leading the way in a new, more authentic way to talk to students on social media. With TikTok rising to power as a mainstream social media platform in late 2019, the UNSW Social Media Team suspended Snapchat in place of the new medium, recognising the unique potential to engage with future students and identify an opportunity to reveal a side of UNSW that the community hadn't experienced before. 
The account launched with a focus on comedy, student talent and personal stories but the strategy has since shifted to also focus to educational content that supports the work of academics and researchers across the University. 
From top videos featuring a platypus being released into a river, to the discovery of a new species of frog, to asking students on campus if they want to be friends, UNSW makes use of its vast community of students, academic experts and researchers to inform content across a range of themes and trends. However, it's nothing like any other social media platform, says Mitch Lamm, the Social Media Coordinator tasked with running the account at UNSW. 
"If you're tackling TikTok the same way as you're approaching other channels, you're doing it wrong. TikTok content needs to be built with the audiences' distinctive expectations of the platform in mind. The audience here is extremely savvy when it comes to recognising when they're being advertised to, so much so that a brand has to actively work to build trust with the user and convince them of the non-marketing nature of their content."  
Jack Breen, Social Media Manager at UNSW says the platform has allowed the University to take a more fun and human approach to engaging with future students, noting the distinct tone of voice on TikTok compared to other platforms. 
"TikTok is the only platform where I'd allow the intentional misspelling of words in a caption. Things like shortening 'you' to 'u' so we can jump in on a trend, or using all-caps to exclaim and drive excitement – these simple tactics all help present UNSW as authentic, relatable and approachable." 
As more Universities launch their presence on TikTok, the team at UNSW say they are only just getting started. 
"We see huge potential in TikTok," says Mitch, "not only as a means by which we can elevate our brand and connect with future students, but also in the digital medium of short-form video which clearly resonates with younger people, generally. Short-form video allows us to really make use of a huge range of content from academics in the field and make that research not only accessible but also fun and easy to understand for young and curious minds." 
Follow UNSW on TikTok @unswsydney
Comments