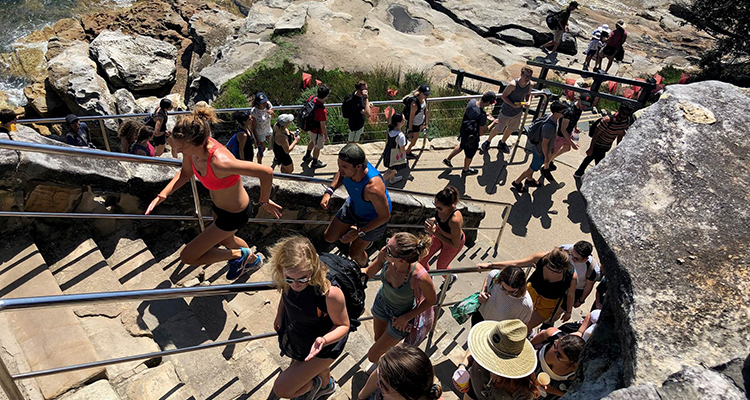 A progressive approach to tailoring Study Abroad & Exchange student timetables has led to significant growth in enrolments at UNSW.
The new Study Abroad program, redesigned for UNSW3+, saw a 36% growth in year-on-year enrolments – representing the biggest growth in the program's 30-year history.
The new academic calendar timing aligns well with many semesters around the world, however inbound Study Abroad & Exchange students usually require four courses which isn't possible in a single term. The Study Abroad & Exchange team devised an innovative solution and with tremendous faculty and central support created two Tailored Terms for inbound students: 
Tailored Term 1 combines one course from the Summer Term with three courses from Term 1

Tailored Term 3 combines one course from Term 2C with three courses from Term 3
Students also have the option to take Term 3 with the Summer Term (matching some European calendars that run from October to March), or Terms 1 and 2 together, allowing students to take four, five or six courses.
Partners in the US and UK have hailed this solution as "progressive", "flexible" and "industry changing". 
Tailored Terms have proven a hit with Study Abroad students, especially those from the US, with 92% of Study Abroad students coming from the United States in the first half of 2019. The program also attracted students from Norway, Finland, Denmark and Canada. Feedback indicates that Tailored Term 3 will be popular with European institutions. 
As part of the new program, the Global Education team organised an extensive orientation and social program to help the students integrate into the UNSW and Sydney lifestyle, as well as the opportunity to meet other students from around the world. This included a survival guide to on-campus resources open in January, an orientation with Indigenous dancers welcoming the students to country, and two weekend walks – one from Bondi to Coogee, and the other across the iconic Sydney Harbour Bridge and around The Rocks.
The students studied courses from across all Faculties, with a huge 134 Study Abroad & Exchange students taking MSCI0501 "The Marine Environment" and another 122 studying ATSI1011 "Indigenous Australia", showing a real interest in the Australian environment and culture. Business attracted students to 14 courses, while Engineering majors enjoyed learning topics including Artificial Intelligence and Finite Element Methods.
The Study Abroad & Exchange team continues to work with all faculties to increase course offerings in the January and August intensive tailored terms, essential for continued growth in the program.
Comments