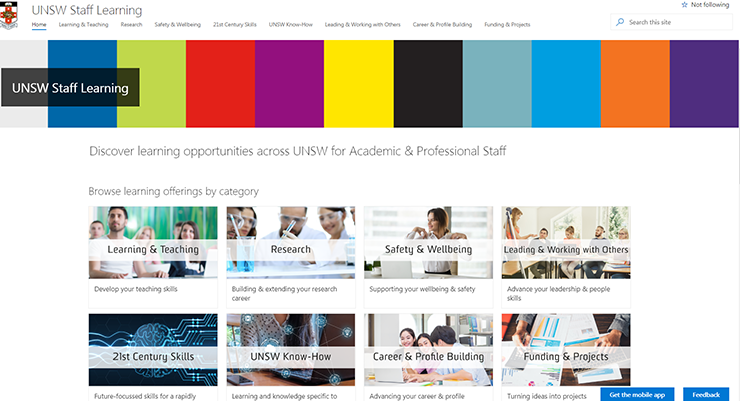 Discover more than 100 high-quality training sessions, seminars and online courses available to UNSW staff to build and diversify your skillset.
UNSW HR has announced the launch of the UNSW Staff Learning Portal; a new central SharePoint site that brings staff development offerings available across UNSW together in one place.
Staff are now able to browse through the range of high-quality offerings from faculties and divisions, including content on career development, teaching, research, safety and wellbeing, and leadership. These learning opportunities are available in a variety of formats, with face-to-face training, seminars and online courses all available. The UNSW Staff Learning Portal makes it quick and easy for staff to browse through the extensive offerings available and links them to the various UNSW sites for registration details or to find out more.
The Portal will be especially useful during myCareer discussions, as conversation leaders and individuals can use the Portal to explore specific courses and programs which support career development.
The Staff Learning Portal will be updated throughout the year as new offerings and sessions are made available by the relevant faculty or division.
Comments