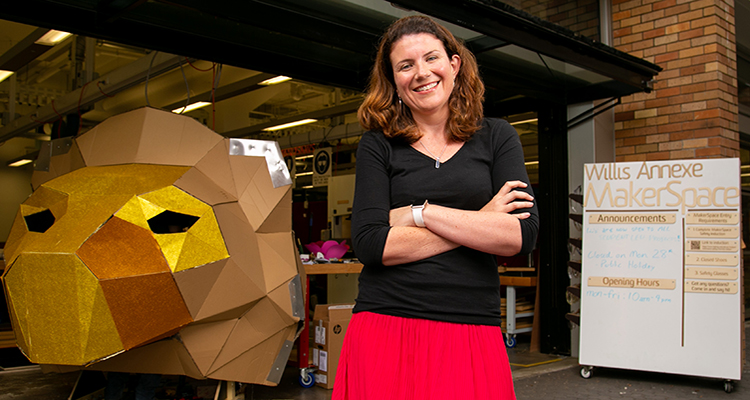 Associate Professor Lucy Marshall shares her thoughts on why she took on the role of academic lead for the Athena SWAN Program and what she hopes to achieve.
Q: What prompted you to take on the role of academic lead for the Athena SWAN Program?
Last year, I was appointed Associate Dean (Equity and Diversity) in the Faculty of Engineering. Through this role I have seen how impactful local practices and policies can be in addressing gender equity and inclusivity. It is incredibly rewarding to be working to further equity practices at UNSW, and to be learning from others who are working in this space. I was also really excited about the opportunity to work closely with the fabulous staff and students I had met in the Athena SWAN Self-Assessment Team (SAT).
Q: Now that UNSW has won the Athena SWAN Bronze Award what happens next?
The Bronze Award application developed a comprehensive action plan that outlines key areas of action for gender equity on campus. Now, the SAT will move to help implement this plan. We will identify gaps and opportunities in the action plan so that we can prioritise activities, as well as monitor and review progress. Immediately, we are developing a business case so that we can formalise the implementation phase and ramp up activities.
Q: As the academic lead for the Athena SWAN project what do you hope to achieve during your term?
I am keen to see the implementation phase of Athena SWAN unfold. The action plan has a bold vision for gender equity on campus and has identified some critical tasks for the coming year. I am looking forward to working with the SAT to implement and refine these priorities.
Q: Will you and the Athena SWAN Self-Assessment team work closely with UNSW's Diversity Champions, particularly the Gender Champions (A/Prof. Janelle Wheat and A/Prof. Adrienne Torda)?
Absolutely! While the Science in Australia Gender Equity (SAGE) Research Group Athena SWAN program is focused on gender equity in STEMM disciplines, it is clear that the action plan is relevant to all faculties, and both professional and academic staff. I think the program will be a vital element of developing and promoting gender inclusive practices across campus, and I am really looking forward to working to support the Diversity Champions vision.
Q: What do you see as the key challenges for the year ahead?
I think it will be key to identify practices and initiatives that are sustainable over the long-term. I think this is an exciting time at UNSW as the 2025 Strategy has refocused our commitment to equity and inclusivity. However, we want to ensure our successes are lasting, and that gender equity is firmly embedded across the scope of our teaching, research and engagement and professional activities.
Q: How can staff and students get involved?
The Athena Swan Self-Assessment Team has representatives from every faculty, therefore if staff or students have feedback, suggestions, or concerns about the action plan they can discuss these with their faculty SAT members. When considering gender equity more broadly at UNSW, students and staff can nominate themselves for their faculty's Equity, Diversity & Inclusion committee or working group, join the Gender Champions working group, seek out student societies that promote gender equity, or look for mentoring opportunities. To ensure gender equity is a cornerstone of UNSW's culture, everyone can and should get involved.
The Athena SWAN Pilot Program at UNSW, led by Associate Professor Lucy Marshall, further embeds the University's commitment to gender equity and diversity, and aligns strongly with the 2025 Strategy. More information is available on the Workplace Diversity website.
Comments