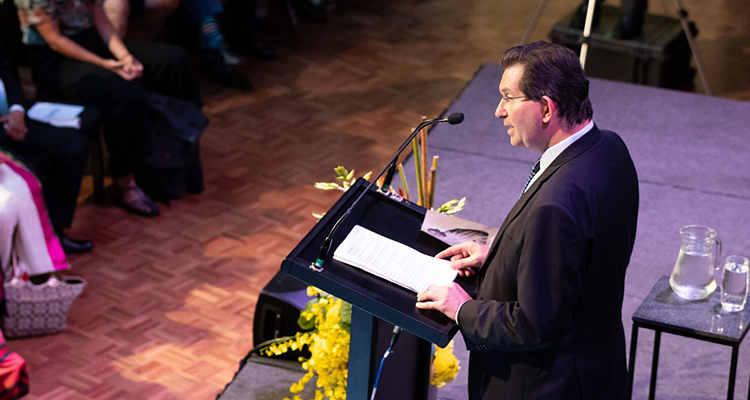 Dear colleagues
Congratulations to all members of the UNSW community whose achievements were recognised in the 2019 Australia Day Honours. The list of UNSW recipients illustrates the breadth of impact which UNSW people make in so many fields, from medical research and science to human rights, community work, education, and the arts. 
It was gratifying that UNSW Deputy Chancellor, Ms Jillian Segal, was appointed Officer of the Order of Australia (AO). Staff from several faculties received honours: Scientia Professor Helen Christensen, Professor Peter Schofield and Professor Kate Moore from the Faculty of Medicine; Professor Andrew Pitman from the Climate Change Research Centre in the Faculty of Science; Ms Ann Gabrielle Madden from the Faculty of Arts & Social Sciences; and Visiting Fellow at the Faculty of Law, The Honourable Margaret Ackary Stone, were appointed Officers of the Order of Australia (AO). Overall, the broader UNSW community (including current and former staff, board members, supporters) had two appointments as Companions of the Order of Australia (AC); eight appointments as Officer of the Order of Australia (AO); 14 appointments as a Member of the Order of Australia (AM) and eight recipients of the Medal of the Order of Australia (OAM). Congratulations to all on this important recognition.
As we start O-Week and Term 1 of our new UNSW 3+ calendar, I would like to take this opportunity to again thank everyone who has contributed to the smooth transition to 3+. It has been no easy task implementing such a major shift but the hard work and goodwill of staff right across the university has ensured that our new calendar is a success and will achieve its intent to deliver greater flexibility and choice for our students. Too many staff have been involved to name everyone individually but the leadership of Shane Griffin and the members of the UNSW3+ team deserve a special mention.
As an early Christmas present, in late December the Tertiary Education Quality and Standards Agency (TEQSA) renewed UNSW's registration for the maximum seven-year period. The report from the TEQSA Commission particularly highlighted UNSW's strong commitment to both quality assurance and improvement and increasing participation of under-represented groups of students. This is the culmination of two years of work and fantastic recognition of the contributions of staff across Faculties and Divisions. Special thanks to the TEQSA Program Board chaired by Professor Geoff Crisp and the TEQSA Project Team led by Sarah Dunbar and, of course, Merlin Crossley who oversees UNSW's registration and compliance.
As many of you will know, Professor Laura Poole-Warren stepped down from the role of Pro Vice-Chancellor (Research Training) and Dean of Graduate Research at the end of 2018 to return to research. In these roles, Laura established UNSW as a leader in higher degree research, spearheading a number of innovative research training programs, including the flagship S25 Scientia Fellowship and PhD Scholarship initiatives. Laura also played a key role in our success at UNSW in achieving a Bronze award in the SAGE/Athena Swan process. Laura's stellar contribution to leadership in research at UNSW has had an enormous impact and is greatly appreciated. Continuing this strong legacy, I am delighted to announce that Professor Jonathan Morris has been appointed the new Dean of Graduate Research from January 2019. Jonathan will lead the strategic direction of higher degree research to drive UNSW's overall research performance through innovation in research training and by attracting and nurturing outstanding HDR candidates at UNSW. Thank you, Laura, and congratulations, Jonathan.
I was delighted to be able to announce last month that after an extensive international search, Professor Anthony Kelleher has been appointed as Director of the Kirby Institute. Anthony was a close colleague of the Kirby Institute's inaugural Director, Professor David Cooper, who passed away last year. Anthony is an accomplished academic and clinician in the field of immunology and HIV research, with a long career in various leadership roles across the Kirby Institute, UNSW Sydney and St Vincent's Hospital. David Cooper's legacy is in exceptionally good hands.
An important appointment process is underway for UNSW's inaugural Provost. The Provost will have responsibility for our Faculties and our service enhancement team. This is an important step for the University, reflecting the growth in scale, complexity and ambition of UNSW. I look forward to announcing the appointee later in the year.
January brought some important milestones for our campus redevelopments. The Nucleus Student Hub in the Library is ready for the return of students, as is the new Science and Engineering Building on lower campus which, for the first time, brings together the Schools of Chemical Engineering, Chemistry, Arts and Media, Learning Environments and the Mark Wainwright Analytical Centre. The extensive upgrades on the Electrical Engineering Building southern wing have also recently been completed, making way for many new staff. My thanks to the Estate Management team and all of the faculties involved in these projects, for your patience and input. I hope you all enjoy your new spaces.
It was a pleasure to welcome the Reverend Tim Costello to a packed Roundhouse on Wednesday night to deliver the 2019 UNSW Gandhi Oration, themed Justice in Action. Tim's reflections on his career, on faith and on many of the most pressing issues facing the globe were considered and reflective of his signature wisdom. His presentation carried forward our tradition of inviting a distinguished human rights and social justice campaigner to campus at the beginning of each year to mark India's Martyrs' Day. I thoroughly recommend watching Tim's oration if you missed it last night. It will be available online later this week.
From 19-21 February, UNSW will be co-hosting the Times Higher Education Research Excellence Summit Asia-Pacific, themed research for the public good.  All UNSW students and staff will have access to a livestream of the event, which will cover a range of issues in higher education in our region, including the rise of China's academic recruitment power, regional innovation and commercialisation agendas, research and sustainable development, energy and renewables, and the impact of Brexit on Australia. Details on how to access the livestream are available in this edition of Inside UNSW. You can read the program here.
Finally, thanks for the positive feedback on the mention of my new puppy, Jamie, in my last Inside UNSW message. There were a few requests for a picture – so here is a picture of my first meeting with Jamie, and another of Jamie, Chris and me enjoying the beach!
Best wishes,
Ian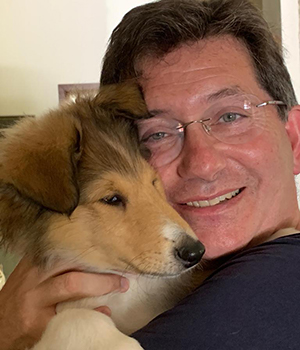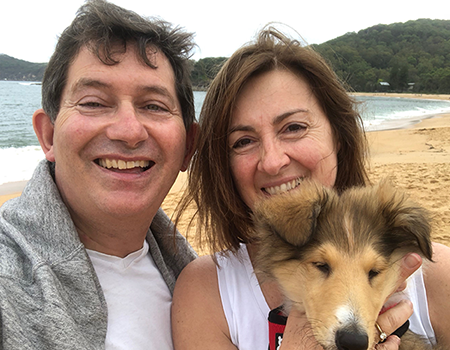 Comments