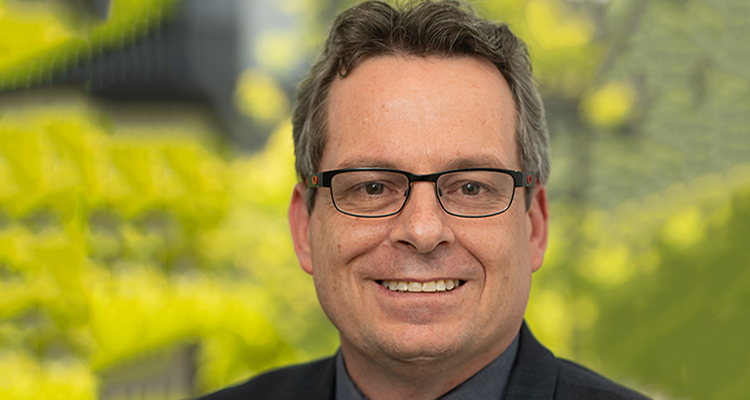 UNSW has appointed Professor Jonathan Morris as the new Dean of Graduate Research.
"Higher degree research candidates are the lifeblood of UNSW's research efforts," says Professor Jonathan Morris, Dean of Graduate Research. "We must continue our efforts to focus on the recruitment of high-quality individuals and support them throughout their candidature to achieve high quality outcomes."
The new Dean will play a major role in strengthening UNSW's graduate research portfolio. Jonathan will provide academic leadership and strategic direction to the UNSW Graduate Research School to enhance the experience of UNSW's HDR candidates and supervisors. He will also focus on administrating higher research degrees and attracting and nurturing outstanding higher degree researchers. The success of these researchers impacts the University's reputation for research excellence, global impact and social engagement. The Graduate Research School oversees the >2025 Strategy's Scientia PhD studentship as well as distinctive industry PhD programs, the first of their kind in Australia and a significant step in the evolution of how PhD programs are delivered at UNSW.
"Professor Morris has been actively involved in research training throughout his career, with extensive experience in the academic oversight of research training at the School and Faculty level, says Deputy Vice-Chancellor (Research), Professor Nicholas Fisk. "As Deputy Dean of Graduate Research since 2015, Jonathan has led improvements in the HDR thesis submission and examination process, which has contributed to a significant increase in completions and graduations. On behalf of the University, I warmly congratulate Professor Jonathan Morris on his new role."
Jonathan is enthusiastic about the future of the University's HDR program. "I am excited to take up this important role, building on the wonderful work that Laura Poole-Warren has done over the last nine years. It is critical that we provide our higher degree candidates with a world class environment and opportunities to expand their skills, so they can become research leaders in a broad range of fields."
A Fellow of the Royal Australian Chemical Institute, Professor Morris leads cutting-edge research into the biomedical potential of small molecules to control diseases such as age-related macular degeneration. He holds six patents in the design and development of molecules to modulate biological function, having raised over $5.4 million as Chief Investigator. Jonathan currently supervises a team of eight HDR candidates and has supervised 14 PhD and four Masters candidates to completion, receiving the UNSW Vice-Chancellor's Teaching Award for Supervision in 2014.
Comments