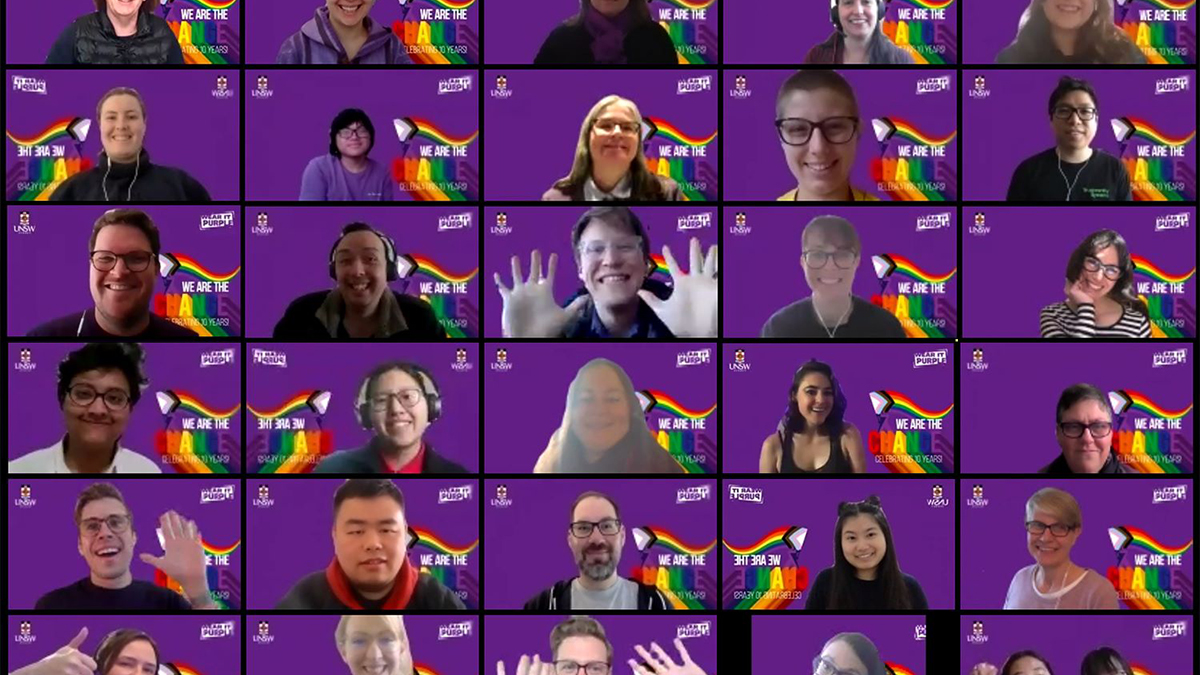 Even though we won't be able to turn the campus purple this year, UNSW will still be celebrating LGBTIQ+ youth for Wear It Purple Day on 27 August.
Wear It Purple was founded by two Australian students in 2010, after numerous stories of young LGBTIQ+ people taking their own lives. Over the past decade, it has grown into to an international movement that aims to ensure LGBTIQ+ youth feel safe and proud of who they are.
This year's theme 'Start the Conversation… Keep it Going' is a reminder that the issues highlighted on Wear It Purple Day should be part of an ongoing discussion. The theme acknowledges the power of telling and sharing stories, in order to remind LGBTIQ+ youth that they are part of a community and that it is possible for them to thrive.
This reminder is unfortunately still necessary, with the fourth Writing Themselves In: The Health and Wellbeing of LGBTQA+ Young People in Australia report finding that LGBTIQ+ young people still face significant discrimination and disadvantage in Australia, with around 40 percent of participants having experienced verbal harassment in the past year, and around one in four attempting suicide in the past year. Additionally, "86.8% of trans and gender diverse participants had been misgendered by others in the past 12 months."
The findings of the report, as well as the vandalism of a Pride installation on the UNSW Sydney campus during Respect Week earlier this year, highlight the continued importance of UNSW visibly supporting the LGBTIQ+ community. In addition to the positive effect felt by the community itself, it also shows leadership on appropriate conduct for all staff and students.
"Wearing purple represents allyship and solidarity as well as a celebration of resilience shown by LGBTIQ+ youth who disproportionately face discrimination, bullying and mental health challenges among other adversities. Being an ally is a commitment to raising awareness and taking an active role in making UNSW a safe and inclusive place for all members of our community", said Sophia German, one of the four newly appointed UNSW LGBTIQ+ Champions.
Inspired by this year's theme, the Champions approached current UNSW students to "start the conversation". In a conversation Sophia recorded with MPhil Candidate Clare Fletcher, Clare suggested one of many simple ways educators can make their classes more accessible to LGBTIQ+ students: "When you introduce yourself to the class for the first time, use your personal pronouns, and you can ask students to come up to you and give you their pronouns or their preferred names to put on rolls."
Get involved
In the lead up to Wear It Purple Day on Friday 27 August, we are encouraging our community to start conversations with LGBTIQ+ youth at UNSW. You can record a short video and post it here. Keep the conversation going in the comments section, and of course post your purple selfies on 27 August!
Be part ongoing conversations by joining the LGBTIQ+ Teams channel, or attending LGBTIQ+ and Ally Training to become a member of the Ally@UNSW Network.
LGBTIQ+ community support services and resources can be accessed on the EDI website.
Comments