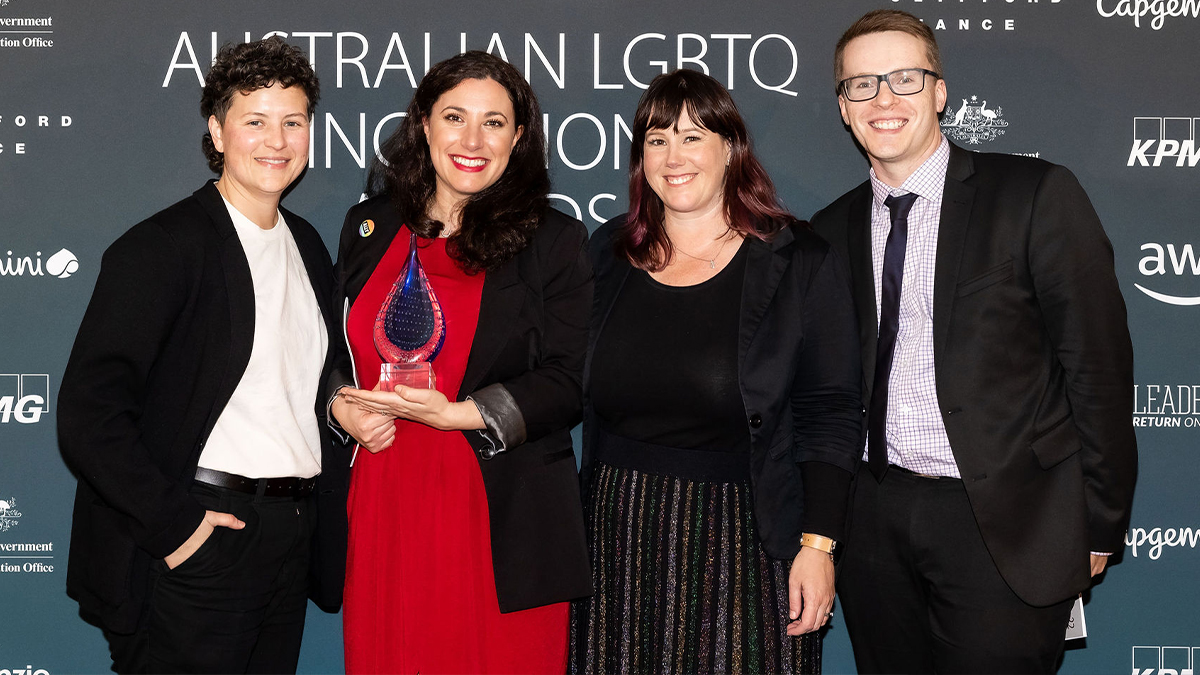 For the third consecutive year, UNSW Sydney has achieved Gold Employer status in the Australian Workplace Equality Index (AWEI).
The AWEI is the definitive national benchmark on LGBTIQ workplace inclusion. A rigorous, evidence-based benchmarking instrument, the AWEI is the largest and only national tool that assesses the inclusion of gender, sex and sexuality diverse (LGBTIQ+) staff in Australian workplaces.
This is the fifth year that UNSW Sydney has been recognised as a leading Australian organisation for LGBTIQ+ inclusion, and the third consecutive year to be honoured with gold status. Twenty organisations were awarded gold this year, including Macquarie University, University of Queensland and University of Sydney.
Accepting the award on behalf of UNSW at the 27 May ceremony was: Chris Pearce, UNSW LGBTIQ+ Champion, Michelle Steel, Head of HR Business Partnering and Executive Sponsor of the ally@UNSW Network Steer Co, Caitlyn McLoughlin, Diversity & Inclusion Manager and Rebecca Freed, Diversity & Inclusion Officer and coordinator of the ally@UNSW Network. 
UNSW achieved a significant 9-point increase which is especially pleasing given the added challenges imposed by COVID-19, including financial restrictions and Sydney lockdowns. The ranking demonstrates UNSW's ongoing commitment to provide a safe, fair and supportive environment for the LGTBIQ+ community.
Ms Freed, who has made the submission on behalf of UNSW for the past four years, said, "We need to reframe the conversation to 'achieving', rather than 'retaining' gold – there is no room for complacency. Since our score is relative to the rest of the pack, we must always be on the front foot and creating momentum. Organisations who achieve work that's above and beyond create best practice and this tips the scale, so even if we do make big strides, there's a chance we could still drop down an award level."
A key contributor to this year's success has been the establishment of the ally@UNSW Steering Committee to facilitate the ongoing development of a more inclusive and diverse University by advancing the Network's Action Plan and contributing to UNSW's annual AWEI submission.  
"As Executive Sponsor, I look forward to championing the Steering Committee's priorities to achieve greater inclusive practices for all our staff and students across all our campuses," said Michelle Steel. "UNSW, building on its consistent success in AWEI, is well placed to be a leader not only in Higher Education, but also industry, with how we bring these initiatives to realisation".
Achieving gold for a fourth year (2023) qualifies UNSW for a one-year platinum project which addresses an identified internal need or has an external contribution focus. RMIT University currently holds this status.
The ally@UNSW Action Plan for 2022 includes projects and initiatives such as educational events, engagement surveys, Enterprise Agreement advocacy, policy consultation, and an ally@UNSW newsletter. These elevate awareness and inclusion of LGBTIQ+ people and foster a culture of acceptance of sex, gender, and sexual diversity, will ensure that UNSW remains committed to ongoing LGBTIQ+ inclusion. 
Find out more about AWEI and LGBTIQ+ inclusion at UNSW here.
Comments