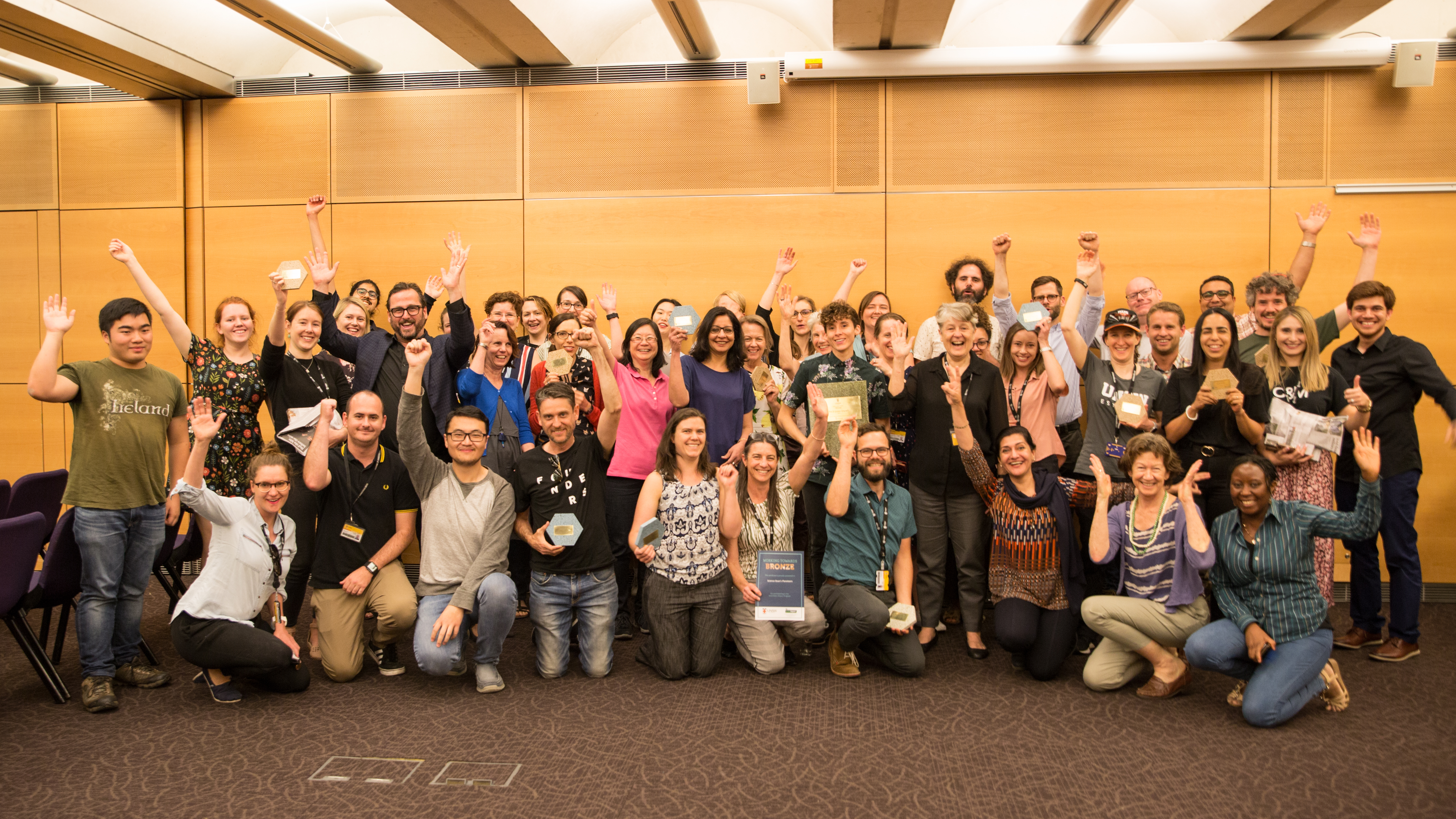 At the Green Impact awards last week UNSW celebrated the incredible efforts of students and staff to make our office and residential spaces more sustainable.  
Throughout the three-month program, 199 people in 35 teams completed 768 green actions to embed sustainability into their day-to-day lives. Teams completed tasks that fell under six different categories, such as travel, engagement or waste.  
 "What the Green Impact initiative has shown is that among students and staff, and at every level of our university, we are prepared to lead on environmental sustainability," said Professor Anne Simmons, UNSW Provost. 
"A place like UNSW that holds such rich knowledge of climate science and renewable energy, and which has a true commitment to having a positive impact on society, must lead by example." 
Actions implemented by teams ranged from campaigns to switch off laptops at the end of the day or adding pot plants to the office, to setting up a composting food waste separation system in the staff kitchen or promoting alternatives for air travel.  
Students also participated. This included teams of residential students and student auditors who received audit training check each action logged by teams at the end of the program.  
UNSW was one of 14 universities that participated in Australia. Despite being just a three-month pilot program, UNSW finished in fourth place in terms of number of actions completed.  
Bronze, silver and special awards presented on the day were created by the UNSW SMaRT Centre from waste plastic, fabric and glass. 
2019 Green Impact winners 
1st place – PVCE Green Impact from the Division of the Deputy Vice-chancellor Academic 
2nd place (tied) – MCIC Green from the Michael Crouch Innovation Centre 
2nd Place (tied) – RAMAC Greenomics from the Faculty of Science 
3rd Place – WRL Green Team from the Faculty of Engineering 
The awards also recognised outstanding innovation by two individuals.  
Danya Luo was recognised for her contribution to the Climate Change Network, a group of more than 200 students, staff and members of the community who meet regularly to share knowledge about the environment and encourage effective action on climate change. So far, they have held several events and lobbied council and members of parliament about climate policy. To join the mailing list and find out about (or suggest) activities, please send an email to: climatechangenetwork@unsw.edu.au 
Daniel Hempel was recognised as an outstanding innovator during the program. He was acknowledged for sharing his ideas with the UNSW community, such as a travel diary that allows people to estimate their carbon savings for using public transport instead of driving.  
"A huge congratulations and thank you to all the teams and student auditors who participated in Green Impact this year," said UNSW Head of Sustainability, Will Syddall. "We were blown away by the ideas, enthusiasm and ingenuity that our teams showed in making their workplaces more sustainable - it was also fantastic to hear that Green Impact helped people to make new connections and strengthen links across teams." 
The Green Impact program forms part of the engagement and integration outcomes of the Environmental Sustainability Plan 2019-2021 launched earlier this year.  
Next year UNSW Sustainability are hoping for an even bigger and better program, so stay tuned to Inside UNSW for program details in 2020. 
Comments