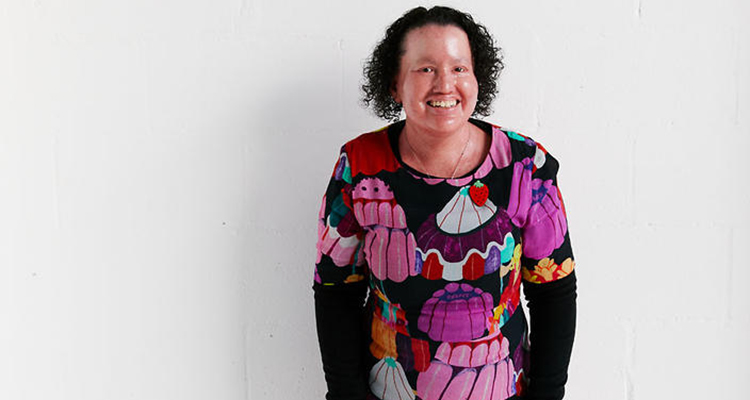 Acclaimed writer, podcaster and appearance activist Carly Findlay to appear at International Day of People with Disability event at UNSW.
This year for International Day of People with Disability on Tuesday 3 December, acclaimed writer, podcaster and appearance activist, Carly Findlay will share her story at 10-11am at the UNSW Bookshop.
A self-identified proud disabled woman, Ms Findlay lives with ichthyosis, a rare and severe skin condition, and much of her work involves challenging our thinking on difference. She has just written her first book Say Hello, which has been described as a "memoir and manifesto on difference, acceptance, self-love and belief".
Hosted by Donna Hogan, Students with Disabilities Officer at UNSW Student Representative Council, the event will be an opportunity to celebrate the disability community and to challenge our thinking around difference, both visible and invisible.
"It has been a long time since there was an International Day of People with Disability event at UNSW, and it's really important for the community to show their support and inclusion for people with disability," said Ms Hogan. "And most importantly it's a time to reflect and celebrate ourselves – our achievements and contributions as individuals living with disability."
Ms Hogan is a passionate advocate for disability awareness on behalf of UNSW students and was a driving force behind Carly's involvement in this event. You can register for the event here.
International Day of People with Disability was established in 1992 by the United Nations General Assembly to promote awareness of disability issues and the abilities of people with disability.
The day celebrates the achievements of people with disability. It aims to promote an understanding of disability issues and mobilise support for the dignity, rights and wellbeing of people with disability. This understanding is created by engaging disability organisations, people with disability, businesses, governments and communities in a range of activities.
The theme for this year is 'Promoting the participation of persons with disabilities and their leadership: taking action on the 2030 Development Agenda'.
UNSW Disability Diversity Champion Dr Alanya Drummond said: "The theme of International Day of People with Disability is about inviting us all to proactively empower people with disability in our communities and workplaces by removing barriers – both attitudinal and physical. UNSW is beginning to remove these barriers with the Disability Inclusion Action Plan."
Dr Drummond, who was appointed UNSW's Diversity Champion for Disability in September this year, will be instrumental in providing a voice for the disability community.
Lecturer in the Interior Architecture program in Built Environment, Dr Drummond says that Ms Findlay's story emphasises the power of solidarity and allies in calling out exclusionary language and micro-aggressions which discriminate against people with disability, even in subtle and unintentional ways.
Comments