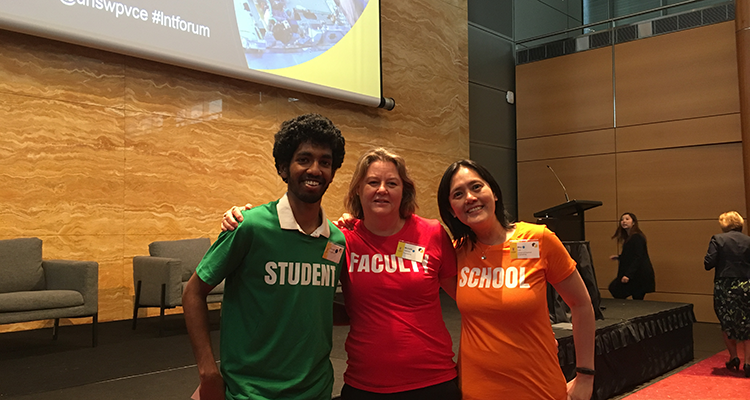 With just over a week to go, spots are filling up quickly for the annual event focusing on teaching excellence
The 2019 Learning and Teaching Forum will bring together passionate educators from across UNSW on 26 November to share best practice with their peers and the wider UNSW community.
Now in its 16th year, the Forum will feature presentations from all corners of the University, making it one of the most important cross-faculty events for educators at UNSW. More than 100 educators and their students are delivering 37 presentations and 10 posters. The examples they share will fall within the following streams:
Assessment and Feedback: 

Developing assessment and feedback practices that support student learning, while balancing student and institutional expectations.

Collaboration and Partnerships: 

Working in partnership to develop quality programs, courses and learning experiences.

Course Design: 

Designing for flexibility, authenticity and expanded opportunities for student engagement.
"The Forum provides a wonderful opportunity to reflect on what's worked and what hasn't in 2019. It's the chance to learn from the ideas and experiences of others, and to reinforce and perhaps revitalise our common desire to make the UNSW experience the best possible learning environment for our students," says Professor Alex Steel, Acting Pro Vice-Chancellor, Education.
"While the Forum program and posters focus on the innovations and ideas of a number of our colleagues, that innovation occurs as part of the shared endeavour of all UNSW staff who lead and support learning, both in the classroom and outside it."
What's on the agenda?
Associate Professor Kathryn Sutherland from Victoria University in Wellington, New Zealand will be presenting this year's keynote titled Changing Contexts and People in Higher Education: Holism and Akoranga.
"Akoranga is defined at our university as 'collective responsibility for learning' and is a principle derived from the root word, ako, which means both to teach and to learn," she says. "The Māori language does not have separate words for teaching and learning, which I think is a wonderful recognition of the reciprocity of these activities."
Associate Professor Sutherland's presentation will challenge different ways of being, teaching, learning, researching and working in universities, underpinned by this concept and research on holistic academic development.
"The biggest opportunity in higher education is working in partnership with students. It's important that we provide deliberate, supported, and well-designed academic development programs to facilitate this reciprocal learning," she says.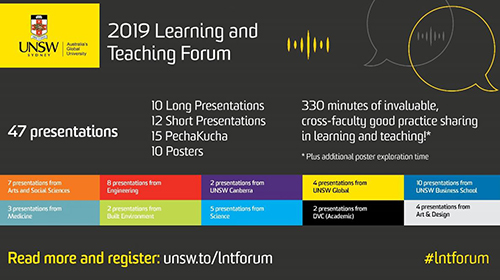 Another exciting part of the program will see the winners of the UNSW Awards for Teaching Excellence being announced at this year's Forum. The awards will recognise and acknowledge outstanding educators at UNSW in 2019.
The Forum will also include 15 Pecha Kucha – Japanese for 'chitchat' – presentation experiences. Likened to visual haiku, the Forum Pecha Kucha will be short talks where speakers rely on only 15 slides with a slide change every 20 seconds to present their topics.
Secure your place at the Forum via the registration page.
The full program can be viewed here. All presentation slides and recordings from this year's and the 2018 Forum can be accessed on the Moodle course site.
Comments