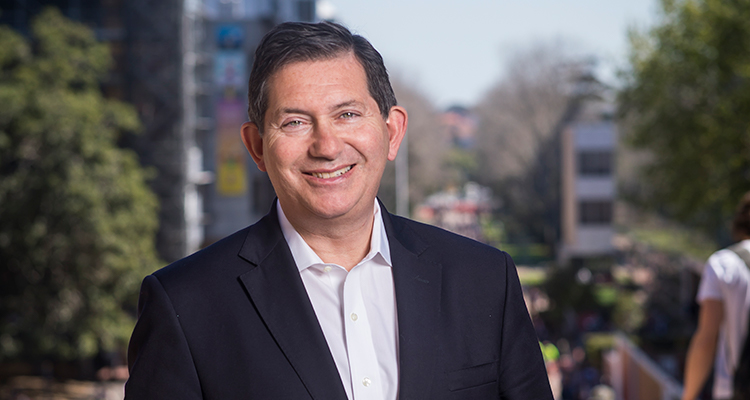 The catastrophic bushfires in NSW and other parts of Australia have had a devastating effect on many. Those affected are in our thoughts and the firefighters have our respect and admiration. The situation has rightly brought discussion of climate change to the fore. The escalating scale and frequency of the fires highlight the need for urgent action on climate change.  Professor Ross Garnaut's newly released book 'Superpower: Australia's Low-Carbon Opportunity' explains how Australia could be a world leader in renewable energy developments and climate abatement technology that will generate jobs and alleviate our environmental difficulties. That is surely a scenario that appeals to people of all political persuasions and it is an area where UNSW has and will continue to play an important role.
One example is the work of Professor Andy Pitman AO who has received the Royal Society of Victoria's prestigious Medal for Excellence in Scientific Research. Andy is the Director of the ARC Centre of Excellence for Climate Extremes and a Professor of Climate Science at UNSW. Described by the assessment panel as 'an outstanding scientist, and a significant science leader', his work in the behaviour of climate extremes is crucial as humanity takes on the existential threat that is climate change. You can read more about the award here.
I saw more evidence of our expertise in this area of research at the launch this week of the radiocarbon dating facility at the Mark Wainwright Analytical Centre.  The Chronos 14Carbon-Cycle Facility is an $8m initiative funded through Strategy 2025 and is capable of making thousands of radiocarbon measurements a year. The facility will be operated in partnership with the Australian Nuclear Science and Technology Organisation (ANSTO) and support UNSW researchers in their efforts to understand the planet's climate-carbon system. Congratulations to Professor Chris Turney and Dr Chris Marjo on overseeing the development of this important project.
UNSW's contribution through research is complemented by steps to become carbon neutral for our electricity supply on campus. During 2020 we will become the first university to achieve this using solar energy; very fitting given the leading role of our School of Photovoltaics in developing this technology. We aim to play an international role, bringing together universities from across the world to work in partnership to present and explain the evidence base about climate change and its impacts. I have been working on this with Professor Matt England and the response from colleagues globally has been positive – more on this in the near future.
Last week UNSW hosted an event related to another big issue facing our society – mental health. The Australian Mental Health Prize was attended by Prime Minister and UNSW alumnus, Scott Morrison. This year the judges awarded a joint prize. Christine Morgan, Australia's first national suicide prevention advisor, shared the honours with Wiradjuri man and community advocate for mental health suicide prevention, Joe Williams. The Prize is now in its fourth year and was established through UNSW Medicine's School of Psychiatry to recognise those who make outstanding contributions to the promotion of mental health or the prevention and treatment of mental illness. UNSW Scientia Professor Henry Brodaty, Advisory Member for the Australian Mental Health Prize and founding Co-Director of the Centre for Healthy Brain and Ageing, gave a moving speech that spoke of the increasing gap between resources available and those from all backgrounds needing help for mental health problems. But, as Professor Brodaty also noted, 'What we don't hear about is those who recover. Those who go on to fulfilling relationships and productive lives through their own efforts, the help of mental health professionals and through people such as those nominated for this Prize.' I congratulate Joe and Christine and all seven finalists. You can find out more about the Prize and the winners in our Newsroom story.
It was a pleasure to join guests at the Scientia Circle Chancellor's lunch which is part of a program of activities designed to acknowledge and thank our growing number of supporters who have included UNSW Sydney in their will. The lunch is also a chance for our leading academics, students and staff, to give Scientia Circle members an update on all the wonderful things happening at UNSW. The generosity of these more than 400 supporters contributes enormously to our University. Their gifts enable us to support our scholarship students, world-class researchers and teaching staff. On behalf of UNSW, I thank them all.
We recently learned that UNSW Law entered the Top 20 in the latest Times Higher Education global subject rankings, placed 18th in the world, its highest-ever ranking on the global league table. I congratulate Professor George Williams, Dean of Law, and Head of School, Professor Andrew Lynch, on this superb effort. This is complemented by news of Social Sciences move into the top 100 (99th) and Education and Business retaining their spots among the top 100 at 61st and 63rd, respectively. I agree with Deputy Vice-Chancellor, Research, Professor Nicholas Fisk who said that this acknowledgement of UNSW's world-class teaching and research in these particular disciplines is evidence of our status as one of the most comprehensive research-intensive universities globally. Well done to all who have contributed to this success.
Thursday of last week saw the final Women Connect event for 2019, hosted by UNSW Vice-Chancellor, Jillian Segal, AO. I sat on a panel with Deputy Vice-Chancellor, EDI, Professor Eileen Baldry and Scientia Professor Louise Chappell and there was much thought-provoking discussion about factors that contribute to gender inequality such as cultural and/or linguistic diversity, sexuality, sex and gender diversity and disability. Women Connect was a big success during the recent Diversity Fest and I encourage you to keep an eye out for events next year.
UNSW hosted the Parliamentary Leaders Program, where 22 members of State parliaments from across the country – and across the political spectrum – spent two days talking about leadership training, problem solving, and creating lasting impact as a parliamentarian. I was asked to share my leadership story with the group and emphasised the need for values-led leadership, collaboration and generosity of partnership. The Parliamentary Leaders Program is an initiative of the Australian Futures Project, an NGO that partners with UNSW, La Trobe, ANY and UWA, and is seeking to end short-termism in Australian politics.
On Thursday night a gala dinner was held to celebrate the 30th anniversary of the UNSW Foundation Studies program – Australia's oldest pre-university program. UNSW is also home to Australia's oldest university-operated language centre which has helped overseas students improve their English skills for more than 50 years. Over 30,000 students have benefited from UNSW Global and it was good to have alumni and staff at the event. Congratulations to Fiona Docherty, Vice-President, External Relations, Marc Weedon-Newstead, Group Executive Education, UNSW Global, and Laurie Pearcey, CEO, UNSW Global and Pro Vice-Chancellor, International, for a great event and their ongoing commitment to supporting our valued international students.
Save the date! Tuesday 3 December is International Day of People with Disability, the theme this year being 'Promoting the participation of persons with disabilities and their leadership: taking action on the 2030 Development Agenda'. Carly Findlay, a passionate advocate of disability awareness, will be at the UNSW Bookshop to talk about her story and her new book 'Say hello'. Carly, who is a self-identified disabled woman, has become a prominent voice in the community, constantly challenging our thinking about difference. Students with Disabilities Officer at UNSW Student Representative Council, Donna Hogan, has been instrumental in having Carly come to the campus – thank you, Donna. UNSW's appointment of a Disability Diversity Champion, Dr Alanya Drummond, and the development of a Disability Inclusion Plan are positive ways in which we are widening participation for people with disability and we will continue to break down barriers to inclusion.  Join the Division of Equity Diversity and Inclusion to celebrate International Day of People with Disability with Carly Findlay on 3 December and register here.
Congratulations to everyone at Arc for organising this year's hugely successful fun-a-thon – a 24-hour fundraiser in which teams compete against each other to raise money for Child Life & Music Therapy at The Sydney Children's Hospital in Randwick. This year, participating students and staff raised a phenomenal $120,000. Brilliant effort!
The 2019 Learning and Teaching Forum – Embracing Change: Creating Opportunities, will be held on Tuesday 26 November. This is an annual event where UNSW academics and the community can share good practice in learning and teaching.  Presentations come from across all corners of the University, making the Forum one of the most important cross-faculty events for educators at UNSW. I encourage you to find out more here.
Don't forget to RSVP to attend UNSW Staff and Family Day on Thursday 28 November. Join colleagues and their families from 4pm – 7pm at the Clancy precinct and together we can celebrate our 70th anniversary and another successful year for UNSW.
I am finishing this newsletter in-flight to Phoenix where I'm attending a meeting of the PLuS Alliance along with colleagues from King's College London and Arizona State University. I am looking forward to discussions about collaborative opportunities in research and education, including the launch of the PluS Alliance design-led Engineering School in London.
Comments