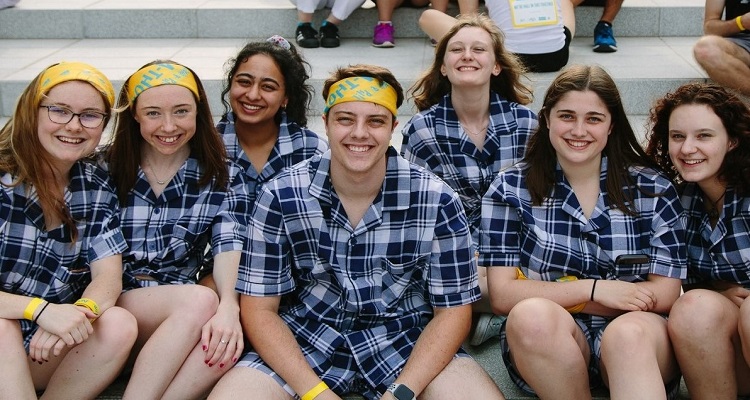 Phil' is Australia's largest student-led philanthropy initiative and the Fun-A-Thon is the biggest event on their fundraising calendar. 
The 24-hour campus fundraising marathon, the Phil' Fun-A-Thon, raised over $120,000 for Child Life and Music Therapy at the Sydney Children's Hospital in Randwick. The Child Life and Music Therapy Department makes a tremendous difference in alleviating the stress and anxiety hospitalisation may cause to children. In assisting children and young people in developing resilience and positive self-esteem, this valuable arm of Sydney's Children's Hospital creates positive experiences in the healthcare environment.   
"I participated because I felt it was a cause that everyone could get behind and fundraising was done through a number of challenges that were fun and engaging," said Mitch Lamm, Social Media Coordinator. "It's easy to fundraise when you're offering to put yourself through so many challenges, but of course the 24-hour challenge is nothing compared to what the kids at the Children's Hospital would go through". 
"It was also a great opportunity to get involved with students and break down staff-student barriers that otherwise may exist," he added. 
"Being part of the Phil' Fun-A-Thon was a joyous experience," said Kieren Clements, Event Assistant and member of the Division of External Relations (DEx) & Friends team, who raised $1,400 for the cause. "The collaboration, sense of community and commitment shown between the UNSW students and staff was inspirational. At the closing ceremony, we all felt a sense of pride as the total amount raised reached just over $120,000."   
More than 300 students and three UNSW staff teams from Campus Life & Community, Business, Engineering, UNSW Bookshop, DEx and Arc competed last week in a range of challenges, including lip sync battles, an amazing race and laser tag.  
"Every participant showed extraordinary camaraderie amidst the competitive spirit and we were proud to have brought together various facets of the University community for this worthy cause", said Mitch McBurnie, Membership and Communications Manager at Arc.   
"Students and staff have been getting involved in Phil' for four years now and the event has so much spirit," said Alice Hu, Philanthropy Student Coordinator.   
"The average donation was $5, showing that every small contribution makes a huge impact on improving the wellbeing of infants, children, young people and their families," said Beth Ross from the 'Baggy Greens' team and the top staff fundraiser. 
To find out more about the annual Phil' Fun-A-Thon visit www.arc.unsw.edu.au/phil.  
Comments