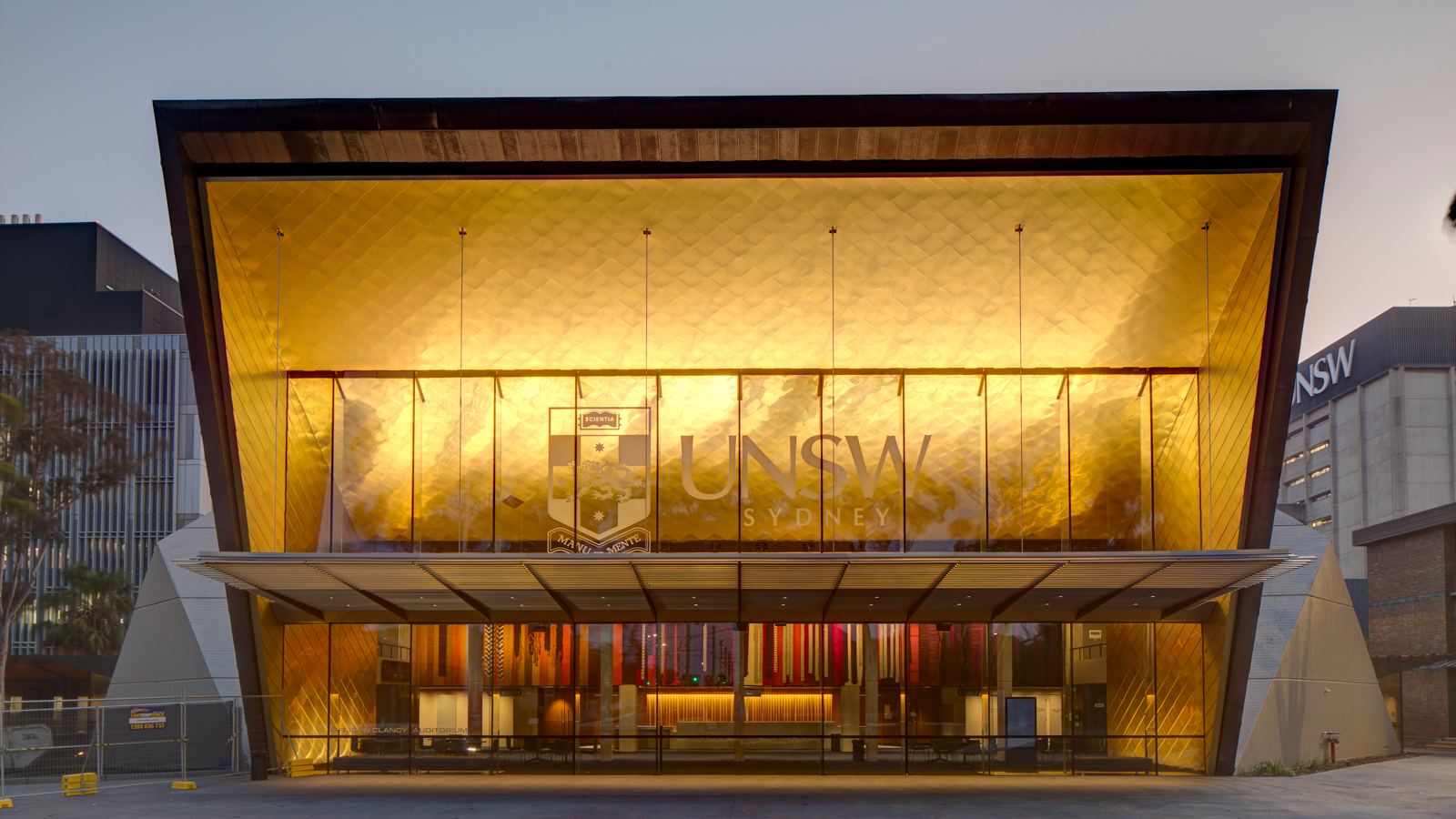 Photo credit: Brett Boardman/
Lahz Nimmo Architects
The newly refurbished Sir John Clancy Auditorium entrance foyer has transformed the main entry point to UNSW and created a unique backdrop to ceremonies and events held on campus.  
The shining feature of the new space is a new entrance canopy with golden copper shingles lining the north, east and west sides of the foyer. The shingles reflect the sun during the day and warm lighting in the evening provides an inviting glow that activates the upper campus.  
Executive Director (Acting) of Estate Management, Sancha Cromie said: "This refurbishment, managed by Estate Management, has created a place fit to congratulate our graduates and welcome visitors to UNSW for our fantastic events. The Clancy Auditorium makes an incredible centrepiece for the upper campus arrival experience." 
The main entrance foyer has been extended and upgraded with a new polished concrete bar, box office, plush new carpet and soft furnishings. To the west, an expanded green room will give a better experience to performers and special guests preparing for events. The refurbishment also includes improved amenities including  three new accessible toilets and new hearing loops. 
A recent Centre for Ideas event hosting William Dalrymple was the first major event to experience the new and improved venue.   
Director of UNSW Centre for Ideas, Ann Mossop said: "I am so pleased that the University has a new front door. Architects Lahz Nimmo have done a fantastic job of bringing the Clancy building back to life and making it a wonderful public space. I look forward to using it whenever we can for big events." 
Central to the design of the space is the artwork Banner by artist Mona Hessing, which has been displayed in the foyer since 1971. The 21-metre colourful tapestry is woven with a range of hand-weaving and knotting techniques.  
Architect Annabel Lahz used rich blues, greens and pinks in the carpet and soft furnishings to complement the warm yellow, oranges and purples in the artwork. Banner retains its position as the focal point of the front foyer. The key role the artwork plays in its design is a strong statement in support of celebrating UNSW's cultural treasures. For the refurbishment, the artwork was given a much-needed break and was carefully restored and cleaned during its time off.  
Two other artworks that previously stood in the Michael Birt Gardens in front of the Clancy Auditorium have been given new homes.  
In mid-November 2019, Parousia, the Bronze sculpture by Jock Clutterbuck will be rehomed at the Ainsworth Building (J17) Forecourt.  
North Down, a Steel sculpture by Ron Robertson-Swann, will find a new audience at the Science and Engineering Building foyer (E8) from mid-November. 
Upcoming tours  
View details and register for upcoming tours of the new space. 
Comments