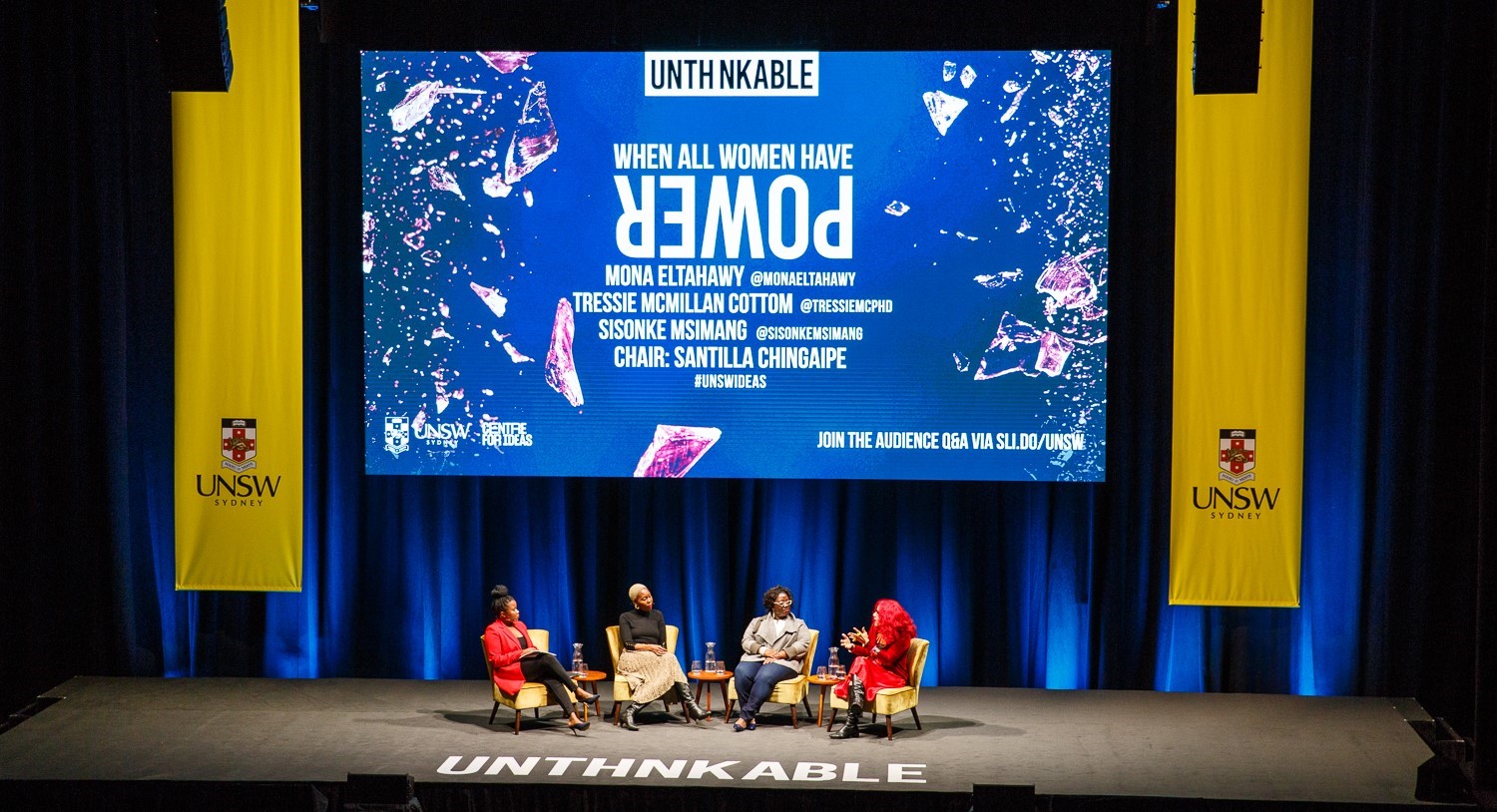 UNSW expressed the unthinkable in a series of live talks on the Kensington Campus and at Carriageworks. 
Held 7-9 November and hosted by UNSW's Centre for Ideas, UNTHINKABLE explored the questions we haven't asked, the futures we can avoid and the unexpected realities yet to come.  
"We were very happy with the response to the UNTHINKABLE series across UNSW and the broader community," said Ann Mossop, Director, UNSW Centre for Ideas in the Division of External Relations. 
"UNTHINKABLE, alongside other UNSW initiatives such as our partnership with the Festival of Dangerous Ideas, positions UNSW at the cutting edge of public discourse, thought leadership and public engagement – priorities of our 2025 Strategy," Ms Mossop said. 
More than 4,000 tickets were sold to the six talks over two locations, headlined by an off-the-record chat between Monica Lewinsky and the ABC's Leigh Sales on Saturday night. A capacity crowd enjoyed a candid chat between Ms Sales and Ms Lewinsky, the "patient zero of losing a personal reputation on a global scale almost instantaneously", where they explored the concept of a kinder, gentler and less toxic internet. 
Academics ponder an imperfect future 
The series commenced on Thursday, 7 November with Future Imperfect, held in Leighton Hall.  It saw five UNSW academics present short talks about where their work might lead in the future, hosted by Marc Fennell.  
James Halstead, Emma A Jane, Katharine Kemp, Michael Richardson and Adrianna Vergés called on their expertise in gender, privacy, pharmaceuticals, technology and the environment to explore what the future might hold. 
Controversial feminist Mona Eltahawy 
The proceedings at Carriageworks launched on Friday evening with Egyptian-born feminist Mona Eltahawy, following her controversial appearance on the ABC's Q&A program. Her Q&A appearance was removed from the ABC's online platforms because of complaints to the broadcaster about language and panel responses to a question about the use of violence to achieve change.   
Ms Eltahawy was unchastened in her calls to "f--- the patriarchy" and provided a lively account of why women need to embrace necessary "sins" like ambition, lust and power to find justice. 
A world without religion? 
Iranian-American scholar Reza Aslan explored whether religion was on the way out and if a world without religion could exist. By weaving his way through religious discoveries that date back to the Neanderthal age, Mr Aslan concluded that the religious impulse is woven into history and pre-history and has become part of humanity's make-up. "A world without religion?" he asked. "Probably not." 
In conversation with session chair Julia Baird from the ABC, Mr Aslan also tackled comments made on The Drum on ABC TV earlier in the week about Christianity being the most persecuted religion and vigorously dismissed this view. 
Saturday's program saw a group of extraordinary women take to the stage. Anti-ageism campaigner Ashton Applewhite made a compelling case for tackling all forms of age bias, whether in relation to the old or the young. 
And finally, a panel featuring Sisonke Msimang, Mona Eltahawy and US visitor Tressie McMillan Cottom shared brilliant insights into the ways in which women of colour are fighting to make change in When All Women Have Power. 
"UNTHINKABLE hosted an amazing selection of speakers. It was a privilege to bring them together on behalf of UNSW," said Ms Mossop. 
Visit the Centre for Ideas website for upcoming events. 
Comments