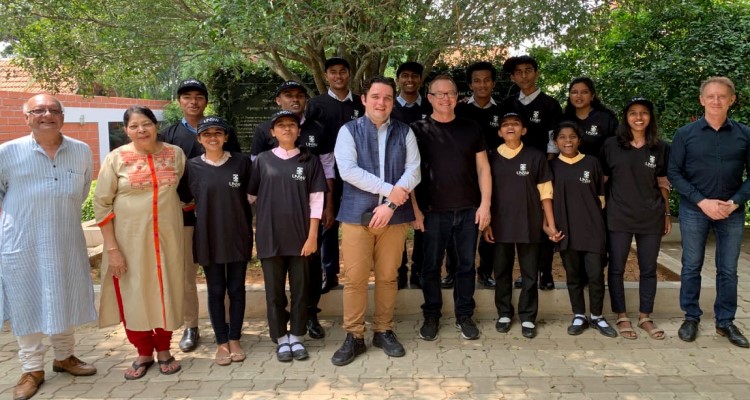 UNSW meets prospective students and their parents in Delhi, Jaipur, Bengaluru, Chennai and Mumbai. 
Three months after the highly successful 2019 India Open Days, UNSW faculties and UNSW Global returned to India from 3 to 8 November to run a series of events for students and their parents interested in studying at UNSW. 
Led by the CEO of UNSW Global and Pro Vice-Chancellor, International Laurie Pearcey, the UNSW delegation included the faculties of Art & Design, Arts & Social Sciences, Engineering and Business, along with UNSW Global and DEx. Together, they hosted three Mini Open Days and visited seven recruitment partners and nine schools, speaking with close to 1,000 students across the five cities of Delhi, Jaipur, Bengaluru, Chennai and Mumbai. 
The UNSW Mini Open Days in Delhi, Bengaluru and Mumbai focused on T1 2020 student conversion and promotion of UNSW's new International Scholarships and Awards. The school visits, along with a school principals lunch in Jaipur, centred on raising awareness of UNSW's Engineering and Science Diplomas as an exciting new pathway for Indian students to study at UNSW.  
Throughout the week, the faculties took the opportunity to meet with recruitment partners who provided updates on the India market and discussed ways in which UNSW could attract more high-quality students from India. 
"The India Mini Open Days created an opportunity for UNSW staff, both academic and professional to meet in person agents, potential students and parents," said Associate Professor Vaughan Rees, Associate Dean – International & Engagement, UNSW Art & Design, and member of the travelling delegation.  
"This direct meeting creates a more personal encounter in which all gain a greater understanding of each other and a natural relationship begins between the institution and the Indian communities," he said.  
A small delegation also visited the Shanti Bhavan Residential School, made famous by the Netflix documentary Daughters of Destiny. Founded by Dr. Abraham George, an Indian-American businessman and philanthropist, the school educates India's most underprivileged children, mostly from marginalised communities, to allow them to succeed in the modern global workplace. 
Through the power of education Shanti Bhavan is breaking the cycle of generational poverty and graduating young changemakers and leaders in India who will go on to uplift their communities out of poverty. Creating opportunities for UNSW students to contribute to the amazing work of the school and for Shanti Bhavan students to study at UNSW were the main topics of discussion during the visit. 
Comments