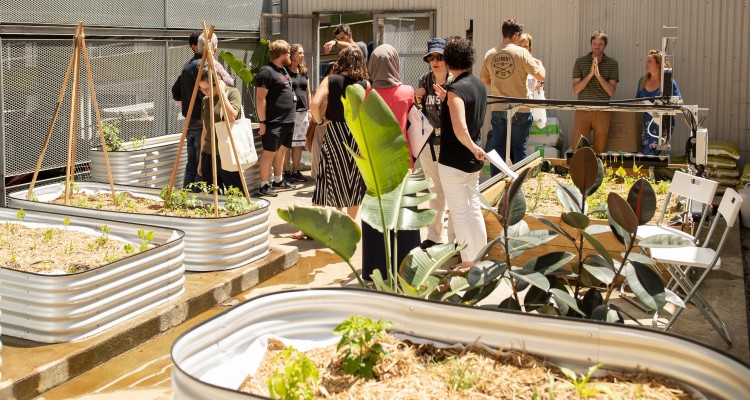 The first food-growing space for the University has been launched for students and staff with a green thumb.  
A teaching and research garden has sprouted at UNSW Sydney to improve student learning, wellbeing and understanding of the natural environment, helping make the Kensington campus greener and more environmentally-friendly.    
The UNSW Urban Growers Teaching and Research Garden was recently launched by Professor Merlin Crossley, UNSW Deputy Vice-Chancellor, Academic, and is a joint initiative of the Scientia Education Academy and the Grand Challenge on Rapid Urbanisation. 
It was brought to fruition by UNSW Growers and UNSW Law Associate Professor Cathy Sherry as a Scientia Education Academy Fellow. 
"I know how beneficial it is to be able to use garden beds in my own teaching of Food Law and People, Land and Community, and it occurred to me that other staff might benefit from food growing space as well," she said. 
"I've visited numerous universities in the United States that have campus food gardens and could see that we are lagging behind in an important aspect of sustainability education. My main research is on high density property development, and I'm convinced that the only way we will live healthily, happily and sustainably in high density cities is if they are green. 
"Human beings have not evolved to look at concrete and glass; we have evolved to look at nature, and we need it to be physically and mentally healthy. However, we cannot rely solely on developers to provide those green spaces. We must ensure that all citizens, including our students, have the skills to green their own urban environments." 
Associate Professor Sherry said she hopes the garden will help UNSW graduate generations of students who have the confidence and skills to create gardens in their own apartment buildings and office blocks. 
The multi-purpose garden will transform the University by providing learning and teaching opportunities for students and university staff through garden beds available for use in courses and research. 
"Gardens can be used for teaching and research and Cathy has shown that works well, but I think of them also as a model for university administration," said Professor Merlin Crossley, UNSW Deputy Vice-Chancellor, Academic. 
"But the University is not just led by its administrators, it is led by individuals, with individual initiative, not just by committees. I want to applaud Cathy Sherry's initiative and hope that her garden blossoms, that a thousand flowers bloom and turn into fruit or vegetables." 
He also highlighted the prominent role of Grand Challenges Program in funding this project and Professor David Sanderson, from UNSW Built Environment who is leading the UNSW Grand Challenge on Rapid Urbanisation. 
"This teaching and research garden is a clever initiative.  It makes the most of limited space on the Kensington campus addressing many important issues such as food-growing, climate change and keeping our urban environment green," Professor Sanderson said.  
"It's important for the University and demonstrates what you can do with a small space in a dense urban environment such as UNSW." 
UNSW Urban Growers is a cross-faculty working group of students and staff dedicated to creating food growing space on UNSW campuses. The group includes staff from Law, Built Environment, Public Health and Community Medicine, Engineering, Art and Design, UNSW Wellbeing and Estate Management. 
"Estate Management is proud to support Urban Growers and their first teaching and research garden," UNSW Head of Environmental Sustainability William Syddall said.  
"The green spaces on our campuses offer us the chance to relax in nature and now we have a space where we can reconnect with where our food comes from. 
"Congratulations to Cathy and Urban Growers for bringing the garden to life for the benefit of the UNSW community." 
Learn more about UNSW Urban Growers first teaching and research garden here.  
Comments