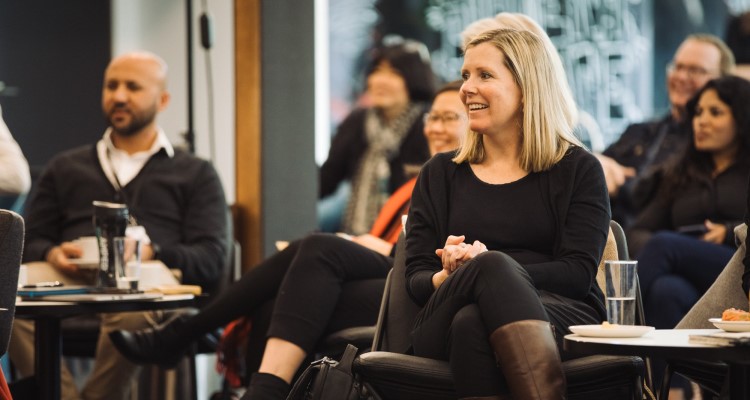 The Meridian 180 partnership with UNSW goes from strength to strength, with the release of their program of events in 2020. 
It's been just over a year since Meridian 180, a transformative leadership group, was established at UNSW – its first base in the Southern Hemisphere. The launch was celebrated in October 2018 with former foreign affairs minister Julie Bishop delivering the keynote address at a panel discussion on the topic of decline in trust in contemporary society. Since then, Meridian 180 has been making positive inroads into the UNSW community, putting down roots in its new home. 
Over the last 12 months, this multilingual innovation program has been building skills for UNSW staff through a series of masterclasses on collaboration. The series began with a light-hearted but frank look at the realities of collaboration. Dom Price, Atlassian's Resident Work Futurist, stated at the inaugural masterclass "collaboration is scrappy, it's messy, it's painful. It requires you to park your ego at the door." 
Meridian 180 has no plans to slow down in 2020. Its program of events has already been published. Topics include: the science of collaboration; a focus on collaboration with industry partners; and working with Oceania/Pacific, Asian and Indigenous groups and organisations. The full program can be found at www.meridian180.unsw.edu.au. 
From a global perspective, the Meridian 180 Gender Justice Working Group, comprising members from around the Pacific Rim, has been piloting the transferability of gendered violence education and control methods between the US, Korea and Japan.  
Following on from the launch event with Ms Bishop, the Banking and Finance Working Group plans to release its draft findings early in 2020. The group will be responding to the question of how institutions should respond to eroded public trust in and use of conventional financial instruments. 
UNSW researchers and students are also being invited to join the founding meeting of the Gender Justice Working Group in March 2020 at Northwestern University in the United States. This group will share resources and experience in combatting gendered violence on university campuses around the Pacific Rim and define the structure for a global clearinghouse to support this work.  
"We're delighted to have been able to make available to the UNSW community Meridian 180's unique, multilingual infrastructure and share something of the spirit of serious play that has marked the project since inception. As a forward-thinking and highly diverse campus, UNSW is an ideal setting in which to situate Meridian 180. There seems to be a strong appetite on campus for the opportunities that we're offering, and we are looking forward to connecting with more people over the coming year," says Professor Fleur Johns, Academic Director for Meridian 180 at UNSW. 
Meridian 180 events are open to all UNSW staff. More information can be found on the website and registrations for individual events will be posted online. To become a member or to express interest in joining one of the Global Working Groups, visit www.meridian180.unsw.edu.au or email australia@meridian-180.org.  
Comments