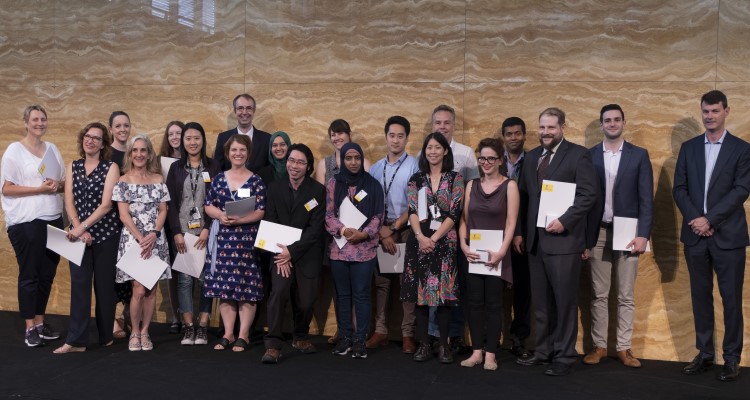 Educators from Arts & Social Sciences, Engineering, Law, Medicine and Science were recognised with UNSW Vice-Chancellor's Awards for Teaching Excellence.
Celebrating UNSW's best and emerging educators, the Vice-Chancellor's Awards for Teaching Excellence recognise those who have made contributions to student learning and/or the student experience. Universities are about learning but also about maturing and developing within a respectful community, so contributions to enhancing the community and the general experience of students are also recognised.
"It has been wonderful to celebrate the outstanding achievements of UNSW colleagues through the 2019 Awards for Teaching Excellence. Each recipient has developed innovative and inspiring approaches to student learning, truly embodying the transformative power of education," said Acting Pro Vice-Chancellor, Education Professor Alex Steel.
"These awards seek to recognise the diverse contributions of our staff and highlight the fundamental importance of teaching at UNSW. Well done and congratulations!"
Nine individuals and one team were announced as winners earlier this month, among them Associate Professor Adrienne Torda from the Office of Medical Education.
"My teaching philosophy is very much built around 'never standing still' in terms of striving for teaching excellence," said Associate Professor Torda, awardee in the General Category.
"The educational landscape is rapidly changing, especially in medicine, and so must we. My goal is to continue to adapt what we emphasise and teach our students, so that they can meet the workforce needs of the future. This is a future in which technology will be incredibly advanced in healthcare and doctors will value add by means of their emotional intelligence, empathy, their ability to be lifelong learners and adaptive problem solvers," she said.
2019 Awards for Teaching Excellence
General Category
Dr Sally Nathan, School of Public Health and Community Medicine

Dr Jenny Richmond, School of Psychology

Associate Professor Adrienne Torda, Office of Medical Education
Design and Development of Programs
Dr Justine Rogers, School of Law

Dr Susanne Schmeidl, School of Social Sciences

The BABS Technical Team, School of Biotechnology and Biomolecular Sciences
Postgraduate Research Supervision
Professor Serkan Saydam, School of Minerals and Energy Resources Engineering
Rising Star and Early Career
Dr Na'ama Carlin, School of Social Sciences

Dr Stuart Clark, School of Minerals and Energy Resources Engineering

Dr Chaturaka Rodrigo, School of Medical Sciences
Comments