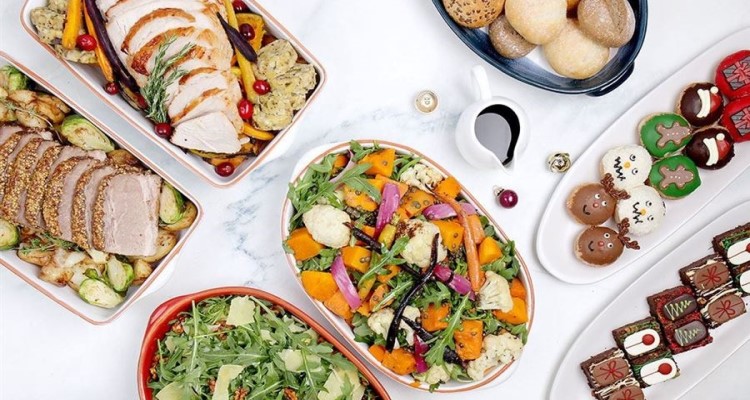 With a variety of speciality dine-in and catering options, organising your office Christmas party has never been easier.
The festive season is a time for celebration, recognising each other's achievements and reflecting on the successes of the year. It is an opportunity for colleagues to socialise and network over some delicious food and drinks.
If you're organising a Christmas party to celebrate your office's achievements, look no further than the diverse food and beverage options available on campus at UNSW. Whether you're planning to order Christmas catering or want to organise a staff lunch, there is something to suit all tastes.
Experience Christmas at the Lounge
For those wanting a traditional dining experience, The Lounge is offering a special Christmas menu throughout all of December. Inspired by festive favourites and the warm, comforting feeling of Christmas, the menu is a perfect blend of tradition and modernity.
This celebratory menu features a summer fresh pacific prawn cocktail as the entrée, a traditional Christmas roast turkey breast and honey baked ham for the main meal, and home-made Italian panettone for dessert. Staff can enjoy a one, two or three-course meal for lunch or dinner. With every three-course meal enjoyed, visitors will receive a complimentary glass of bubbles on arrival, followed by coffee or tea. Visit the Lounge's website for bookings and more information.
Customise your dining with Penny Lane
Penny Lane Bar and Café, located at upper campus, is offering both catering and dine-in options for staff. Each food experience is tailored to meet your expectations and reduce the stress that the festive season can often bring.
Specialty Christmas catering is available for your office, with a range of hot foods, salads, pastas and drinks available to share. Morning and afternoon tea and indulgent cakes can also be ordered if you are wanting something sweet for the office. If you prefer to dine in, Penny Lane is available for casual drinks and canapes. For something a little more formal, the venue can be booked for a two or three-course menu. For more information, visit the Penny Lane website.
Christmas catering delivered direct to your office
If you're after something a little more flexible, on-campus catering is available to suit all kinds of celebrations, big or small. Serviced and drop-off catering is available.
Popular campus caterers The Catering Project have launched their limited-edition Christmas collection. Choose from a range of speciality Christmas sliders, buffets (delivered or set up), decorated doughnuts and brownies, cheese platters and more. Available campus wide, orders can be made via the Hospitality website. Drop-off orders must be received by 3pm cut-off for next day delivery.
Comments