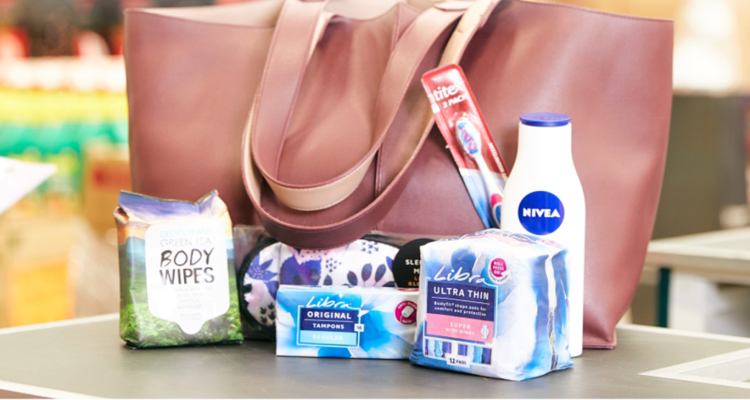 To support the International Day for the Elimination of Violence against Women on 25 November, UNSW invites you to participate in the 'It's in the Bag' campaign.
'It's in the Bag', run by Australian Charity Share the Dignity, aims to assist women and girls experiencing homelessness, poverty and domestic violence. You can get involved by donating a new or no longer used handbag (in good condition) with brand-new toiletries (packaged and unopened) inside, which will be passed on to women in need.
Donate a handbag from Monday 25 November to Thursday 5 December at one of the UNSW locations listed below. Late donations won't be accepted.
Your handbag should contain the following essential items:
Shampoo

Conditioner

Toothbrush

Toothpaste

Soap

Deodorant

Tampons

Pads
Additional items are also welcome.
Where should I drop off my handbag?
UNSW has organised several drop-off points around the Kensington and UNSW Canberra campuses:
Student Life and Communities

F20 John Goodsell building, Ground Floor Reception (CLB courtyard)

Business

E12 UNSW Business School, Level 6, Dean's Unit Reception

UNSW Canberra

Building 13, Library and downstairs at HR, Room 23

Building 14, Room G02, near the Equity and Diversity Unit Office

FASS

C20 Morven Brown, Level 3, Dean's Unit Reception, Suite 301

Medicine

C25 Lowy Cancer Research Centre, Ground Floor Reception

AGSM

G27 AGSM, Ground Floor entrance

Faculty of Built Environment

H13 Red Centre West Wing, Level 5, Dean's Unit

Engineering

K17 Computer Science and Engineering building, Level 6, Dean's Unit Reception

E10 Hilmer building, Head of School Office

Chancellery

C22 Chancellery reception
For any questions or enquiries, please email workplace.diversity@unsw.edu.au.
Comments