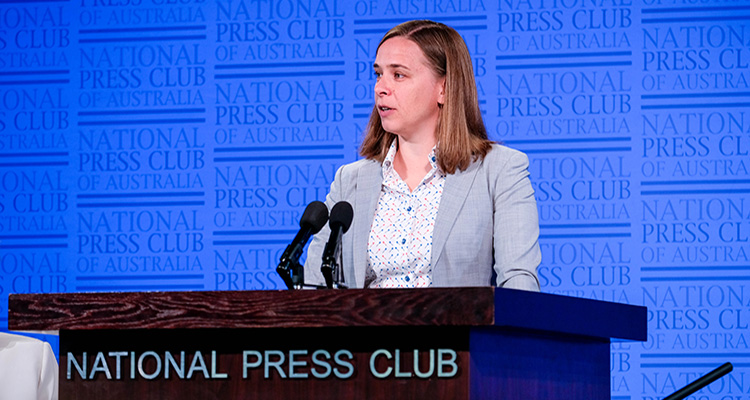 Professor Lisa Harvey-Smith highlights the importance of STEM education and gender equity at Science Meets Parliament, an annual event that brings together scientists and parliamentarians.  
A Professor of Practice in Science Communication at UNSW Science and an award-winning astrophysicist, Professor Lisa Harvey-Smith urged our political leaders to focus on legislation that would improve STEM education and gender equity in Science at the National Press Club on Wednesday.  
Advanced physical and mathematical sciences contribute $145 billion a year to the Australian economy, about 11% of gross domestic product (GDP). Upskilling just 1% of the Australian workforce into STEM roles would add $57 billion to our GDP over the next 20 years. Professor Harvey-Smith argues that improving gender equity and education across STEM in Australia would be of huge benefit to our national interest.    
Professor Harvey-Smith's role is to work across all disciplines of STEM, with government, the research and education sector, and industry, to drive gender equity in STEM. She's interested in finding out what works and to accelerate the pace of change towards gender equity in STEM. To do this, Professor Harvey-Smith and her team are committed to two key areas of work.   
"The first is education; to highlight pathways to employment and reduce gender bias at home and in the classroom," Professor Harvey-Smith said in her speech.  
"The second area is to break down structural and systemic barriers to women's retention and career advancement in STEM careers – and transform workplaces for the better. 
"In education, we are planning a national awareness-raising initiative that will communicate the social and environmental good that can be achieved through STEM careers, leading to greater engagement in STEM education and showing all Australians that STEM is much more than just scientific research," she explained. 
In the workplace, Professor Harvey-Smith believes finding a solution can be simple, but implementation is a challenge.  
"Solutions are simple to identify, but not easy to implement. They include removing discrimination and bias from workplace practices, enabling equal carers leave and encouraging men to take it up, enforcing proper workplace behaviour, identifying targets for women's career progression, and taking steps to eliminate pay gaps," she said. 
"To be successful, these actions must be deliberate, strategic and system-wide. For change to take root, senior leaders and managers must commit to specific, tailored and measurable actions to remove structural barriers in workplaces. If you are not already tackling these issues in an organised and strategic way, the question must be 'why not?'" 
Professor Harvey-Smith is committed to driving equity in science, engineering and mathematics to enable all Australians to thrive in future workplaces. The National Press Club Address has given her a high-profile place to start the national change.  
Watch Professor Harvey-Smith's full address on ABC iView.   
Comments