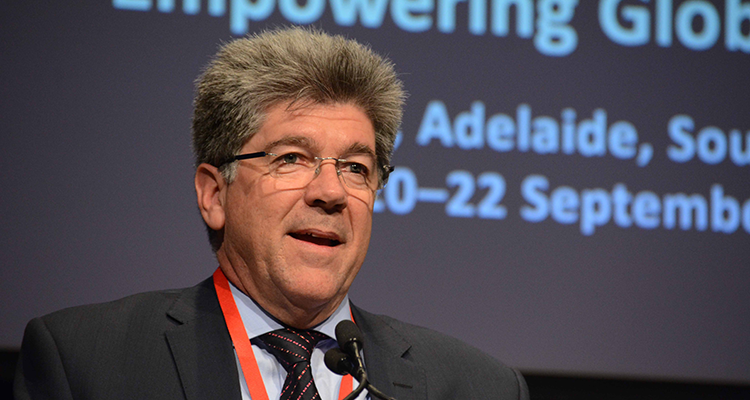 UNSW Global's Group Executive of Education has been awarded the 2020 Distinguished Contribution to International Education from the IEAA.
UNSW Global's Marc Weedon-Newstead has been recognised for his contribution to international education by the International Education Association of Australia (IEAA), being named the recipient of the Distinguished Contribution to International Education award at a virtual ceremony last week.
"In what has been an incredibly challenging year for our sector, we have seen amazing innovations and outstanding contributions from colleagues. It is important, as we traverse this unknown landscape, that we take a moment to stop and reflect on these achievements by individuals and teams and celebrate their successes together," said Ms. Janelle Chapman, President of IEAA.
Mr Weedon-Newstead, Group Executive, Education at UNSW Global, has more than three decades of experience in the governance and operational development of the English Language Intensive Courses for Overseas Students (ELICOS) sector. During his 11 years at UNSW Global, one of the largest pathways providers in Australia, he has been pivotal in the development of programs and initiatives designed to enhance the quality of international education both within UNSW and the wider sector.
"I congratulate Marc on this fantastic and well-deserved recognition," said Laurie Pearcey, Pro Vice-Chancellor, International and CEO of UNSW Global Pty Ltd.
"Marc leads his staff with a passion for the transformational role of education, something he experienced first-hand during his early days as a teacher of English in a remote part of Sudan, and through travelling the world as an English language instructor in Africa, the Middle East and Japan.
"Marc's philosophy of education is to ensure that all of our students have the best preparation and support, allowing them to maximise their inherent skills and capabilities. He is an enthusiastic ambassador for the sector, and brings his accumulated knowledge and expertise to promote and develop opportunities for both staff and students."
This year, Mr Weedon-Newstead has been integral in leading the pivot of UNSW Global pathway programs to online delivery while spearheading the development of new purpose-built online programs and English testing to provide students with the opportunity to commence degree study in a disrupted world.
The full list of awardees can be found on the IEAA website.
Comments