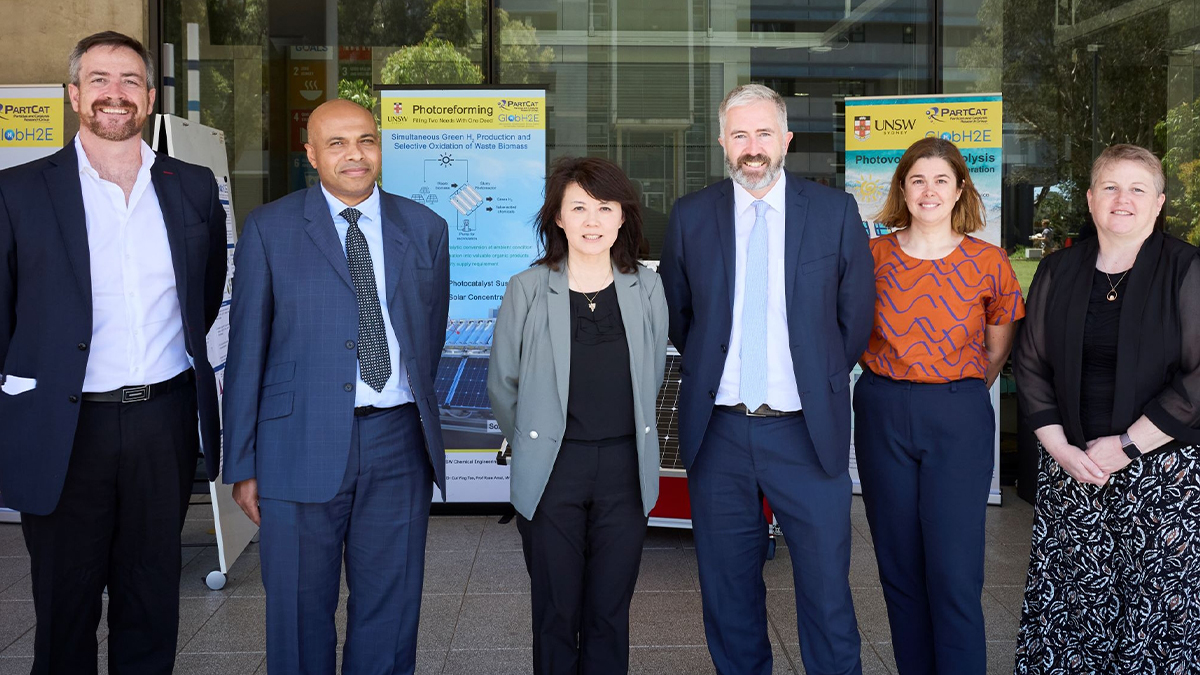 The Centre is developing new cost-effective technologies and building Australia's capability, to place the nation at the forefront of the hydrogen economy.
Assistant Minister for Education Anthony Chisholm opened the Australian Research Council (ARC) Training Centre for The Global Hydrogen Economy (GlobH2E) at UNSW yesterday.
ARC awarded $4.9 million to GlobH2E in 2020 to engage Australia's best researchers to develop hydrogen technologies and innovations to aid the world's transition to renewable energies. The Centre has also attracted $3.5 million in contributions from industry partners.  
Also at the opening was the NSW Deputy Chief Scientist Dr Jaclyn Aldenhoven.
GlobH2E co-director Scientia Professor Rose Amal said the Centre is bringing together global research institutions, industry partners, government agencies and hydrogen start-ups to form a multidisciplinary and international consortium. Its key focus areas are the production, storage and use of hydrogen; development of safety systems and controls; and commercialisation, public acceptance and the skills that industry will require in a hydrogen economy.
"Australia has an enormous opportunity to lead the world in production and export of clean hydrogen. We have the potential to create thousands of new jobs and generate billions of dollars in economic growth between now and 2040, while reducing our dependence on imported fuels and helping to reduce carbon emissions in Australia and around the world," Prof. Amal said.
"GlobH2E is supporting the bourgeoning hydrogen economy by delivering feasibility studies and training modules to industries, as well as mapping out the potential of a hydrogen economy and export opportunities from Australia."
Early successes in hydrogen 
The Centre has had many successes since commencing operations in June 2021. Prof. Amal and her UNSW colleagues, Professor Iain MacGill, Professor Sami Kara and Dr Rahman Daiyan, along with the University of Sydney's Professor Kondo-Francois Aguey-Zinsou, are leading the Australian consortium for the HySupply Project, which explores the feasibility of an Australia-Germany hydrogen value chain. Prof. Amal and Dr Daiyan have also delivered the NSW Power-to-X prefeasibility study for the NSW government, which offers a roadmap for creating NSW hydrogen jobs for the future. The teams have also developed a number of programs and initiatives to deliver industrial training programs, including webinars and articles to educate industry and the public about hydrogen and its role in Australia's transition to net zero.
Assistant Minister Chisholm said: "Hydrogen is going to play such a critical role in Australia's future, creating jobs, business and manufacturing, and export opportunities for Australians, particularly those in regional communities.
"The Albanese government knows how valuable this sector is and is committed to supporting the hydrogen sector.
"We know that Australia has the resources, skills and infrastructure to become a world leader in green hydrogen production. I am pleased to see the significant progress GlobH2E has already made and look forward to seeing the Centre continue its critical role ensuring our nation emerges as a global leader in this field."
GlobH2E consists of 20 chief investigators across six Australian universities (UNSW, University of Sydney, University of Queensland, University of Newcastle, Curtin University and Monash University), 17 partner investigators from four overseas institutions and 15 industry partners including Origin Energy, Standards Australia, Southern Green Gas, Kawasaki Heavy Industry, NSW Chief Scientist Office and the Australian Research Council. Prof. Amal's co-director at the Centre is Prof. Kondo-Francois Aguey-Zinsou from the University of Sydney.
Find out more about the GlobH2E training centre and details about its projects. 
Comments