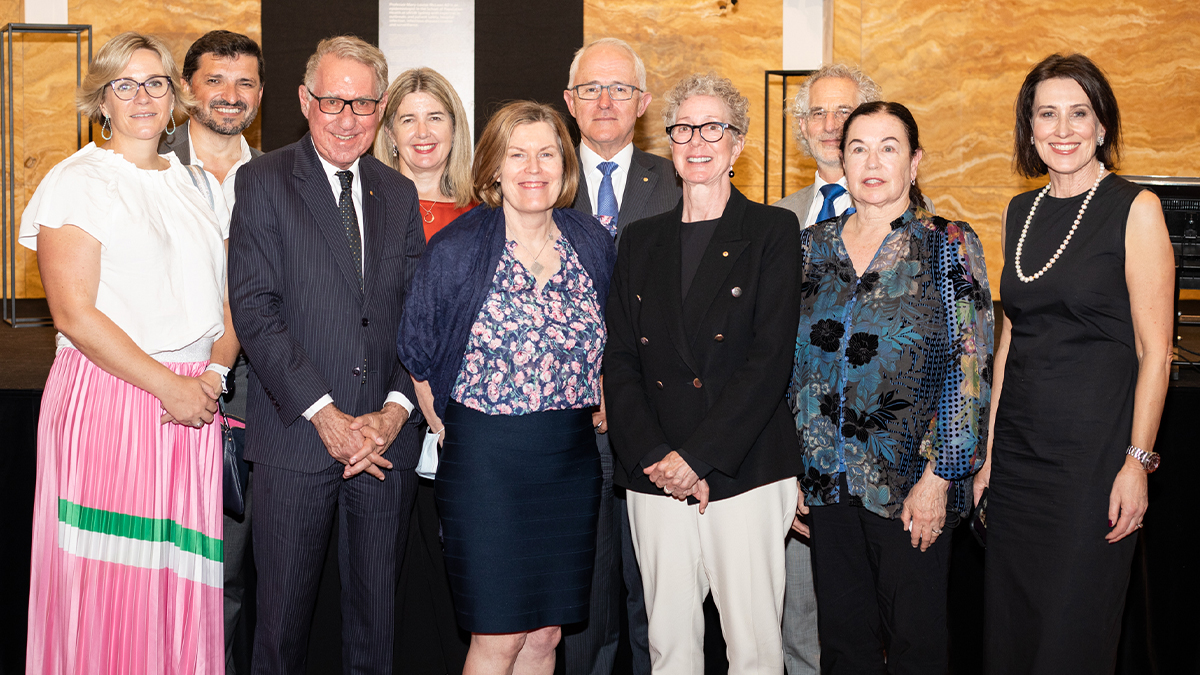 UNSW celebrates the career of highly respected epidemiologist, Professor Mary-Louise McLaws AO, after 36 years of dedicated service at UNSW Sydney.
On Monday night, Professor Mary-Louise McLaws AO joined over 100 guests to celebrate a lifetime of achievements and contributions to the field of infectious diseases and public health globally. Senior leaders from around the world, including former Prime Minister Malcolm Turnbull AC, NSW's Chief Health Officer Kerry Chant AO, and UNSW Chancellor David Gonkski AC, spoke about Prof. McLaws pioneering infection control expertise.
At the height of the COVID-19 pandemic, Prof. McLaws provided comforting and important life-saving health advice, in Australia and across the globe. During this time her expertise and advice was sought by the world's leading health organisations. Mr Turnbull expressed his admiration for Prof. McLaws. "You spoke truth, you took on the pandemic of disinformation, you helped keep us safe, for that we owe you so much," Mr Turnbull said.
Prof. McLaws has been an influential member of the World Health Organization (WHO) Health Emergencies Program Experts Advisory Panel for Infection Prevention and Control Preparedness, Readiness and Response to COVID-19 and member of the NSW Clinical Excellence Commission COVID Infection Prevention and Control taskforce. She is the focal point for WHO at UNSW.
As Honorary Advisor to the Clinical Excellence Commission, she collaborated on state-wide patient safety interventions: improving hand hygiene in healthcare care workers, reducing central line associated bloodstream infections, and detecting and treating sepsis early in patients presenting to emergency departments. Her work has included a seminal evaluation of healthcare associated infections since 1984, and she developed the first surveillance system for healthcare associated infections as a pilot in 1998-2001 for the NSW Health Department.
She has proudly supported PhD candidates throughout her career and focused on infection control in many countries including Cambodia, China, Bangladesh, Mali, Indonesia, Iran, Vietnam, Taiwan and Turkey.  
Mr Gonski described Prof. McLaws as a UNSW academic who was "locally grown and became an international superstar." He was very excited to announce the new UNSW Mary-Louise McLaws AO Clinical Education Rooms, a new teaching and education space within UNSW's eastern extension of the new Prince of Wales Acute Services Building. Prof. McLaws was thrilled with the space, chosen for its proximity to the hospital's new infectious disease unit.
UNSW has also established the Mary-Louise McLaws AO Research Student Support Award to help students achieve a PhD in the School of Population Health. If you would like to contribute to the scholarship, please visit the UNSW Alumni & Giving website and select "Mary-Louise McLaws Research Student Support Award" in the "I want to give to" drop down field. Funds donated by staff will be matched by the University.
Finally, in recognition of her distinguished service to academic work and the development of the University, Mr Gonski was delighted to announce the award of Professor Emeritus to Prof. McLaws.
Comments