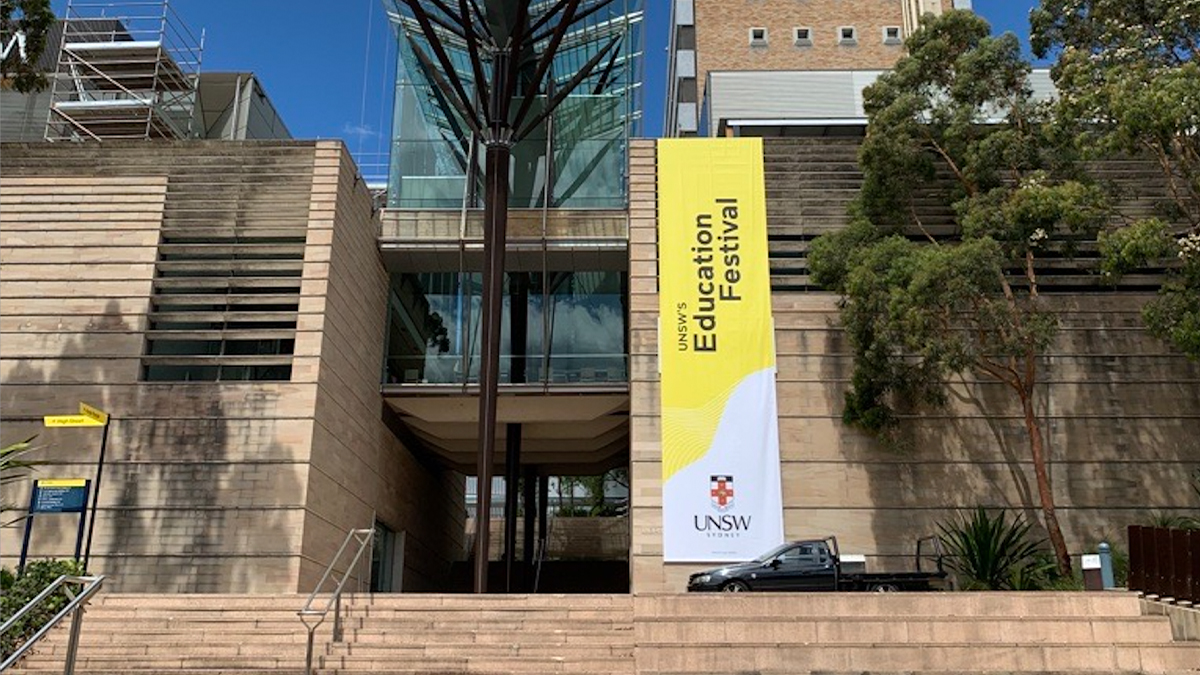 UNSW's education community came together again for a week of events highlighting cross-faculty connection and collaboration.
After a hugely successful inaugural event in 2021, the UNSW Education Festival returned in 2022, bringing the community together to share cross-disciplinary practices and to celebrate teaching achievements and education at UNSW.
Structured differently to last year, the Festival gave colleagues many opportunities to come together in person, while also facilitating the 'new hybrid norm'. The week-long series of events invited our diverse education community to inspire, challenge and celebrate education and educators at UNSW, with sessions encompassing all faculties. There were some new additions, such as a range of educational technology activations and an engaging gallery session for academic and student presenters.
The 2022 Festival saw over 580 people register and nearly 2,300 event tickets booked, demonstrating the growing institution-wide appetite for education events.
The 10 main hosted events included one fully online, two fully on campus and seven hybrid. Each faculty-hosted event was shaped around a theme chosen by the host and boasted a wealth of exciting short talks and keynotes, alongside insightful student panel discussions, workshops and other activities. Over the whole week, this resulted in 84 sessions involving over 160 presenters.
Among this line-up were also six educational technology activations on the Kensington campus. The exciting addition to this year's Festival saw colleagues interested in Educational Technology, Hybrid Learning & Teaching and Media & Immersive technologies for education join in on demonstrations, drop-in sessions and open-door activations.
"The Education Festival provided an opportunity to showcase our innovations – the new 'Hybrid Learning' solutions and Media recording studios – to colleagues from Science and other UNSW faculties. Over 30 academics had hands-on experience using the EdTech," said Steven Parker, Education Technology Manager, UNSW Science.
Graham Hannah, from the PVCESE Immersive Team, reflected on their open-door policy for Virtual Reality (VR). "We had some enthusiastic staff come through to try out various VR experiences, some for the first time. New VR & simulation projects came to life through the conversations that we're excited about for 2023," he said.
"Fantastic range of talks, gallery session was a more interactive poster format session, awesome to have face-to-face events to be able to connect with colleagues again in between session times", said one of the recipients in the feedback survey.
"Great program and smooth event running from a participant perspective - thank you to everyone involved in this massive project", said another.
The final festival event featured a fantastic keynote "24 ways to address student cheating" from Professor Phillip Dawson from Deakin University, and a ceremony celebrating 37 colleagues recognised this year with awards and fellowships for their outstanding contributions to teaching and education at UNSW.
All of this would not have been possible without the cross-institutional collaboration of teams from each Faculty, UNSW Canberra and the Pro Vice-Chancellor Education & Student Experience Portfolio. And whether participants joined online or in-person, the sharing and the takeaways were invaluable.
"UNSW's Education Festival showcases the breadth of educational innovation and expertise across all disciplines at UNSW," said Professor Louise Lutze-Mann, Pro Vice-Chancellor Education & Student Experience. 

"It celebrates a connected community who care about education, and provides a forum to inspire, challenge and share educational excellence." 
More information:
Comments