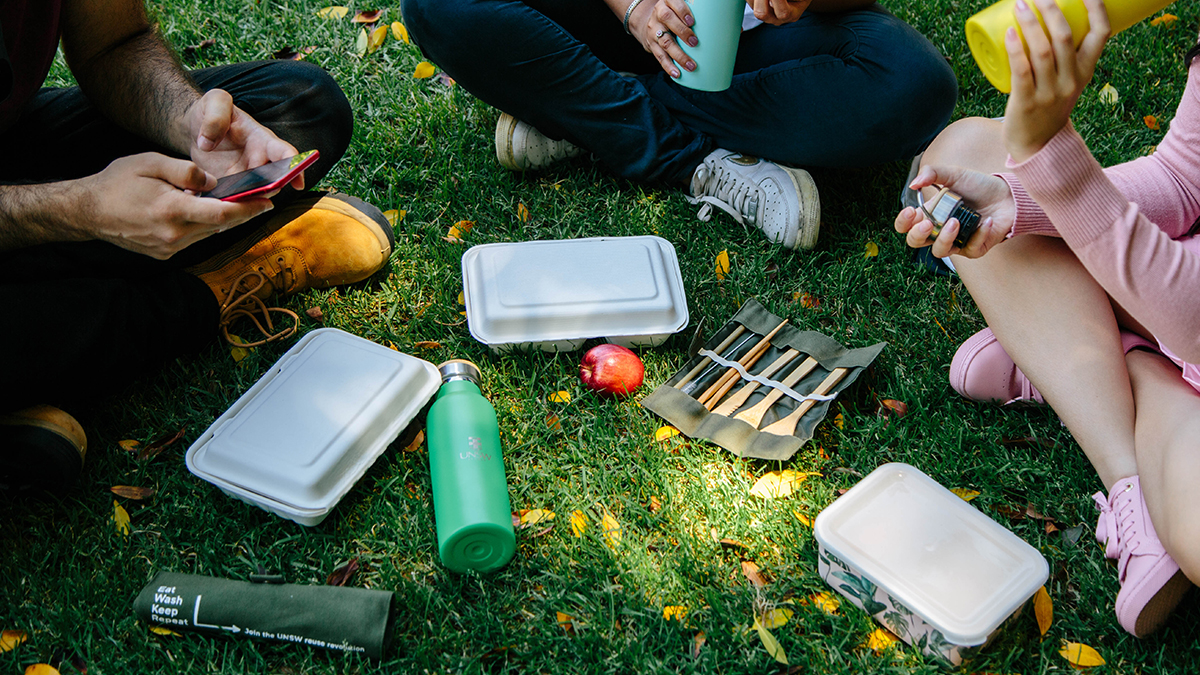 UNSW is committed to reducing our impact on the environment, which is why we're saying goodbye to single-use plastic across campus retail dining services.
Going, going, gone... 
We're excited to announce that starting this year, UNSW is dining plastic free! 
As a part of our continuing commitment to be a sustainable University and aligned with our Environmental Sustainability Plan 2019-21, UNSW Estate Management is proud to introduce Plastic Free Dining.  
We estimate that more than three million single-use plastic items are used by retailers across Kensington campus each year which equates to around 12% of our total general waste by weight. 
 
But it doesn't have to be that way. That's why we're introducing Plastic Free Dining! 
What is Plastic Free Dining? 
Plastic Free Dining is all about achieving three major sustainability goals: 
100% of single-use packaging to be recyclable or compostable
Eliminate problematic and unnecessary single-use plastic packaging
Reduce consumption of single-use coffee cups and water bottles.
How will we do it? 
All single-use campus food packaging will be fully compostable from 2021
UNSW students and staff are encouraged to dine in and BYO cups, containers and utensils to campus
A new three bin system means we will now sort waste into food waste (and compostable packaging), drink containers and general waste to help us recycle better.
How can you help?
Eat good, feel good. Dine in on campus and bring your own containers.
Get it in the right bin. Make sure you check the signs and put your waste in the right place.
Join the plastic free movement! There are many other ways you can eliminate single-use plastics in daily life.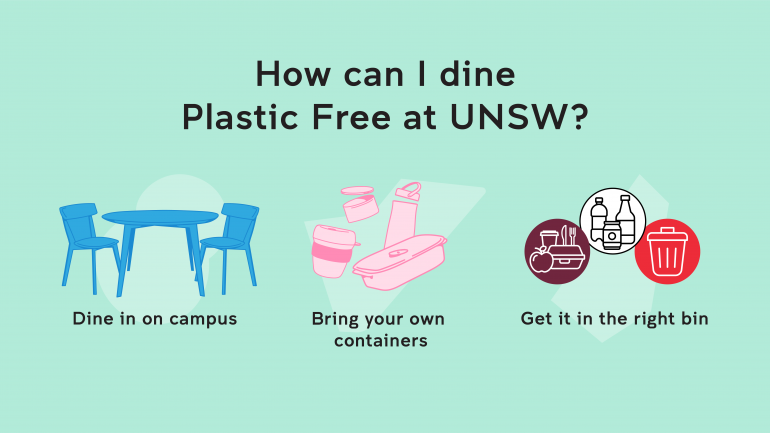 Come and find the Plastic Free Dining stall at O-Week and win some cool reusable merchandise.
Join the UNSW reuse revolution!
Find out more at unsw.to/plastic-free. 
Comments