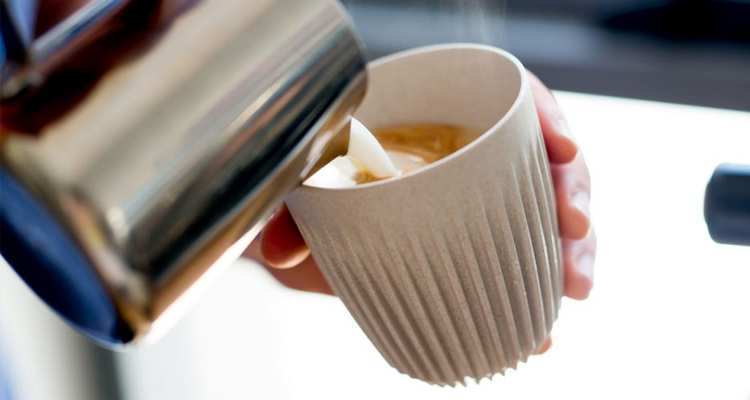 The UNSW Sydney community is coming together with a pledge to reduce our single use disposable item impact this Plastic Free July.
Over 2.7 million single use coffee cups end up in Australian landfills every day. The University is working to create a sustainable future and is committed to minimising and managing waste responsibly, improving resource efficiency, and promoting a plastic free dining experience on campus.
During Plastic Free July 2022, you can join the reuse revolution by pledging to dine plastic free and single use free on campus. The first 2,000 people to take the pledge are eligible to receive a free reusable Huskee cup and beverage voucher as part of this University initiative.
UNSW Vice President of Finance & Operations, Andrew Walters, said, "I'm privileged to live near the ocean. It stuns me to see the amount of waste, mostly plastic and food packaging, that is dumped in the sea, in rock crevices, on the beach and so it goes on. It's appalling, and I for one want to say 'NO'.  Stand with me by pledging to dine plastic free and single use free on campus during Plastic Free July 2022 … perhaps even Plastic Free forever …"
You can take the pledge now to do any of the following:
Using my own reusable cup when buying a coffee

Carrying my own water bottle

Saying no to disposable straws

Using my own food containers and utensils

Dining in when I have my coffee at a café if I don't have my cup

Saying no to disposable lids if I must use single-use cups or containers

Or write your own pledge …
The first 2,000 pledgers to either show their pledge submission receipt email and UNSW identification card to staff at the UNSW Bookshop during the month of July 2022 or visit the Plastic Free Dining Stall at the Arc Green Fest on 30 June 2022, can claim their reusable Huskee cup and voucher for a beverage of their choice at participating vendors on the Kensington campus. The first 20 people to collect their vouchers at the UNSW Bookshop will also receive a free copy of Plastic Free: The Inspiring Story of a Global Movement and Why it Matters.
Plastic Free July is a global movement that helps millions of people be part of the solution to plastic pollution. When you choose to refuse single-use plastics, you join over 120 million people across 177 countries who have committed to reducing plastic waste, creating cleaner campuses, streets, oceans and community spaces.
Find out more about plastic free dining at UNSW or explore the UNSW Sustainability website to learn more about Environmental Sustainability at the University.
Comments