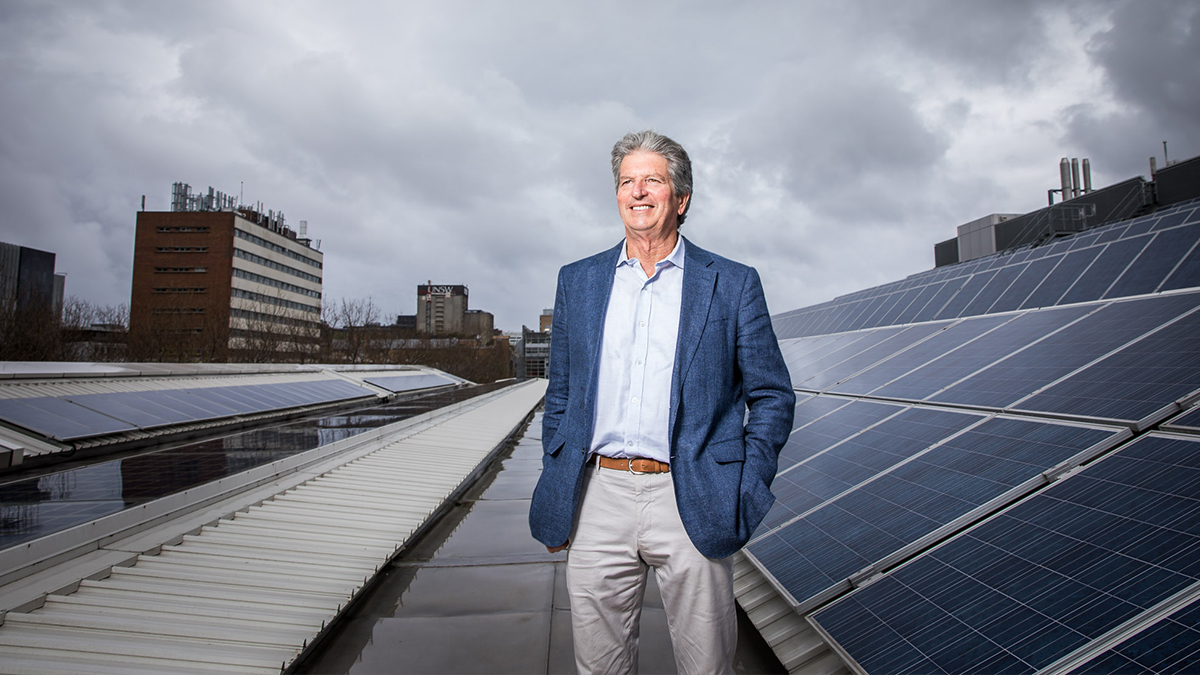 UNSW Sydney solar expert Martin Green has been honoured with the Japan Prize for transforming the photovoltaics industry.
The Japan Prize Foundation has announced that Australian Scientia Professor Martin Green is a laureate of the Japan Prize in the field of "Resources, Energy, the Environment, and Social Infrastructure" for his revolutionary work in the field of photovoltaics.
The annual prize is one of world's most prestigious awards given to scientists who've helped to make significant advances in the fields of science and technology worldwide, thus furthering the cause of peace and prosperity of mankind. Each year two fields of scientific endeavour are honoured.
Professor Green, who is Director of the Australian Centre for Advanced Photovoltaics (ACAP) at UNSW Sydney, was recognised today for his work in developing high-efficiency silicon photovoltaic devices.
"It's a privilege to receive this award, which serves as a reminder that the quest for inexpensive, renewable energy is a global quest seeking to sustain the trajectory of human civilization on our shared planet," Professor Green said.
"I'd like to pay tribute to the thousands of solar researchers who have worked in the field for many years, including those at UNSW and elsewhere who have helped not just make PERC [solar cells] a reality but solar now the cheapest source of bulk electricity supply."
Professor Green also thanked the Australian government for its sustained support of his work, most recently through the Australian Renewable Energy Agency (ARENA).
Global top 30 award
The highly competitive prize had 142 nominations in the field of Resources, Energy, the Environment, and Social Infrastructure, comprising prominent scientists and researchers from across the globe. It is rated as one of the world's top 30 major academic awards by IREG List of International Academic Awards with a reputation score of 0.66 compared to a Nobel Prize.
Professor Green is often described as "the father of modern photovoltaics" and has played a significant role in the development and uptake of PV technology, positioning it to a point where it can now be used to decarbonise global energy supply.
He is a world-leading specialist in silicon solar cells, and the research group he founded in UNSW Engineering is the largest and best-known university-based photovoltaic research group in the world.
The enormous reductions in costs in photovoltaic solar systems in recent years are directly related to his scientific efforts, largely through the work of his students in establishing manufacturing centres in Asia via Australian-Asian joint ventures.
"Early in my career, solar was interesting but terribly expensive. Now it embodies the long-standing hope of an abundant, inexpensive renewable resource."
His record-breaking achievements stretch across decades. In 1989, his team supplied the solar cells for the first photovoltaic system with an energy conversion efficiency of 20%. In 2014, he headed the development team that first demonstrated the conversion of sunlight into electricity with an energy conversion efficiency of 40%. His team has held the world record for silicon cell efficiency for 30 of the last 38 years.
Among his many breakthroughs, he invented the PERC solar cell, which accounts for over 85% of the world solar cell manufacturing capacity with its rapidly increasing market share due to its high efficiency at low cost. PERC solar cells are now the commercial standard throughout the world, with PERC system sales exceeding US$100 billion in 2019 and predicted to exceed US$3 trillion cumulatively by 2040.
"Early in my career, solar was interesting but terribly expensive," Professor Green said. "Now it embodies the long-standing hope of an abundant, inexpensive renewable resource, providing an answer to our planet's critical environmental challenges."
Professor Green is the third Australian researcher to win the prize since it was first awarded in 1985, joining Professor Jacques Miller who won the award in 2018 for deciphering the two types of lymphocyte lineages involved in adaptive immunity and Professor Frank Fenner who won the award in 1988 for overseeing the eradication of smallpox.
Formative contribution to renewable energy
UNSW President and Vice-Chancellor Professor Ian Jacobs congratulated Professor Green on his achievement.
"Martin has made a seminal contribution to the development of renewable energy which produces major economic and social benefits globally. The legacy of his work will have a positive impact for many decades to come.
"This award cements his place as one of the most influential minds in engineering globally. UNSW is proud of his stellar achievements and we warmly congratulate Martin on this richly deserved accolade."
Professor Nicholas Fisk, Deputy Vice-Chancellor, Research, said: "Martin has pulled off the biggest prize in UNSW history, fully deserved for a life's work on ground-breaking solar R&D. This is the ultimate in translation, still snowballing as we speak."
Professor Green has supervised more than 120 PhD students over the course of his career. Some of these students have been instrumental in driving enormous cost reductions in PV solar systems by helping to establish manufacturing centres around the world.
UNSW Acting Dean of Engineering Professor Stephen Foster said Martin and his research team has made a profound global impact.
"Martin's work over decades has revolutionised the way that energy is delivered across the globe, through developed and developing societies, to industry, communities, and individuals – clean, renewable, energy that transforms worlds and reduces greenhouse gas emissions. That this work was conducted at UNSW makes one truly proud," he said.
The Japan Prize Foundation awards 50 million Japanese yen (approximately $620,000) along with a certificate and prize medal to each of the winners of the two fields in 2021.
Comments