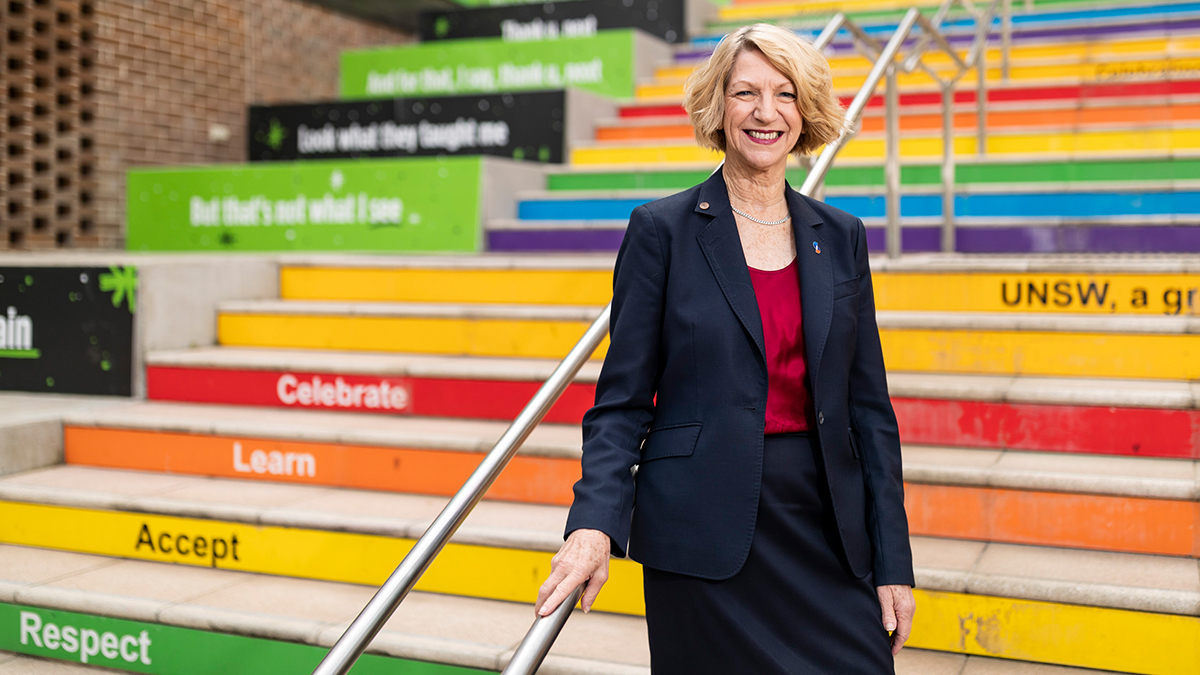 Revered academic and advocate Eileen Baldry leads the list of UNSW Sydney recipients of 2021 Australia Day Honours.
Professor Eileen Baldry, UNSW Sydney Deputy Vice-Chancellor Equity Diversity & Inclusion and Professor of Criminology, heads the list of UNSW academics, alumni, current and former colleagues, and community members recognised in this year's Australia Day Honours.
Professor Baldry has been appointed an Officer of the Order of Australia (AO) for "distinguished service to tertiary education, to criminology and social welfare policy, and as an advocate for diversity, equity and inclusion".
"I am delighted and humbled to receive this honour," she said. "It is an absolute honour to work and collaborate with the most marvellous UNSW colleagues and community advocates. This award belongs to all of us. It is also an opportunity to elevate the important work we do as academics in trying to build a fair and just society."
UNSW President and Vice-Chancellor Professor Ian Jacobs congratulated all members of the UNSW community who received awards.
"These honours recognise and celebrate your outstanding achievements and contributions. Thank you for your exceptional commitment and work in making a difference to the lives of your fellow Australians and to humanity more broadly."
Professor Jacobs also applauded Professor Baldry's appointment as an AO.
"This is a wonderful recognition of the enormous contribution to individuals and society that Eileen has made through her passion for equity and justice. It reflects Eileen's academic achievements, her tireless dedication to justice-related causes and her key UNSW role as Deputy Vice-Chancellor Equity Diversity & Inclusion. My congratulations to Eileen on the so well deserved honour and my thanks for her vast and valuable contributions to the University."
Professor Baldry has held senior positions in UNSW's Faculty of Arts & Social Sciences (now Arts, Design & Architecture), serving as Interim Dean, Associate Dean Education and Deputy Dean. She is the first female Deputy Vice-Chancellor appointed at UNSW.
She has taught social policy, social development and criminology over the past 30 years. Her research and publications focus on social justice and include mental health and cognitive disability in the criminal justice system; criminalised women and Indigenous Australian women and youth; education, training and employment for prisoners and ex-prisoners; homelessness and transition from prison; Indigenous justice; Indigenous social work; community development and social housing; and disability services.
Professor Baldry has been and is a Chief Investigator on numerous Australian Research Council (ARC), National Health & Medical Research Council (NHMRC), Australian Housing and Urban Research Institute (AHURI) and other grants over the past 25 years. She contributes to commissions and inquiries and has published more than 130 peer reviewed books, articles and reports.
She has been involved in a voluntary capacity with a number of development and justice community organisations and is currently a director on the Board of the Public Interest Advocacy Centre (PIAC). Professor Baldry has served as chair of a number of homelessness and justice related committees, and she is currently chair of the NSW Ageing and Disability Commission's Advisory Board. During her time as Deputy Chair of the Disability Council NSW, she advised the Minister and public authorities on emerging issues relating to people with disability.
Professor Baldry was co-chair of Universities Australia Executive Women Group (UAEW) 2019–2020, a national group providing strategic advice and high-level guidance to Australian universities on improving the representation of women, both academic and professional, at executive levels of university leadership and governance.
She is a Fellow of the Academy of the Social Sciences in Australia and of the Royal Society of NSW. Professor Baldry was awarded the NSW Justice Medal in 2009 and in 2016 was named one of the AFR/Westpac 100 most influential women in Australia.
Academics, alumni, colleagues, former colleagues and community members have also been recognised in this year's Australia Day Honours.
Officer in the General Division of the Order of Australia (AO)
Emeritus Professor Christopher Joseph Fell AM, Former Deputy Vice-Chancellor (Research and International) UNSW, former Dean UNSW Engineering, UNSW School of Chemical Sciences. "For distinguished service to science and engineering, particularly to nanotechnology research and fabrication, and to professional networks."
Member in the General Division of the Order of Australia (AM)
Professor Ronald Ian Bartsch, Senior Visiting Fellow, UNSW School of Aviation, since 2000. "For significant service to aviation law, and to safety and compliance."
Dr Peter Raymond Carroll, Former Senior Lecturer in Pharmacology, UNSW Medicine. "For significant service to pharmaceutical education, and to community health."
Professor Michael Graham Chapman, Professor of Obstetrics and Gynaecology, UNSW Medicine. "For significant service to medical education, and to obstetrics and gynaecology."
Dr Jillian Anne Guthrie, Member, Indigenous Offender Health Research Capacity Building Group, Kirby Institute, UNSW, since mid-2000s. "For significant service to Indigenous health, and to justice reinvestment policy."
Dr Perry Catherine McIntyre, Adjunct Lecturer, Global Irish Studies Centre, UNSW, since 2012. "For significant service to history preservation and genealogy organisations."
UNSW congratulates all the members of its community who received 2021 Australia Day Honours.
Find the full list of recipients on the Governor-General's website.
Comments