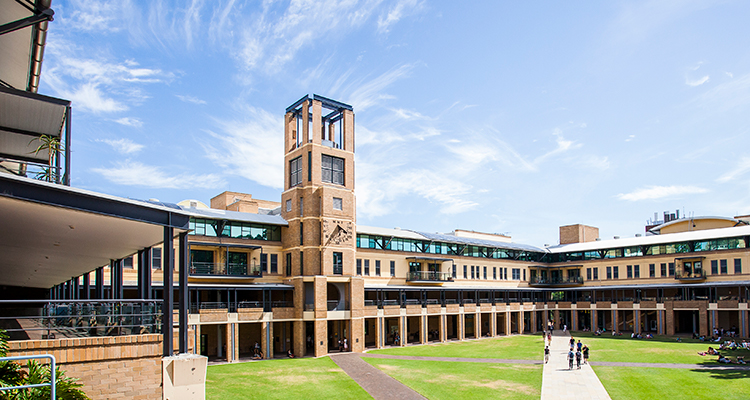 With O-Week and Term 1 only days away, we can look forward to a lively campus with students and staff returning to lecture theatres and laboratories and the library – and yes, our lawns and hospitality outlets – to learn, to make new friends, and for many, to begin a new chapter in their lives. It is an exciting time for students, staff and visitors to experience all that our wonderful University has to offer. I look forward to seeing you around campus as our new academic year gets under way – your presence will help ensure the vibrancy of our campus, which is a key part of the UNSW experience.
Thank you to all the staff involved in our Safe Return to Campus arrangements, ensuring that we reactivate our campus in a way that minimises any risk to our community. Some COVID-related restrictions in NSW have eased recently: do continue to check the NSW Government website for the latest updates and COVID-safe requirements. If you need support, free and confidential counselling is available through our Employee Assistance Program. The service is also available for immediate family members. Assistance for our students is available via The Nucleus on 02 9385 8500 and our Student Support Advisors.
The start of this academic year is a poignant one for me: my seventh and last as President and Vice-Chancellor. Thank you to everyone who has been in touch with me over the past few days with such generous messages of support, friendship and understanding.
As I wrote when I shared the news with you last Thursday, I have had an enormously fulfilling and memorable time at UNSW and in Sydney. It will be hard to leave and I will always be grateful to the staff, students, leadership team, Council members, alumni and supporters who made me feel so welcome, have delivered such stellar work for the University, and made the years so satisfying and successful.
It has been and continues to be a great privilege to lead UNSW. I look forward to the year ahead and to all we will accomplish – and I will give my all to ensuring the success of your work and of UNSW until I hand over a year from now. Our Chancellor is leading the search for my successor, which is already under way.
We already have much to celebrate in 2021. I am pleased to have an excuse to mention again the wonderful achievement of Scientia Professor Martin Green in receiving the Japan Prize. It has been pointed out that in my message last Friday about Martin's award, my comments related to the development of PERC solar cells were inaccurate. Apologies. Stuart Wenham was, of course, Martin's long-time collaborator and did contribute to subsequent PERC technology development. But the PERC cell was invented by Martin Green and the first efficient device was made by Aihua Wang and Jianhua Zhao in the UNSW processing team headed by Andrew Blakers.
Congratulations again to Professor Eileen Baldry on her appointment as an Officer of the Order of Australia, heading the list of UNSW academics, alumni, current and former colleagues, and community members recognised in this year's Australia Day Honours.
Last week I also had the pleasure of writing a letter of congratulations to Dr Joao Martins, UNSW alumnus (Medicine) and the newly appointed Rector of the National University of Timor Leste. We are privileged at UNSW to be among people with enduring dedication to making the world a better place and it is good to be able to share news of their accomplishments with you.
2021 UNSW Alumni Awards – nominations open
Now is your chance to nominate the dreamers, leaders and thinkers who make up our global community of alumni, for a 2021 UNSW Alumni Award. UNSW graduates are having profound impacts locally and right around the world; these awards enable us to honour their achievements and inspire our students and staff. Nominations are open until Friday, 19 February 2021.
O-Week arrangements
O-Week takes place next week, from 8 – 12 February, and is an exciting time for our new students as they learn about their university surroundings and meet others who are embarking on their study journey. COVID-19 has, of course, changed the way we will run O-Week this year – we will combine COVID-safe face-to-face events and virtual experiences. It has been a great collaborative effort across the University and I thank staff from the Student Onboarding and Transition Team, Peer Support Team, Arc, Student Communications Team and Future Students Team, who have worked together to create events worthy of the occasion. I hope all students and staff enjoy the start of what promises to be a wonderful year at UNSW.
Randwick Health and Innovation Precinct
We have entered an exciting phase of the Randwick Health and Innovation Precinct with the release of the four-year RHIP Strategy. The Strategy was developed by precinct partners (UNSW, Sydney Children's Hospital, Health Infrastructure and South Eastern Sydney Local Health District) and stakeholders including researchers, students, patients, families and the community. It provides a framework for ongoing collaboration and opportunity, tapping into the diverse and talented UNSW community. The Precinct is the realisation of a 60-year objective of UNSW to bring the health and university campuses closer together and it will be the largest co-located health precinct in NSW.
I congratulate all who have been involved in bringing the strategy to life.
UNSW Fitness and Aquatic Centre
I am pleased to let you know that the UNSW Fitness and Aquatic Centre (FAC) will back in time for Term 1. The revitalised centre is under new management by Clublinks, a leading fitness and sports management company that operates other large sports facilities, including the nearby Centennial Parklands Sports Centre.
UNSW FAC will emphasise inclusivity and accessibility and offer integrated allied health facilities to promote the practice of 'exercise as medicine'. You can now sign up for membership through the Clublinks website; previous members will need to reapply. The centre will reopen in time for O-week and will ramp up access to full facilities by the commencement of Term 1.
Gender Affirmation Guidelines support the best UNSW experience
The UNSW community is committed to creating an environment in which every member of the community is respected, valued and feels they belong; accepting our differences and diverse identities is fundamental to this aim.
The University Equity Diversity & Inclusion Team has developed Gender Affirmation Guidelines for students and staff to ensure these values are upheld for staff and students of trans and gender diverse identities.
Thank you to all who provided input to these guidelines and to all who help ensure everyone at UNSW can have the best possible university experience.
Have your say on LGBTIQ+ workplace inclusion
In 2020, UNSW achieved Gold Employer status in the Australian Workplace Equality Index (AWEI), the national benchmark on LGBTIQ+ workplace inclusion. In 2021 UNSW will again apply to be recognised in the AWEI, for the fourth year.
All staff, of all identities, are invited to help us maintain our gold standard by participating in the AWEI Staff Survey. The responses will aid our understanding of our employees' day-to-day experiences and help us continue to improve the experience for staff of diverse genders, sexes and sexualities.
The 15-minute online survey is anonymous, open to all and closes on Friday, 12 March 2021.
New Defence Research podcast launched this week
UNSW has a long and proud history of working with defence organisations to meet the demands of a constantly changing, high-tech defence environment, translating world-class research into defence capability. The Defence Research Institute, based at UNSW Canberra, is a key component of our evolving partnership with the Australian Defence Force and associated industry.
This week, DRI launches Defence Research, a fortnightly podcast that will feature some of the brilliant people who are engaged in this field of endeavour at UNSW. The series of interviews will highlight our research strengths and partnership successes, homing in on the value of government and industry working with UNSW to enhance Australia's security.
DRI Business Development Manager, Mick Cook, hosts the podcast. I encourage you to listen to the first episode, 'The Future of Research for the National Interest', to find out more.
New External Engagement appointments
I am grateful to Freya Campbell for taking on the role of Acting Chief Communications Officer until the end of March, following the departure of Darren Goodsir last week. Freya has done a superb job as our Director of Corporate Communications over recent years, leading the corporate communications, internal communications, social media and creative services teams. Those who, like me, have had the good fortune of working closely with Freya, will know that we are in excellent and expert hands. Please join me in congratulating Freya.
Also in External Engagement, in April we will welcome Lindsay Robinson to UNSW as Chief Development Officer. Lindsay has nearly 20 years' experience in fundraising, most recently as Director, University Development, STEM and Business at the University of Sydney. I look forward to introducing Lindsay more fully when she joins us in April.
And finally, I wish you good health and many fulfilling experiences as we embark on this year together.
Take care and stay well
Ian
Comments