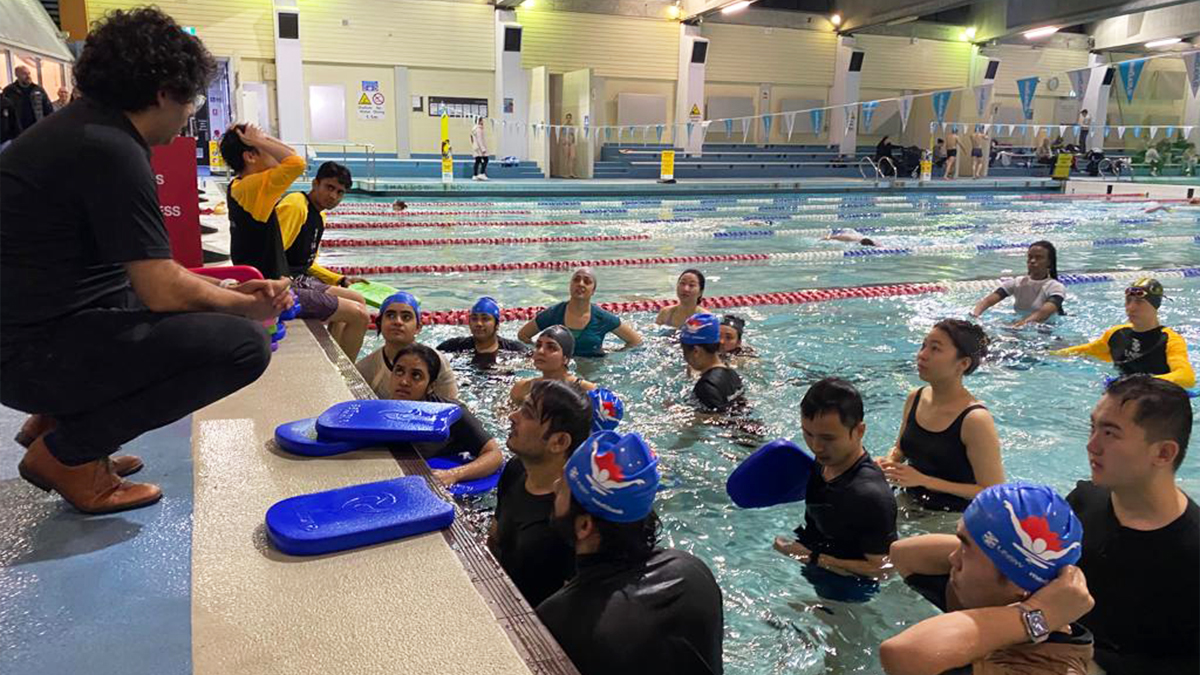 Learn to Swim program builds water confidence and social cohesion for international students.  
Water and beach experiences are often second nature for Australians, But what if you didn't grow up here or didn't have the opportunity to learn these vital skills? According to Royal Life Saving Australia, almost half of beach drowning deaths in Australia from 2004 to 2021 were people born overseas, with international students accounting for an average of three of these deaths annually.
To help address this issue, UNSW Health Promotion Unit in partnership with Medibank, the UNSW Fitness and Aquatic Centre and Coogee Surf Life Saving Club developed a water and beach safety program designed specifically for people who lacked basic water skills and confidence. Since its inception, 670 international students from over 46 different countries have participated in this eight week program.
On 18 October 2022, UNSW Learn to Swim Program won the AUSTSWIM 2022 State and National Awards for Community Education Program of the year.
Madhav Raman, coordinator of the programme for the UNSW Health Promotion Unit, expressed his gratitude for all those who have contributed to the program's success. "The award reflects the dedication and commitment from past and present staff and multiple stakeholders, providing this service for the international student community at UNSW," said Madhav.
"Learning to swim should be a right of all people, not only those that grow up in Australia" said Belinda Meggitt, Health Promotions Team Lead. "The program's success is not only that it improves swimming skills and keeps people safe, but it breaks down barriers for international students. Being confident in the water enables international students to confidently go to the beach or swim in the multiple water ways across Australia"
During the first two terms of 2022, 88 students completed the program. Confidence in the water varied at the start of the program, with most students describing themselves as scared or nervous. Following the program, their confidence increased, with the majority feeling better equipped and more confident.
All the students who have completed the feedback on the program recommend it to other students. "I felt that I have improved a lot in my swimming technique, and I am now very confident swimming in the deep end," commented one of the students about the best part of the program.
To learn more about the program, or apply to participate, click here.
Comments