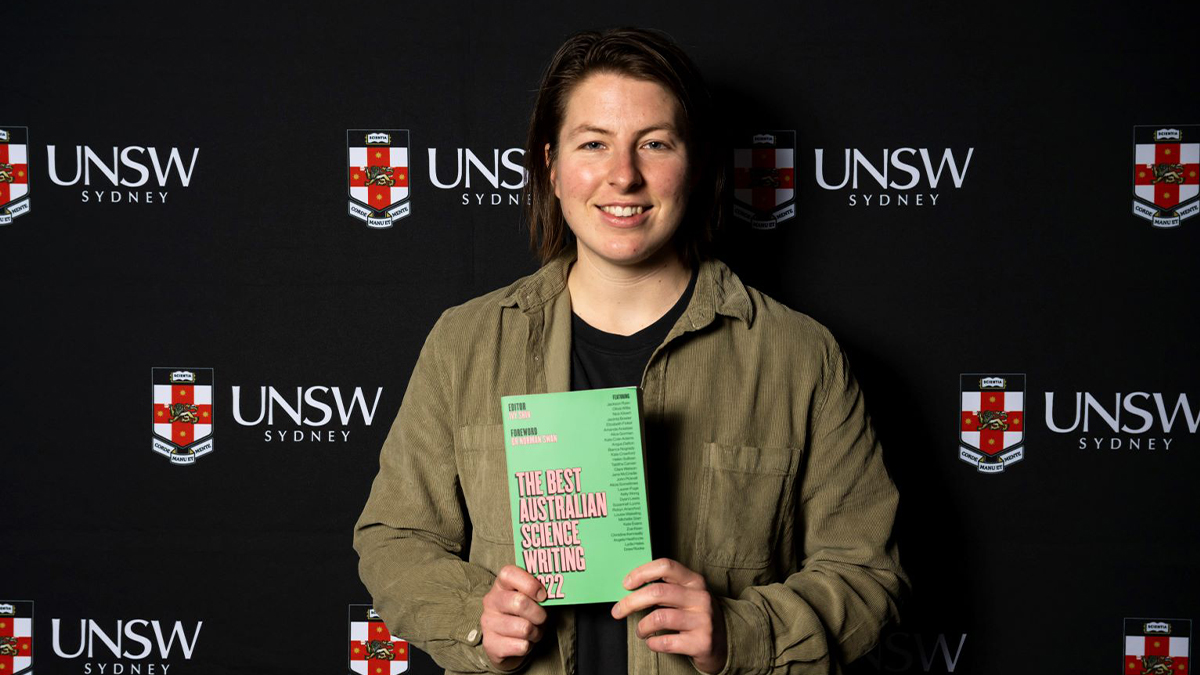 Lauren Fuge wins the 2022 UNSW Press Bragg Prize for Science Writing.
The 2022 Bragg Prize has been awarded to Lauren Fuge for her essay 'Time travel and tipping points', which explores our geological understanding of time ­— and how it might help us understand our future.
The essay will be published alongside the 30 longlisted entries to the prize in The Best Australian Science Writing 2022, NewSouth's annual collection featuring the finest Australian science writing of the year.
"I'm stoked to win the Bragg Prize. My most pressing work as a writer is to find new and different ways to tell stories about the climate crisis, so it means a lot for this essay to be recognised in this way, because it means something is working," Ms Fuge said.
Ms Fuge's story weaves her personal introspection with Earth's geological history to look at what plate tectonics research has revealed about Earth's past evolution and climate, and how this understanding of deep time can contextualise the rate and scale of changes that we are now seeing.
The story transports us to Flinders Ranges outside Adelaide, where she travels through the ancient mountain ranges to see the transitions between past geological periods embedded in rock.
"In the first year of the pandemic, I spent some weeks camping and hiking in the Flinders Ranges. I quickly became obsessed with how I could learn to read a landscape's memory. I saw geological evidence of Snowball Earth when glaciers blanketed the planet, visited the golden spike marking a drastic change between strata, and ran my fingers across sandstone fossils of the first complex animals on Earth. I began to inch up to the precipice of deep time and stare down into the chasm of the planet's history," Ms Fuge said.
"I also spent a lot of time with Adnyamathanha elders, whose people have called the region home for more than 49,000 years. Through them, I learned a different way of looking at the land: not as something we walk upon or own, but as something we are inescapably part of, something we belong to – where people and land are continuously collaborating in each other's creation.
"I hope this essay invites readers to think more deeply about how our species must urgently change our relationship with the Earth."
Ms Fuge is a science writer, currently working on a narrative non-fiction book about human exploration and the Anthropocene. She is also undertaking a PhD in creative writing on how we tell stories about climate change. She was previously a journalist at Cosmos magazine.
Dr Norman Swan, science journalist, presented the welcome address at the launch of this year's edition of The Best Australian Science Writing, edited by Ivy Shih, while UNSW Dean of Science Scientia Professor Sven Rogge presented the 2022 Bragg Prizes.
Prof. Sven Rogge congratulated Ms Fuge on receiving the Bragg Prize.
"Lauren's essay is fascinating! She has effectively woven her geological knowledge and experience into a captivating story that grabs our attention from the very beginning. It's a real skill to be able to write a story about the complexities of science and Lauren has done this with flair."
Helen Sullivan and Olivia Willis were announced runners up of the 2022 Bragg Prize.
'A Syrian seed bank's fight to survive', written by Ms Sullivan, documents the dedication of scientists in safeguarding a seed bank in Syria, at great risk to their lives. Those seeds embody not only the fragility of science at the mercy of society, but perhaps our salvation – plants that can thrive in a changing climate.
Mrs Willis's story, 'Spillover in suburbia', forces us to set COVID-19 aside for a moment by sharing the origins of the Hendra virus. It tells the tale of how an intricate network of scientists and vets acting as frontline 'sentinels' can help us be vigilant about the next disease outbreak.
The UNSW Press Bragg Prize for Science Writing is an annual prize for the best short non-fiction piece on science written for a general audience. It is named in honour of Australia's first Nobel laureates, William Henry Bragg and his son William Lawrence Bragg.
The Bragg Prize winner receives $7000 and two runners-up each receive a prize of $1500. The prizes and associated events are supported by the Copyright Agency Cultural Fund and UNSW Science.
The Best Australian Science Writing anthology
This year the Best Australian Science Writing anthology and the UNSW Press Bragg Prize for Science Writing attracted more than 250 entries from scientists, journalists, writers and poets.
The highly acclaimed anthology, now in its 12th year – and with a foreword by Dr Norman Swan – showcases the extraordinary breadth, depth and creativity of Australian science writers.  
The book and the prizes support UNSW's strategy to inform public debate about issues that directly impact the community.
UNSW Bragg Student Prize
The UNSW Bragg Student Prize celebrates excellence in science writing by Australian high school students in years 7 to 10 and is supported by UNSW Press in conjunction with Refraction Media.
The 2022 Bragg Student Prize was won by Olivia Campbell, a student at PLC in Melbourne. Olivia's essay called 'Viral Science' highlights the important role of science and scientific knowledge today.
Comments