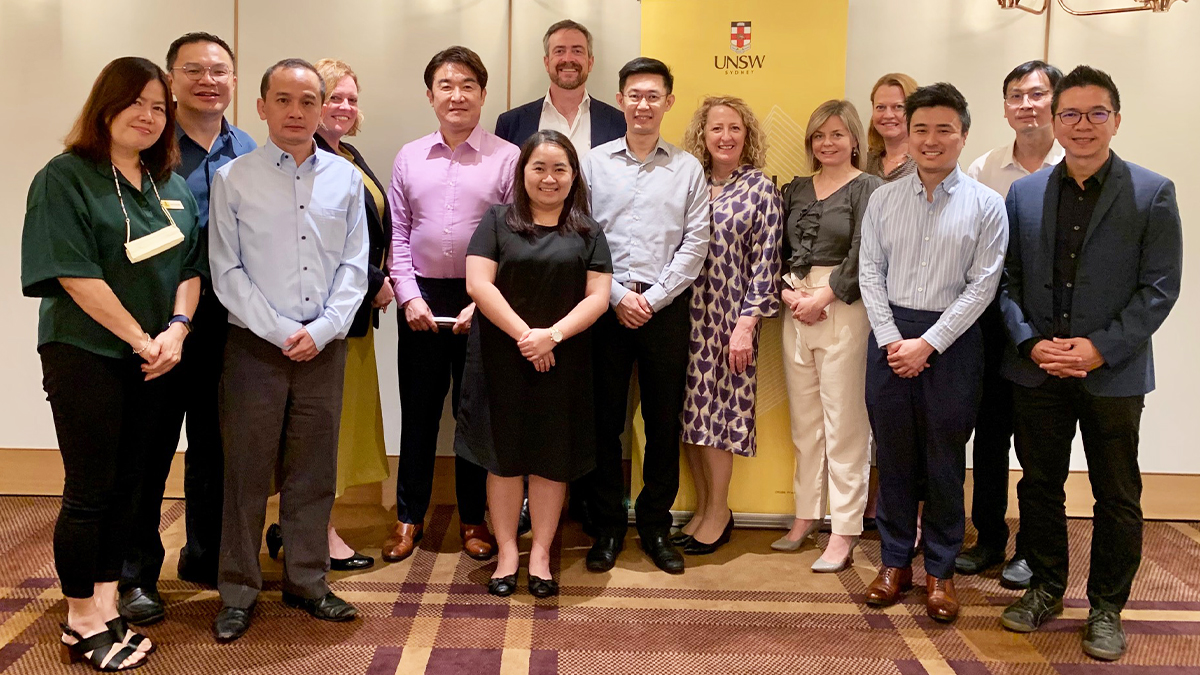 Dear colleagues
On Saturday I arrived home from a hectic but very fruitful visit overseas – my first as UNSW's Vice-Chancellor – with a focus on connecting with and rejuvenating our wonderful international alumni chapters. I flew into Sydney to a brilliant spring day, coming in over a glistening harbour, and I thought of the accomplished UNSW alumni with whom I had spent time in New York, London and Singapore: what it must have been like to catch this bird's eye view of Australia as incoming students, or indeed as departing graduates leaving Sydney to embark on careers beyond our shores. While I was fortunate to visit three countries during my trip, I was reminded that UNSW has 362,000 graduates in 137 nations. With that geographical scope and the values that define a UNSW graduate comes the potential for significant global impact. I found it a great privilege to meet some of our alumni whose accomplishments have improved the lives of so many people around the world.
During my trip, I was delighted to meet my counterparts at our PLuS partner universities. Arizona State University President, Professor Michael Crow, and his colleagues graciously hosted us for several meetings and tours of the ASU campus in Phoenix. Similarly, I was most grateful for the hospitality of King's College London President and Principal, Professor Shitij Kapur, and his team during our visit to KCL and associated campuses.
One of the many highlights was visiting TEDI-London, the specialist engineering institution created by the PLuS Alliance partners that has the ambitious vision of 'Transforming engineering education to transform lives.' The students and staff I met were very excited to be part of this unique venture, which features a diverse, creative-thinking student community and a project-based, interdisciplinary global design approach to engineering education. I also loved hearing about the concrete impact that the visiting UNSW students had through their participation in the summer "challenge programs".
Our visit to Singapore was a special one, too. It was an honour to meet auspicious UNSW alumni and partners, and to have the opportunity to thank them personally for their ongoing, generous support.
The trip also identified significant new partnerships and multimillion dollar opportunities, particularly in advanced manufacturing, lifelong learning and tackling climate change.
Thank you to colleagues who accompanied and assisted me on this very worthwhile and engaging journey overseas. I was proud to be an ambassador for UNSW and to be in the company of people with a passion for education, for research and for having a transformative impact on the world around us. I returned home with a renewed understanding of the special place UNSW has in the hearts of so many people. It really is my privilege to be part of the UNSW community. 
UNSW Research Translation Expo – 100 innovations powered by UNSW
Congratulations to UNSW Knowledge Exchange, who showcased 100 of these innovations at the inaugural UNSW Research Translation Expo at the Roundhouse last week. The Research Translation Expo drew together our founders, entrepreneurs and researchers, and businesses, investors and industry partners, to consider opportunities for collaboration and funding; and featured a lively panel discussion.
UNSW is amazing. Colleagues throughout the University are undertaking ground-breaking research, making life-changing discoveries with immense potential for translation into social and economic impact.
The Research Expo brought our 2025 Strategy 'Research Excellence and Translation' focus area into sharp relief, pinpointing UNSW's entrepreneurial capabilities and innovative research across our Faculties. I encourage you to take a few minutes to watch the Expo's highlights reel.
Extraordinary acclaim for pioneering colleagues
It is a pleasure to reiterate my congratulations to Scientia Professor Martin Green, who last week received Europe's biggest technology innovation award, the prestigious Millennium Technology Prize, for his pioneering work transforming the production of solar energy. I extend my warmest congratulations to Martin for this tremendous achievement. 
Congratulations once more to Scientia Professor Veena Sahajwalla, upon whom the Australian Academy of Technology and Engineering has bestowed the esteemed Clunies Ross Innovation Award, for her globally recognised waste transformation technologies. Congratulations, Veena, on this marvellous award.
In further acclaim for our sustainability credentials, UNSW debuted at equal first in Australia and number five in the world in the inaugural QS World University Sustainability Rankings. The result reflects our mission of driving towards a just, sustainable world. Well done and thank you to all in our community who have contributed to this impressive result.
And, rounding out these superlative sustainability successes, UNSW also won the 'Net Zero Action' category in the 2022 NSW Sustainability Awards, presented by the Banksia Foundation. Our Head of Environmental Sustainability, William Syddall, and Manager, Environmental Sustainability, Arifa Sarfraz, accepted the award from Treasurer and Minister for Energy, Matt Kean, on 25 October. This recognition acknowledges UNSW's own transition to 100% solar renewable electricity – which brings this recognition full circle, back to the pioneering PERC cell development of Scientia Professor Martin Green and the late Professor Stuart Wenham – and our sector-leading work to measure and tackle indirect emissions such as supply chain, investments and travel emissions. A warm congratulations to Estate Management and all whose work has resulted in this accolade.
Federal Budget 2022–2023
On Tuesday 25 October 2022, Treasurer Jim Chalmers handed down the federal budget 2022–2023. Given the fiscal belt-tightening, it was encouraging to see a range of initiatives and allocations that will have a positive impact on the higher education sector. These measures include:
$485.5 million for up to 20,000 additional university places over two years (from 2023), targeting areas such as education, health, engineering and technology.
$2.7 million to establish an expert panel to review Australia's higher education system through the Australian Universities Accord. The panel will deliver recommendations to advance accessibility, affordability, quality, certainty and sustainability in the higher education sector.
$15.4 million for the Startup Year Program (from July 2023), income-contingent loans to up to 2,000 eligible students per year to encourage their participation in a university accelerator program and support Australia's startup community.
$68.3 million to expand the High Achieving Teachers program to support up to an additional 1,500 high-quality candidates, including mathematicians and scientists, to retrain as teachers.
$27.6 million to implement recommendations from the Quality Initial Teacher Education (QITE) Review, with a focus on attracting quality candidates to study and become teachers, ensuring Initial Teacher Education programs and degrees are high-quality and, to improve teacher retention, that the programs support their early career needs.
Establishing the $15 billion National Reconstruction Fund to support "a future made in Australia". Many of the priorities outlined in this policy will seek to commercialise Australian research.
The federal government also recommitted to the Australia's Economic Accelerator program, which focuses on research commercialisation in national priority areas, and reconfirmed funding for the Trailblazer Universities Program.
UNSW looks forward to continuing to work with the government and industry partners to leverage our educational and research expertise for the social and economic benefit of the nation.
Don't lose access to your emails!
A reminder from our Cyber Resilience Program Team that each of us needs to ensure the email applications we use for our UNSW emails are up-to-date, lest we lose access to them. On every device we use to access UNSW email, we all need to make sure we're using an email application that supports 'modern authentication' rather than older, insecure login methods.
You can find out more, in this week's Inside UNSW. In coming weeks, affected staff will receive further information via email. Please ensure you follow these instructions to avoid disruption to your email service.
Events, anniversaries, engaging articles…
Inside UNSW continues to be a wonderful source of inspiration and interest. I invite you to browse this week's edition here.
Best regards
Attila
Professor Attila Brungs
Vice-Chancellor and President
---
Pictured above: A lunch in Singapore with some of our valued ASEAN agents. I was joined by Soon Choo (Regional Director, ASEAN & NA UNSW Division of Education & Student Experience), Sarah Lightfoot (CEO UNSW Global), Fiona Docherty (VP External Engagement), Lindsay Robinson (Chief Development Officer) and Alison Avery (Director External Engagement and Alumni Experience).
Comments