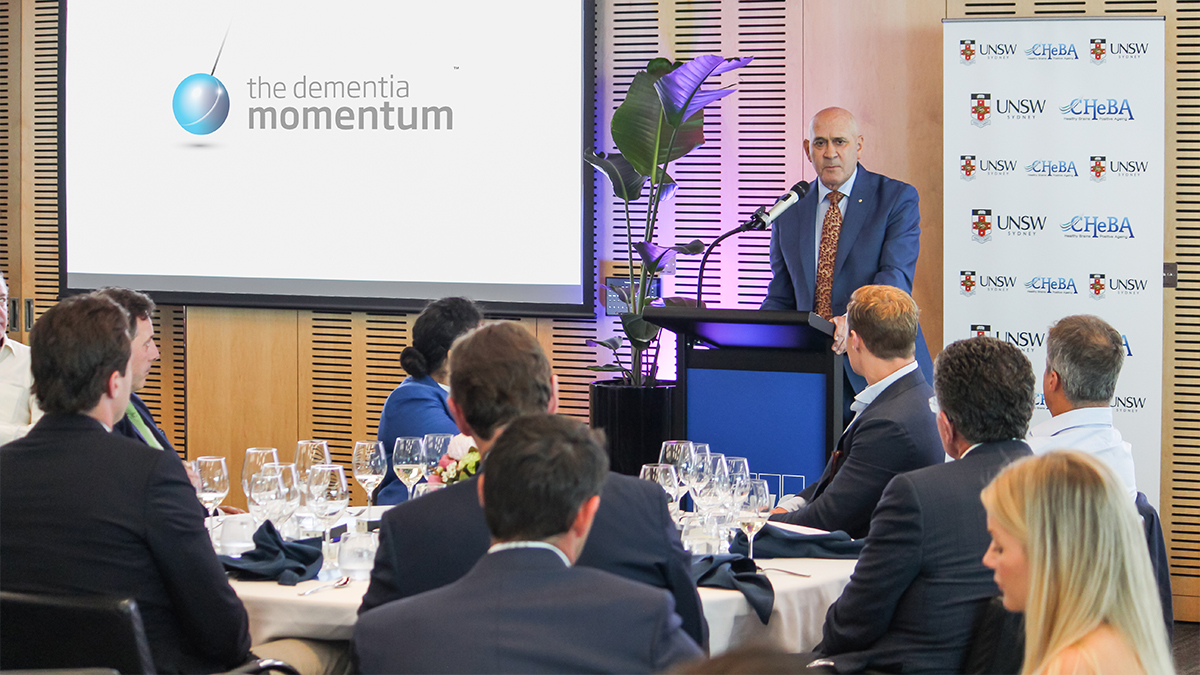 The CHeBA has launched a new fundraising initiative to honour a decade of research into dementia.
CHeBA is a research institution at UNSW Sydney's Kensington campus, investigating brain ageing. CHeBA was established in October 2012 and is headed by internationally acclaimed leaders in the field, Professor Henry Brodaty AO and Professor Perminder Sachdev AM. CHeBA's vision is to achieve, through research, healthier brain ageing and better clinical care of age-related brain diseases.
In 2015, CHeBA launched The Dementia Momentum – an initiative designed to bring researchers and the corporate and philanthropic community together to change the future of dementia.
On Friday 28 October, partners and members of The Dementia Momentum gathered at the Barangaroo offices of KPMG, in-kind partner of the initiative. This annual event, which this year was sponsored by iPartners, marks the anniversary of The Dementia Momentum's formation, but in addition it was the tenth anniversary of CHeBA.
Guests heard from spokesperson Dr Richard Grellman AM, whose wife Suellen had lived with dementia for twelve years and passed away just four weeks prior to the event. Dr Grellman gave a stirring presentation on the growing cost of dementia and the need for increased research funding.
In addition, David Gonski AC, Chancellor of UNSW, delivered an impactful keynote address, and  Eileen Hoggett, National Managing Partner at KPMG, shared the experience of losing her mother to Alzheimer's disease, aged just 66.
Both Professors Brodaty and Sachdev spoke about how philanthropic contributions were making a direct impact on current projects and CHeBA Ambassador PJ Lane recounted memories of his father, legendary entertainer Don Lane, who passed away following a diagnosis of dementia.
Finally, Chris Clarke of Watson Mangioni and Peter Clemesha of Avenor were both recognised with special awards for their long-term, ongoing contributions and involvement in The Dementia Momentum.
To honour the anniversary, CHeBA has launched the Ten Years of Research Appeal. This initiative honours a decade of research, with a vision of achieving healthier brain ageing and better clinical care of Alzheimer's disease and other dementias. It is hoped that funds raised will enable the expansion of CHeBA's team and the acceleration of research outcomes.
Looking ahead to the next ten years, CHeBA hopes to reduce the burden of dementia, a disease which currently affects nearly 55 million people and is estimated to cost a trillion dollars annually, with both these figures projected to rise significantly. Tax deductable donation towards the Ten Years of Research Appeal will help CHeBA achieve this goal.
Comments