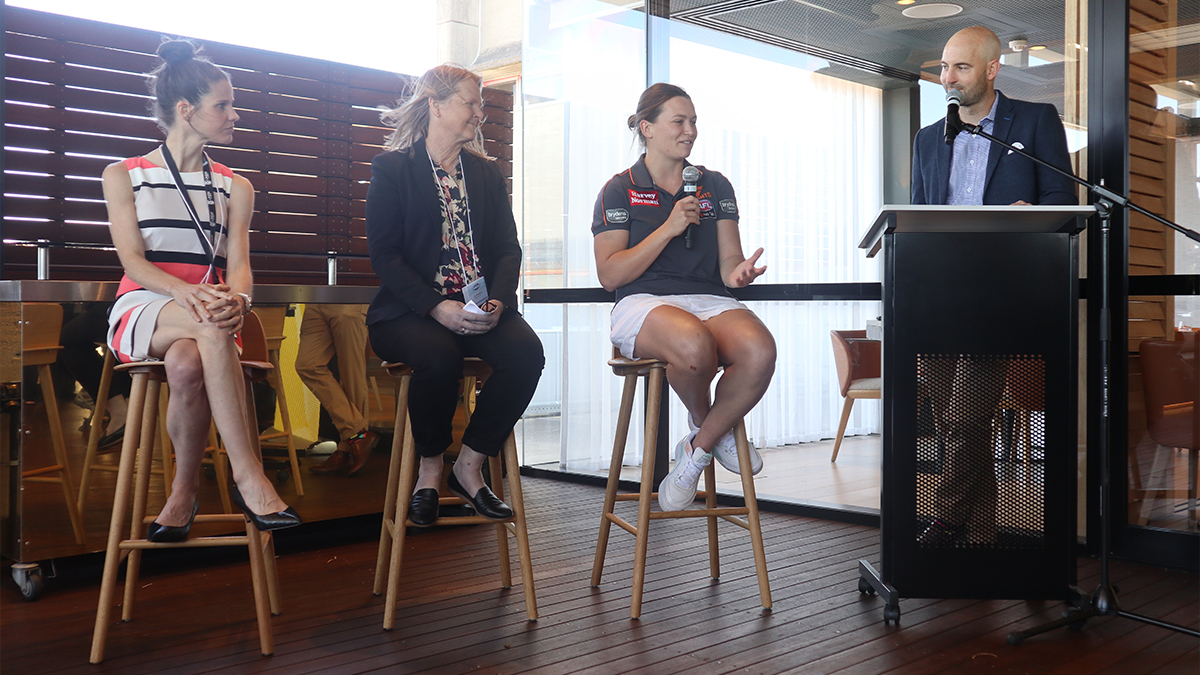 The strategy was designed by teachers, for teachers and will encourage students to become more active and engaged.
The opening bounce of the AFL Schools Strategy was hosted at UNSW Sydney on Tuesday 1 November, celebrating the release of the new AFL Schools website with brand new resources designed by teachers, for teachers.
The AFL aims to provide Australian educators with a suite of curriculum resources that are high-quality and curriculum aligned, complemented by robust professional learning sessions.
When asked about their needs from a program like this, teachers identified three key areas - high quality, curriculum linked resources; an opportunity prioritise their own learning through professional development; and a need to make the program easy for schools to navigate.
The resulting AFL Schools Strategy comes with a vision is to empower teachers to deliver quality content – both on the field and in the classroom – that encourages students to become more active and engaged, whilst exposing them the sport of Australian Rules football and the AFLM and AFLW clubs and players across the country.
The new AFL Schools resources will also support pre-service teachers entering the classroom for the first time – providing students at the UNSW School of Education with a suite of resources to confidently prepare and deliver lessons during their practical classroom placements.
The launch was attended by NSW Education Minister, the Honourable Sarah Mitchell MLC, who spoke about how this approach will support teachers.
"What I like most about this program is that it's going to be so easy for teachers to roll out," she said. "Our teachers work so hard and anything we can do to ease that burden and provide great resources is so important."
"Kids are more engaged when they're excited about learning.
"If it can relate to something they do on the weekend, they're going to be more excited about their work in the classroom and in their PE lessons."
AFLW player Alyce Parker, who plays for the GWS Giants, spoke about the importance of aligning with schools for the future of the game.
"When I get asked the question, how did I get into AFL, I always say that it was my primary school teacher," she said.
"My Year 4 teacher asked me to play and at first I said no because I was too scared, but he kept encouraging me and when I was 11 I started playing in the Tony Lockett Shield."
She noted the importance of programs like these in keeping children engaged with their learning.
"If I was at school and there had been an AFL subject, I never would have taken a sick day!" she said.
Dr Helena Granziera, a lecturer in Educational Psychology in the UNSW School of Education, said the resources offer teachers great opportunities.
"The pedagogical structures within the AFL are exceptional, which means that we're not only helping to ease teachers workloads, but also providing students with high quality learning opportunities," she said.
Dr Granziera also reiterated the sentiments that Parker expressed about the importance of enjoyment in learning.
"When students enjoy what they're learning, they often don't even realise that they're undertaking an educational experience," she said.
"The more we can do that, the better."
The evidenced-based resources are currently available on the the AFL Schools website and are supported by an AFL incursion and specifically designed equipment for schools. The program has a strong focus on inclusion, with content designed to enable students of all abilities, cultures and genders to reach their full potential.
---
Panel members are (L-R) Dr Helena Granziera, UNSW; Kim Hawgood, Kimberlin Education; Alyce Parker, GWS Giants.
Comments