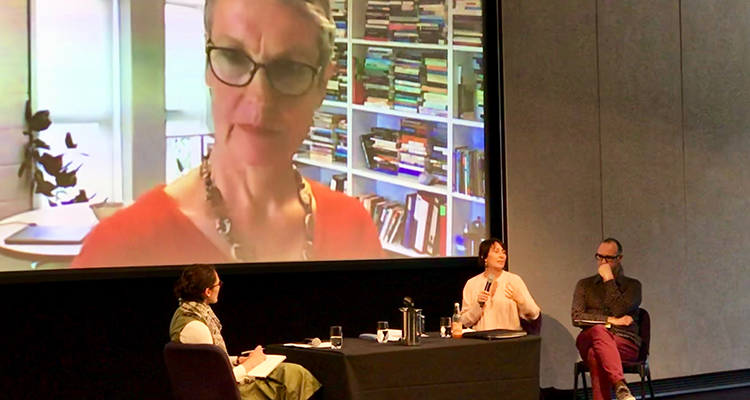 Our Global Development Month has commenced – get involved and find out how to make a big impact with your work.
UNSW's inaugural Global Development Month has commenced, highlighting the tremendous work that UNSW is undertaking to create a more just society. Featuring a jam-packed calendar of events, you're invited to join conversations and debates, politics at the pub, roundtables, public lectures and film screenings throughout October! Learn more about UNSW's social agenda and network with like-minded colleagues at the Globalisation and Governance Research Network events "License to Drill". Or rub shoulders with the leaders of Australian International Development agencies at the Australian Council for International Development Conference.
Week 1 kicked off with a tremendous 'design thinking for social impact' event hosted by the ENACTUS student committee with their counterparts from Republic Polytechnic Singapore. This was followed by a forum hosted by the Institute for Global Development (IGD) on Student Experiences in the Global South. Here, colleagues from UNSW, Newcastle University, Western Sydney University and Flinders University came together with UNSW students to share experiences and discuss best practice design for student mobility to some of the world's most challenging environments.
Today, Meridian 180 will launch their UNSW Sydney hub – the first in the Southern Hemisphere – that will be opened by The Honourable Julie Bishop MP. Join in a day full of meaty conversations exploring the topic Trust and distrust: New thinking for our times.
Global Development Week: License to Drill
Week 2 features Global Development Week: "License to Drill – Resources, Sustainability and Development" hosted by UNSW Arts & Social Sciences' Globalisation and Governance (G&G) Research Network. From 8 – 11 October, License to Drill will explore the difficult question of: when do the negative social, economic, or political impacts outweigh the economic benefits?
Dr Susanne Schmeidl, G&G Lead for the event explains, "G&G started Global Development Week in 2016 to draw attention to critical debates in international development and align with UNSW's 2025 strategic emphasis on social engagement and global impact. Through a series of connected events, this year's program showcases our interdisciplinary research strength at balancing the economic development of extractive industries, with social and environmental justice."
This year's Global Development Week was developed in partnership with two organisations that have been very active in researching the impact of extractive industries (industries involved in the extraction of raw materials from the earth) both here in Australia and abroad: ActionAid Australia and Jubilee Australia. Global Development Week will highlight UNSW's collaboration with existing non-profit, industry and government partners working in this space.
Week 2 Program Overview
Monday 8 October
Panel event

- UNSW, UTS researchers, ActionAid, the Telethon Kids Institute and the Australian Strategic Policy Institute will present findings of the socio-economic impact of the extractive industry on communities in Africa.

Exhibition launch

- UNSW will be exhibiting photos by Thom Pierce (Postcards from Xolombeni) that explore the social impact of mining in an indigenous community in South Africa. The pieces will be on display throughout October.
Tuesday 9 October
Exclusive film screening

-

"Bougainville: Long Han Blong Yumi" (Bougainville: It's in our Hands) followed by Q&A panel with Dr Luke Fletcher, Executive Director Jubilee Australia.
Wednesday 10 October
Graduate seminar

(invitation only) - visiting Professor Matthew Allen from the University of South Pacific will deliver a hands-on workshop on researching extractive industries.

Presentation

- Dr Adam Bobbette's project aims to establish the first comprehensive and on-going environmental monitoring system within the Solomon Islands by working with churches. Hear his talk on

Climate change in the Pacific and the Anglican Church: New Alliances between Citizen Science and Theology.

Politics in the Pub

- focusing on key global challenges, this evening will guide you in challenging conventional development thought and encourage collaboration across like-minded peers.
Thursday 11 October
Panel event

- UNSW, UTS researchers, ActionAid, the Telethon Kids Institute and the Australian Strategic Policy Institute will present findings of the socio-economic impact of the extractive industry on communities in Australia, Central America and Afghanistan.

Keynote debate

- exploring the theme of the week, Extractive industries: Social and Environmental Justice.  Facilitated by Associate Professor Justine Nolan from UNSW Law, it features a critical debate between academics and activist perspective (Professor Allen, USP and Dr Ruth Saovana-Spriggs, Bougainville People's Research Centre) and the economic and mining industry (Adrian Bell, PanAust Limited and Chris Dodd, PwC).
Are you holding a relevant event in October? Let us know! We are keen to showcase events across the University and would love to promote your activities. Visit the Global Development Month website for more information or contact igd@unsw.edu.au
Comments