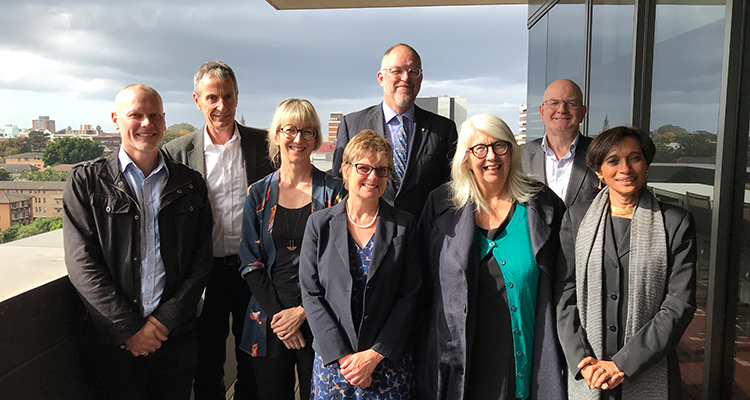 Appointment of Dr Sarah Cook as the new Director signifies exciting new chapter for the Institute for Global Development.
Having spent almost a decade at the helm of social development research institutions of the United Nations, Dr Sarah Cook is taking on a new leadership challenge as the inaugural Director of UNSW's Institute for Global Development (IGD). 
"I am thrilled to be joining UNSW and look forward to working with colleagues and partners to shape the strategic direction of the IGD, building on the University's global strategy and its commitment to research excellence and social engagement," said Dr Cook. 
After graduating from Oxford, Sarah worked as a volunteer and field officer in China for Voluntary Services Overseas, where her interest in the country's social and economic transformations (which later included research on poverty and inequality, migration and labour markets, social policy and gender) were seeded. Sarah went on to do a Masters at the LSE and won a Fellowship to do her PhD at Harvard's Kennedy School of Government, from where she took up an academic position at the highly respected Institute of Development Studies at the University of Sussex. From 2009, her academic research interests were channeled into the work of the United Nations Research Institute for Social Development in Geneva where she was executive director, before joining UNICEF as the director of its Office of Research, the Innocenti Research Centre in Florence, Italy. 
Sarah's appointment completes the Institute for Global Development's leadership team, which includes Fiona Docherty (Program Sponsor), Michael Rose AM (Executive Chair of the Advisory Board), Professor Eileen Baldry (Academic Lead – Yuwaya Ngarra-Li, Walgett Partnership), Professor Prem Ramburuth (Africa Lead), Professor Heather Worth and Associate Professor Daniel Robinson (Pacific Leads), Dr Melissa Crouch and Dr Morten Petersen (Myanmar Leads) and Hannah Sheridan (Manager). 
Vice-President External Relations, Fiona Docherty is delighted to be welcoming Sarah at this crucial time in the Institute's growth: "The appointment of Dr Cook signifies the beginning of an exciting new chapter for the IGD as it focuses on working with our UNSW experts to build a development practice knowledge base for the whole University. In particular, the Institute is looking to embark on projects that will have scalable impact and further coordinate UNSW's existing work in this space by investing in UNSW own knowledge development, and knowledge exchange. Dr Cook will lead the charge on shaping the future of the IGD and its partnerships." 
Executive Chair for the IGD, Michael Rose is looking forward to this next stage of development. "The Interim Management Board have appreciated the opportunity to explore how the IGD can work best with its national and international partners, and we are now focussed on supporting Dr Cook to take the IGD to the next level."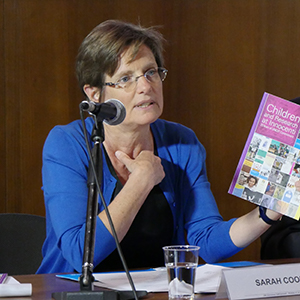 About the Institute for Global Development 
The Institute for Global Development acts as a catalyst for the UNSW community to deliver on the UN Sustainable Development Goals, working in partnership to positively transform lives and advance a just society. The IGD has four pillars to its work: 
Knowledge Exchange: Contributing to building capacity through access to educational opportunities and creating sustainable (and scalable) evidence-based research solutions to issues affecting some of the world's most disadvantaged communities. 
Knowledge Development: Being active participants in the global community of academics focused on teaching and research within the discipline area of development practice. And creating new student and staff programs at UNSW that explore the principles of development practice in action in areas such as engineering, health, law and business. 
Overseas Partnerships: Through our Academic Leads, forging a small number of new partnerships in countries such as Myanmar, Uganda and across the Pacific Islands – helping to develop practical solutions to address disadvantage through education, research and advocacy. We want to be a positive and respectful partner, trialling new ways of working and new development practices in collaboration with other universities, government, NGOs and industry. 
Australian Partnerships: Forging a small number of new partnerships in Australia, such as our collaboration with the Dharriwaa Elders Group in Walgett (NSW), to help create community-led solutions to pressing challenges. 
A recent mapping project undertaken by the IGD has reached 100 profiles of UNSW academics working in this field, the database of which can be found on the recently launched, IGD webpage. If you would like your work to be profiled please contact the IGD team at igd@unsw.edu.au.  
About Dr. Sarah Cook, BA, M Sc, PhD 
A historian and development economist by training, and a China specialist, Dr Cook's research has focused primarily on China's social and economic transformations, including work on labour and migration, poverty, inequality, social policy and gender. Her engagement in China has spanned the period from the mid-1980s, including five years with the Ford Foundation's Beijing Office (2000-2005) where she led the Foundation's China initiatives on economics, governance and gender. From 1996-2009 she was a Fellow of the Institute of Development Studies at the University of Sussex, UK.  
Dr Cook joins UNSW from the role of Director for UNICEF's Office of Research-Innocenti in Florence, Italy.  The Office undertakes research in areas relevant to UNICEF's mandate, in particular, social and economic policy, child rights and protection issues.  
Prior to joining UNICEF, Dr Cook was the Director of the United Nations Research Institute for Social Development (UNRISD) in Geneva, where she oversaw research programs on poverty, inequality, gender and sustainable development, while also leading the Institute in developing its 2016-2020 strategy on 'Transformations to Equity and Sustainability'.  
Comments