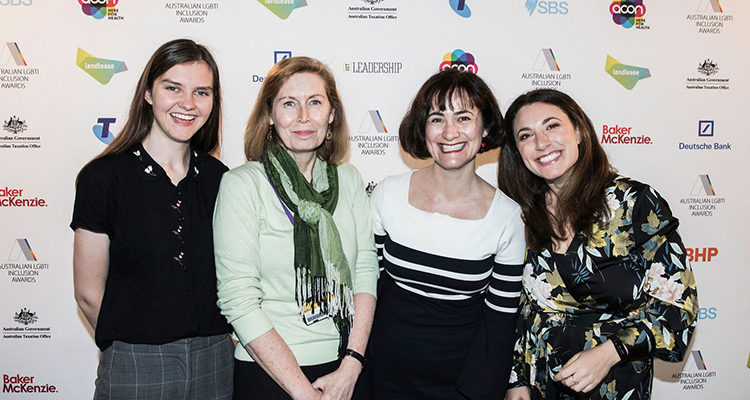 For the second consecutive year, UNSW has been recognised as a leader in LGTBIQ+ inclusion by the Australian Workplace Equality Index.
UNSW was honoured to receive a bronze award in the Australian Workplace Equality Index (AWEI) at the 2019 Australian LGBTIQ Inclusion Awards, hosted by ACON's Pride in Diversity on Friday, 24 May.
The AWEI is a rigorous, evidence-based benchmarking instrument that assesses lesbian, gay, bisexual, transgender, intersex and queer (LGBTIQ) inclusion initiatives in workplaces nationally. This year there were 189 employers across Australia that participated in the Index which included a mix of employers in the public, private, higher education and not-for-profit sectors.
This award recognises the University as a leader in LGBTIQ+ inclusion and the work of students, staff and UNSW's Diversity Champion for LGBTIQ+ Dr Bridget Haire, who is driving significant cultural change in the rainbow community at UNSW. 
"It is a testament to the hard work that has been done to make UNSW a better workplace for LGBTIQ+ people. It is also a signal that we still have a way to go to achieve best practice. We need to follow the inspiring lead of RMIT University, which was rated 'Employer of the Year'," says Dr Haire.
Professor Eileen Baldry, Deputy Vice-Chancellor Equity, Diversity & Inclusion is delighted that UNSW has been recognised in the Index again.
"UNSW's gaining the AWEI Bronze award for a second-year running is a fine recognition of the strides made in growing an inclusive culture at UNSW," she said.
"This culture is one that celebrates diversity and increases opportunities for LGBTIQ+ staff and students to flourish. The award also points to areas where we can improve, and we will work continuously to do that."
This is UNSW's second public submission to the AWEI. Our participation provides an opportunity to benchmark our activities against other organisations and identify areas where we can improve. 
UNSW's Gender Affirmation Guidelines, developed to help transgender staff navigate their journey of transition, was an important component of our submission. The recent approval of the Professional Staff Enterprise Agreement 2018, which takes effect from Tuesday, 28 May 2019, now includes five days leave for staff who are transitioning.
UNSW also runs regular free Ally training and LGBTIQ awareness training to all students and staff. To register for this free training visit https://student.unsw.edu.au/ally/register. 
Comments