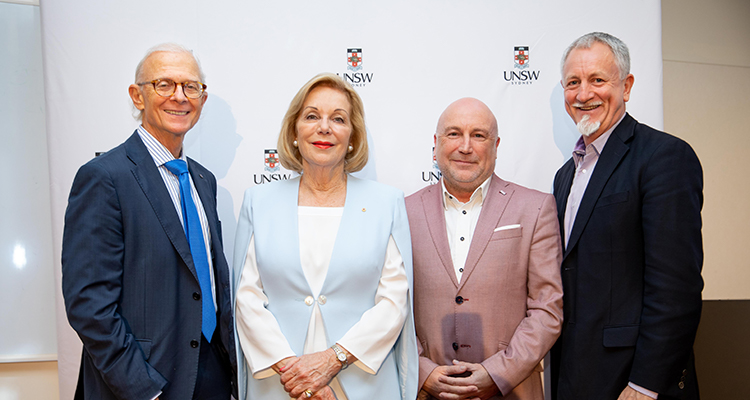 An award has been designed to help improve mental health care in Australia and raise public awareness of mental health issues.
Australia's public psychiatric system is in steady decline, with the mental health system under-resourced and health professionals facing unsustainable pressure.  
That was the message from Professor Gordon Parker, UNSW Sydney Scientia Professor of Psychiatry and Founder of the Black Dog Institute, when he launched the 2019 Australian Mental Health Prize at UNSW.
Professor Parker said the prize, now in its fourth year, was a critical opportunity to recognise and acknowledge Australians working tirelessly in mental health. Nominations are now open for individuals who have made outstanding contributions to the promotion of mental health or the prevention and treatment of mental illness.
"Australia is a global leader in many areas of mental health including community awareness, public advocacy and innovative service delivery, but the pressures faced by mental health professionals in the public sector needs urgent attention," Professor Parker said.
"I see so many young psychiatrists enter the public sector with a genuine commitment and wish to help those with serious psychiatric problems but who become profoundly disillusioned. Psychiatrists and trainees in the public sector are often unable to find beds for patients at suicidal risk. They see patients who need close observation prematurely discharged or patients who are discharged into homelessness, rather than public housing."
Professor Parker said it was not uncommon in public hospitals for up to 30 people to be waiting for an acute psychiatric assessment every day without adequate beds available, with mental health disorders one of the leading causes of emergency room delays.
"By the time we recognise how serious the situation is, I am concerned we will have passed the tipping point and it will be too late to make the significant changes necessary to turn things around."
Scientia Professor Henry Brodaty, acting head of the UNSW School of Psychiatry, agreed with Professor Parker's concerns and believes it is more important than ever to publicly acknowledge the work of psychiatrists and people working across all areas of mental health.
Chair of the Australian Mental Health Prize Advisory Group, Ita Buttrose, said the prize is helping to improve mental health care in Australia and ensure mental health stays top of mind for Australians.  
"Australia has an enviable track record in the delivery of innovative programs, services and promotional campaigns in relation to mental health, however there is still much work to be done, particularly in our over-stretched public system," Ms Buttrose explained.
"I would like to see this year's prize highlight some of the world-class work being done in the field of mental health, to give hope not only to those with mental illness and their families, but other mental health professionals working in this challenging area."
Professor Brodaty added: "The mental health sector can be a demanding and difficult area to work in and it is vital that we acknowledge and celebrate the important work that's being done. Mental illness is something that affects our whole community, and the Australian Mental Health Prize is a valuable way to highlight progress being made."
Professor Parker said it was important for those working in the mental health sector to recognise the progress our colleagues are making in research and advocacy to drive real change and improve patient outcomes.
"We must recognise and acknowledge those individuals who are making headway in the area of mental health," said Professor Brodaty. "We encourage clinicians, health professionals, community groups and individuals to nominate themselves or the people they feel are making a real difference in the area of mental health research, advocacy or service delivery for the 2019 Australian Mental Health Prize."
How to nominate
To enter, nominees must provide a CV and 200 words outlining the work being undertaken and how it is making an impact. Nomination forms can be obtained from: australianmentalhealthprize.org.au
Entries close on 30 August 2019. Six finalists will be announced during Mental Health Week running from 6-12 October 2019, with the winner awarded on 26 November 2019.
Comments