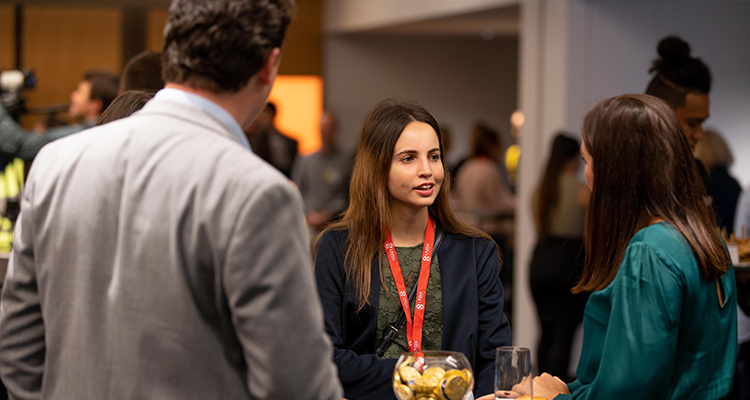 The Roundhouse will become a one-stop shop for Postgrad Info Week to inspire students and boost interest in postgraduate study.
The Division of External Relations is thrilled to be hosting an exciting new recruitment initiative designed to raise awareness and boost interest in postgraduate study amongst current students. Postgrad Info Week will run on campus from 11 – 14 June and is aimed at students in their final year of undergraduate study.  
"Current students often tell us they find it difficult to find the right people to speak with, so we've designed the week to bring all faculties and options into one easy-to-find location" says Chris Lewis, Head of Partnerships (Onshore).  
During Postgrad Info Week the Roundhouse will be the one-stop shop for all things postgraduate study – a space where students can be inspired by faculty experts, hear detailed program information, or simply pop by for a chat and explore their options.   
We encourage academic staff to get involved and inspire their students to think about what's next by sharing their own postgrad journey in class during the week, reminding students that Postgrad Info Week is happening and encouraging them to register online.   
"Academic staff and leaders are often the best people to champion the benefits and outcomes of postgraduate study and can really help students clarify their own thinking" said Chris.  
The week-long event will be unmissable, with a physical campaign running across campus and digital support on UNSW's social and web channels.  
The Info Hub will run in the Roundhouse from 9am – 5pm every day. It will be a place where students can have an informal chat with a postgrad program expert over a cup of coffee. During their lunch break, students can attend one of the 64 in-depth and informative presentations crossing all faculties and showcasing our wide postgraduate program offering.  
"We've found that many students considering postgraduate study are looking further afield than their current faculty and approach further study with an interest in a particular topic or issue. That's why, in the evenings, students can join us for a glass of wine and bite of cheese, while they hear a panel of key academics across the University discuss big topics, including climate change, big data and entrepreneurship," Chris said.
"To those across the UNSW community who are running lunchtime sessions or featuring on one of our panels, we'd like to say a huge thank you! It will be a great week for us to celebrate the impact of our postgraduate programs and we can't wait to see you there."
Comments