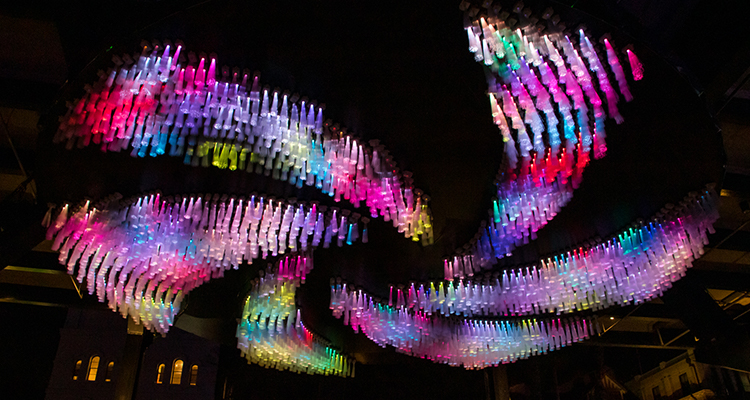 UNSW students and staff showcase their passion, talents and imagination at Vivid Sydney 2019, with three installations that will encourage visitors to wonder and dream.
UNSW Engineering, Built Environment and Art & Design students have cooked up a two-tonne treat for this year's Vivid Sydney festival – an eight-by-eight metre Celestial Pancake that is suspended from the ceiling of Sydney's Overseas Passenger Terminal.
The only installation at Vivid Sydney created entirely by university students, the pancake simulates the night sky with 17,500 shimmering LED lights, connected by more than 500km of fibre optic cabling.  The pancake uses music to generate patterns with the lights to envelop visitors in an immersive audio-visual experience.
Fourth year mechatronics engineering student Aly Virani is the electrical lead on the project. He said: "The team designed the pancake from scratch. It's been really intense, but so beneficial for building up our workplace skills, because we've had to plan who's working on what, overcome what we thought were crises at the time and deliver to a major city event, on time. We even had to design our own LEDs and get them made in China because what we needed didn't exist.
"The best thing has been working with students and staff from all over the University. The team has really bonded; everyone brought different strengths and ideas and worked together to deliver the pancake. Seeing the finished product installed at Vivid Sydney is the just the best feeling ever," Aly said.
Father and son show passion for space, electronics and sound
Fifth year mechatronic engineering student Anthony Feizi Sobbi teamed up with his father Kris Feizi Sobbi, an electronics technician, to create their first public art piece, KA3323. The work looks like a glowing satellite dish, which picks up sounds radiating from the night sky. Visitors can use a joystick to move the dish in search of signals and, once detected, the lights change in colour and frequency according to the volume and frequency of the sounds.
Anthony says that he and Kris love the joy that Vivid Sydney gives to people.
"We want to spark viewers' curiosity as they explore the hidden signals all around us. We encourage them to play around to see what they can find and how that affects the lights on the display.
"There is a lot of happiness and curiosity at Vivid Sydney and it feels great to be a contributor to this."
Fun in Dreamland
UNSW lecturer in Art and Design, Karen Kriss, collaborated with members of disability support and community service provider, The Junction Works, on a 3D animation called Dream States.
Dream States will beam onto the side of the International Convention Centre Sydney. The animation includes characters Betty Burger with her purple paintbrush legs, Specimen 44 with his lobster arm, Gadgetron with his brainwave signals, Lucky (aka Corny) with his rotating multi-dice head and Disco Sensation with her daring dance moves.
Kriss says the playful display has helped the artists have an equal voice in the wider community.
"The equipment and processes used to create Dream States are normally limited to professional film productions, given the high tech and skill levels involved. By guiding the artists through the process and giving them access to the necessary tools, I was able to assist them to create their own characters and animations from scratch, using collage, drawing, sculpture and motion capture. I am really impressed by the artists' abilities and am proud that I'm in a position to increase access to art for this community."
Vivid Sydney runs from 24 May – 15 June 2019 and is in its 11th year.
The Celestial Pancake team includes members from UNSW student clubs CREATE and MAKE Club: Teresa Feng, Prithvi Guntha, Dylan Goh, Dylan Sanusi Goh, Josh Sun, Jasmine Tan, Taiyue Tan, Aly Virani, Michael Wu, Mahima Mandal
The KA3323 team includes Anthony Feizi Sobbi and Kris Feizi Sobbi.
The Dream States team includes Karen Kriss from UNSW, and Tommy Duong, Peter Pang, Melissa Morrison, Michella Rolls and Michael Tran from The Junction Works.
Comments