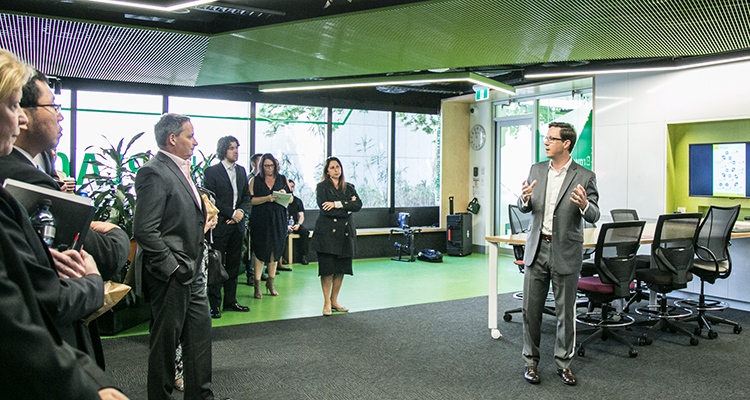 The Leadership Excellence and Development program continues in 2019 with popular leadership development programs to advance your leadership effectiveness.
The UNSW Leadership Excellence and Development (LEAD) program aims to support UNSW's academic and professional leaders by equipping them with the skills to develop their leadership effectiveness and advance their careers. The program offers a range of modules, from leadership and communication to decision making and innovation, and allows staff the flexibility to choose topics of interest and tailor a development program to best meet their needs.
The LEAD program has been designed drawing upon AGSM's extensive experience as a global leader in executive education, It has been brought to life for a UNSW audience with relevant, practical and high quality materials. This is an excellent development opportunity for UNSW leaders, contextualised for UNSW and facilitated by globally experienced facilitators that deliver for AGSM and directly with organisations from a variety of industries.
"A highlight of the LEAD program so far in 2019 has been the popular Design Thinking course," said Fay Redmond, Leadership & Learning Strategy Manager. "It teaches participants to think creatively and develop solutions by developing a deep understanding of their stakeholder and putting people at the centre of innovation. The design way of thinking can be applied to products, systems, protocols and customer experiences." 
Jeffrey Tobias, the course facilitator and AGSM Fellow, is an accomplished innovation strategist and thought leader whose career has spanned the worlds of academia, big and small business, government and research.  Jeffrey works with organisations to improve the customer experience and create value by transforming the way they do business.
LEAD programs to be held in the coming months include:
Authentic Leadership

Design Thinking

Communicating for Impact and Engagement

Decision Making in Complex Environments
Additional programs, Building High Impact Teams and Collaborating for Outcomes, will be launched later in 2019.
Each module within the LEAD program is recognised upon completion via a UNSW digital badge. Digital badges have become a fantastic way of helping individuals build their personal brand and are commonly added to email signatures, resumes and LinkedIn profiles, or shared on other social channels. 
To learn more about the LEAD program or apply for a course, visit the LEAD page. Academic and professional leaders with varying experience in people leadership are welcome to apply. Talk to your myCareer Conversation Leader to determine which modules may be suitable for you.
To discover all other learning opportunities available for both academic and professional staff, please visit the UNSW Staff Learning Portal.
Comments