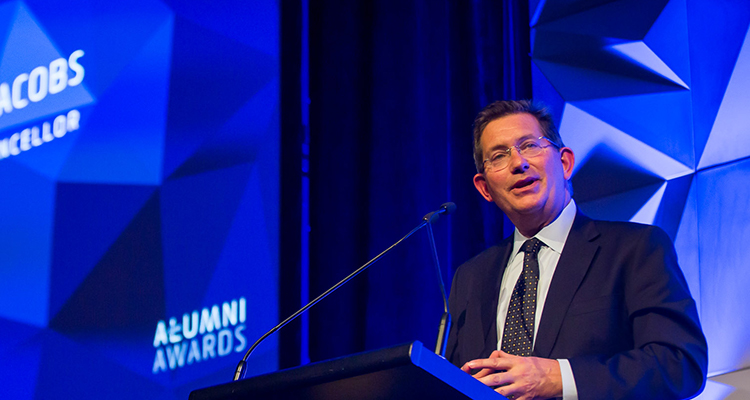 You will see in my email that today our S25+ Consultation Paper goes live, marking the beginning of Stage 2 of our S25+ consultation process. The Paper outlines progress on our strategic initiatives since 2015, and asks for your input on where we go from here. At the S25+ Town Hall this coming Tuesday, I will provide an overview of what we have already achieved and highlight some of the challenges and opportunities we anticipate over the coming years. More than 500 staff have registered already but there is still time to do so. During my round of school visits, most recently to the School of Banking and Finance, I have been delighted to see just how invested staff are in planning for the future of our University, and I am sure that there are many more ideas and valuable contributions out there. I encourage you to take a look at the Consultation Paper, give us your thoughts, and come along to Tuesday's Town Hall.
Having completed my term as Go8 Chair, I have been elected to the Board of Universities Australia under new Chair, Professor Deborah Terry. I look forward to contributing to that forum to achieve positive outcomes for our sector, and to help progress the many policy areas in which our universities have expertise. As I noted in my all-staff email last week, universities will continue to push for the higher education reforms which we advocated for pre-election.
One of the areas in which UNSW holds significant expertise is Indigenous recognition, led by our Pro Vice-Chancellor Indigenous, Professor Megan Davis. Two years on from the presentation of the Uluru Statement from the Heart, it is an understatement to say that Australia has far to go in achieving meaningful change and better outcomes for Aboriginal and Torres Strait Islander peoples. But on just a small level, I have been impressed this week by the wonderful response from the UNSW community to our Reconciliation Week Sorry Book initiative. If you haven't already, I encourage you to read and reflect on the contributions, and perhaps make a post of your own. It is open until Friday 7 June.
I want to flag that on Monday 3 June we will change over to a new pricing model for Knowledge Exchange and Grant funded activities. Our Knowledge Exchange revenue has risen by an amazing 70% since 2015 but our cost recovery has not kept pace. This is not sustainable. We need to re-set our pricing to reflect the quality, value and expertise we are providing to end user partners and ensure improved cost recovery. This is an important step for UNSW. More details of the changes and how it will affect your work will be forthcoming and you can also access more information on the pricing website here.
I was pleased to see UNSW ranked as the 15th most attractive place to work in Australia by Randstad's 2019 Employer Brand Research Report. The listing is compiled using data collected from more than 10,000 members of the general public and speaks to the trust with which the community views universities and UNSW specifically. The report showed an upswing in the popularity of the higher education sector as a whole, with five universities in the top 20 employers.   
It was my great pleasure to join about 170 Year 10 students from high schools right across NSW last week for the Aspire Connect program. Students came to UNSW from as far away as Lightning Ridge for a two-day visit comprising faculty visits, an introduction to the Grand Challenges, and the opportunity to work with some of our PhD students to undertake further research into the topic of their choice. Aspire is a wonderful program and does so much to introduce the concept of university study to students who may not have otherwise realised it was an option. Congratulations to Aspire's Samantha Skinner and Gavin Greenfield, and everyone who made this most recent student visit a success.  
It was a pleasure to attend the Alumni Awards on Tuesday night.  This is one of my favourite calendar events because it showcases the sheer diversity of what our students go on to do.  It was a particular pleasure to see the Engineering award go to Professor Yang Qixun.  In 1982, Yang Qixun became UNSW's first graduate from China, and in the 40 years since has forged a celebrated career as an electrical engineer in his home country.  While Professor Yang could not attend the ceremony, I had the honour of meeting him last year and found it moving to hear him speak of the regard with which he still holds UNSW and the people he met and worked with here.  Other award recipients included Australia's first Indigenous surgeon, Associate Professor Kelvin Kong; acclaimed contemporary artist, Khaled Sabsabi; and pioneering actress, Rebel Wilson. It was a terrific demonstration of the varied paths our alumni follow, and I was pleased to see that each award winner's success had been driven by a strong sense of purpose – something we try to instil in all who pass through UNSW.
Congratulations to Dr Nicholas Murray from the Centre for Ecosystem Science in the School of Biological Earth and Environmental Sciences (BEES), who has been selected by the Australian Academy of Science to be Australia's entrant in the 2019 APEC Science Prize for Innovation, Research and Education. Dr Murray's important research using satellite images to understand the global distribution of tidal flats has led to world-heritage listing nominations and better protection of species. We all look forward to cheering Dr Murray on when the APEC winner is announced in Chile in August.
Finally, Vivid is upon us again and UNSW ingenuity is up in lights (sorry) this year with UNSW Engineering, Built Environment and Art & Design student and staff installations on display. Don't miss out on the chance to see the eight-metre long 'Celestial Pancake' made out of 17,500 LED lights hanging over the Overseas Passenger Terminal; a glow-in-the-dark satellite dish which picks up sounds from the night sky at the Royal Botanic Gardens; or the playful 'Dream States' 3D animation which is being beamed onto the International Convention Centre at Darling Harbour.
Best wishes,
Ian
Comments