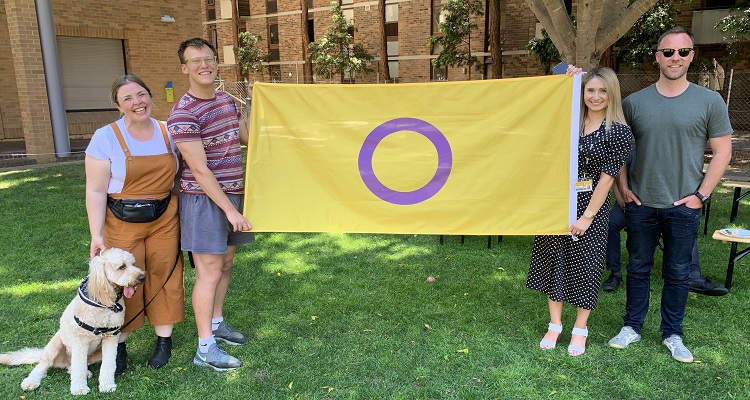 International Intersex Awareness Day is an observed day that falls on 26 October.  
Intersex people are born with physical or biological sex characteristics that are more diverse than stereotypical definitions for male or female bodies. These can include sexual anatomy, reproductive organs, hormonal patterns and/or chromosomal patterns, and may be apparent at birth, or may emerge later in life. Intersex is the 'I' in LGBTIQ+ (lesbian, gay, bisexual, transgender/gender diverse, intersex and queer) acronym. 
In marking Intersex Awareness Day, it is important to note and celebrate the diversity of intersex people and to affirm their human rights to bodily integrity, physical autonomy and self-determination. These are issues of critical importance, as intersex people were and are subjected to medical interventions as infants and children to alter their sex characteristics without personal consent and for social rather than medical reasons. This is a human rights violation, and Australia has come under criticism in recent months by UN treaty bodies for such forced and coercive medical interventions on intersex children. Read more here. 
"As members and allies of LGBTIQ+ communities, it is important that we stand with intersex people and call for an end to pathologising terminology such as 'disorders of sex development'," said Dr Bridget Haire, UNSW's LGBTIQ+ Diversity Champion. "We must demand that deferrable medical interventions, such as surgery and/or hormone treatments on intersex infants and children, are prohibited." 
"Everyone has the right to decide what happens to their bodies," said Professor Eileen Baldry, Deputy Vice-Chancellor, Division of Equity Diversity & Inclusion. "We will continue to have conversations about sexual and gender diversity and inclusion at UNSW. Gender, sex and sexuality are not binaries, but rather fall on a spectrum." 
For more information, and to support members of the intersex community, please consider affirming the Darlington Statement, composed by an alliance of intersex organisations, or support intersex advocacy by donating to the Intersex Human Rights Australia. 
If you are interested in learning more about intersex consider joining the Ally@UNSW network. 
Photo: from left Bethany Ross (and her dog Eddie), Mitchell McBurnie, Jessica Luquin and Michael Ormsby.  
Comments