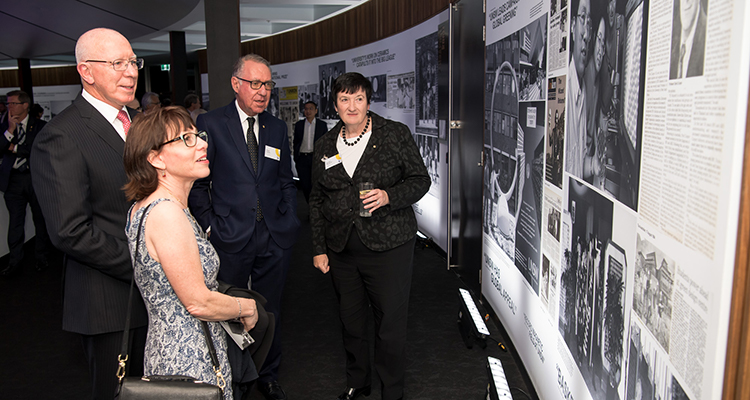 360 members of the UNSW alumni and donor community gathered on campus for the traditional Town and Gown dinner, this year used to celebrate 70 years since the University was founded.
On Thursday 17 October the Division of Philanthropy hosted UNSW's 70th anniversary celebration, a spectacular showcase of achievements spanning the seven decades since UNSW's inception in 1949. Guests enjoyed a host of standout speakers, who shared their fond memories of the University, including a welcoming address from the Governor-General and a special message from the Prime Minister.
Chancellor David Gonski AC greeted alumni, partners and friends.  He said: "Tonight, we recognise seven decades of achievement for our great University, with impacts that embody the dynamic and ambitious spirit that has remained with us since the beginning.
"It's hard to define 70 years when considering the bigger picture – so much can happen in just one year and yet, 70 years might seem like a mere snapshot in time. For our purposes, we feel it's appropriate to therefore define 70 years in the most human way possible – as a lifetime – and what a life it's been to date."
Reflecting on 70 years of UNSW
Held at the iconic Roundhouse in Kensington, the upper level of the venue featured a visual timeline of UNSW's history, starting with its origins in 1949 with just 117 students, early-stage construction of Kensington campus in 1950, and the first ever cohort of graduates in 1952.
Guests could see the evolution of UNSW's campus, core educational milestones and its history of research innovations. The timeline recapped UNSW's pioneering research, including breakthroughs in clean water devices, world-record breaking solar cell technologies, and trailblazing new treatments for HIV and infectious diseases.
A photographic display of memories included pictures from the infamous Bacchus Balls, Foundation Day pranks, and the launch of Tharunka, the student magazine. As an alumnus, Mr Gonski (BCom'76, LLB'77) recalled his time studying at UNSW Law when it was only one year old and lectures were held in demountables.
He also noted a string of his favourite Foundation Day pranks such as kidnapping a crocodile from Taronga Zoo, decorating the Archibald Fountain with nappies, and hanging a 'for sale' sign on the Sydney Harbour Bridge.
Second year Law student and inaugural Vanessa Hardman Law Memorial Scholar, Vishal Karnamadakala commended the display. He said: "Amongst all the photos of buildings and exciting technological innovations, the photos that really stuck out are those of people - the human beings who this university took a chance on, and who returned that investment in incredible and unexpected ways. I know that the humanity of this university manifests itself not only in these special occasions, but on a day-to-day basis, and I know that as someone who is here, on the ground."
Guests tell their stories of UNSW
Speakers from the night included UNSW's research superstars, captains of industry and Australian leaders, who each amused guests with their experiences of UNSW, as well as sharing their visions for the future of the University.
Giving the welcoming address was his Excellency the Honourable David Hurley AC DSC (Retd), Governor-General of Australia, who graduated from the Royal Military College, Duntroon in 1975. He later assisted in negotiations between UNSW and the Australian Defence Force Academy, which today still has a strong partnership with UNSW Canberra. General Hurley highlighted UNSW's founding principle of inclusivity and diversity, and of sharing the opportunity for a university education to all who wish to pursue it, regardless of background and circumstance.
"Throughout its history, UNSW has provided the opportunity of tertiary education to a much broader spectrum of the Australian population than before the 1940s - and how many families will have benefited from that?" he said. General Hurley also noted that he is one of the countless students who were the first in their family to attend university. "Without UNSW, I probably wouldn't have a degree."
Other notable alumni speakers included Dr Catherine Harris AO PSM (BCom'71, HonDBus'08), who is a Director at Harris Farm Markets, and Dr Jennifer Westacott AO (BA'82, HonDLitt'17), who is now CEO of the Business Council of Australia. Both praised UNSW for its long-held pursuit of excellence over spectacle, and opening minds to new ways of working.
A video message was also played featuring a message from the Prime Minister and UNSW alumnus, the Honourable Scott Morrison MP: "Congratulations to UNSW for your 70th anniversary and for being an ambassador for Australia. I know it'll be an institution that continues to serve Australia well."
Energised for future success
Academic speakers, Professor Emma Johnston AO, Dean of UNSW Science and Professor Richard Holden from UNSW Business School, along with UNSW President and Vice-Chancellor, Professor Ian Jacobs, turned the conversation towards the future, and the challenges we must face together. 
"From just our few focus areas in 1949, it's incredible to reflect that we now have more subject areas ranked in the top 500 in the world for research quality than any other university in the world. By our centenary, we will join the absolute pinnacle of the top 25 universities of the world as a powerhouse of innovation and impact," said Professor Jacobs.
"To stay true to our roots, by 2049 we must also have enough endowed scholarships to enable all who have the talent, regardless of their background, to benefit from this amazing university."
To inspire and energise attendees about the potential of the next 70 years, guests were invited to interact with leading UNSW researchers who exhibited their potentially world-changing innovations. This included a virtual reality exploration of medical data, a mobile application to assess the true health of food items, practical new materials created by recycled e-waste, and next-generation space rovers built by visionary UNSW Engineering students.
Closing the evening, Jon Paparsenos, UNSW's Vice-President of Philanthropy, praised the community of alumni, partners and friends for their vital role in elevating the work of the University.
"The generosity and vision of our community – including all of you here tonight – underpins our work at UNSW by driving forward a philanthropic culture of giving and of giving back, of sharing our resources and expertise, and joining forces to ensure our work is comprehensive, efficient, and has the widest benefit," said Mr Paparsenos. 
"We are enormously grateful to all of our supporters who are helping us realise our vision, and we are immensely excited at the possibilities of the future, for there is no telling just how far we can go if we are travelling together. On behalf of all of us at UNSW past, present and future, thank you."
Watch the event highlight reel. To explore more memories from our archives, please visit our 70th anniversary webpage.
Comments