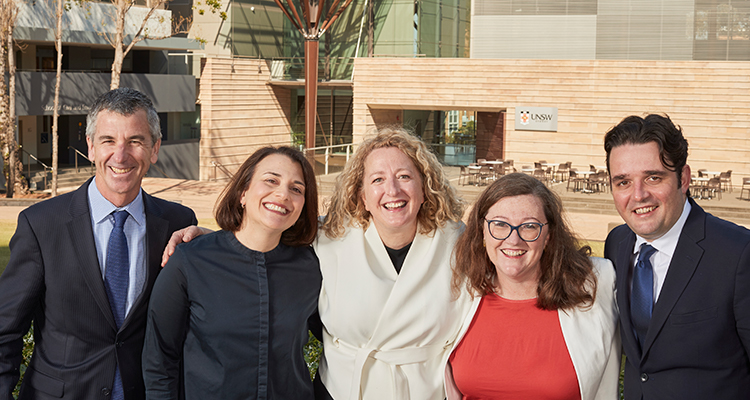 The External Relations Vice-President was listed in CMO50 2019 for UNSW's innovative marketing and record student numbers.
Fiona Docherty, Vice-President, External Relations, has been recognised in the annual CMO50, a list which recognises Australia's marketing leaders.
In its fifth year, the CMO50 list recognises and celebrates work reflecting modern marketing leadership innovation and effectiveness, traits Ms Docherty and the Division of External Relations (DEx) have demonstrated since the division's formation in 2017.
The University's international impact was a key pillar of Ms Docherty's nomination, and recognises that the UNSW community is amongst the best in the world in attracting international students. The work that the External Relations team has led in India was celebrated, including the establishment of its first India Centre, and the award-winning India Open Days. The nomination also acknowledged the leadership of UNSW's shared service transformation and the challenges this has brought to modernise the University's approach to communications and marketing.
Her dual role in UNSW's ambitious 2025 Strategy, as both Vice-President of DEx and a member of Management Board, underpinned her selection, citing it as "arguably the most ambitious transformation agenda of any university globally". The judging panel also acknowledged Ms Docherty's leadership provided to UNSW's new Institute for Global Development in the early startup phase before the appointment of the new Director.
"I am very proud to receive – on behalf of the entire DEx community – recognition that UNSW is one of the most innovative marketing organisations in Australia," Ms Docherty said.
"This acknowledgement is a culmination of the tireless efforts of our community and testament to the collaboration across the University with all of our divisions and faculties to enhance the global profile and reputation of UNSW."
You can read Ms Docherty's full CMO50 profile here.
The full CMO50 2019 list is available here.
Pictured: DEx leadership team (L-R): Darren Goodsir, Sofia Lloyd-Jones, Fiona Docherty, Kristy Oberg, Laurie Pearcey
Comments