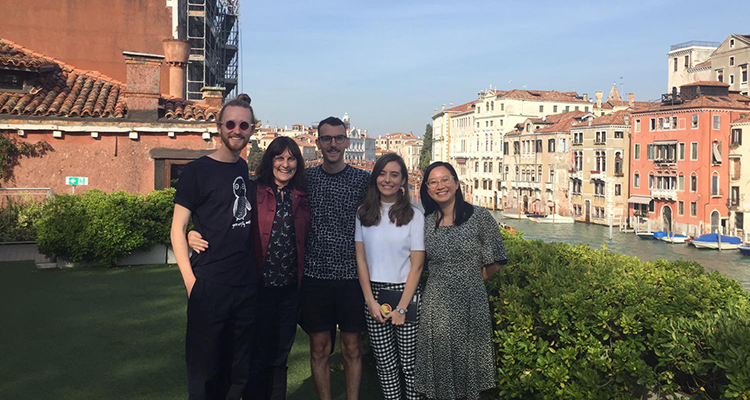 Staff and alumni attend Venice Biennale 2019 as part of the Australia Council's representation.
Drawing over half a million people every year, the Venice Biennale is one of the most significant international arts events on the calendar. This year, a number of UNSW Art & Design staff and alumna  will play pivotal roles in representing the Australian arts sector at the prestigious event in Italy.
Alumnus Blake Griffiths has been contributing to the broader Australia Council Venice program by participating in a tailored professional development program. The Programs Officer at the Broken Hill Regional Arts Gallery was accepted into the 2019 Emerging Arts Professionals Program (EAPs) and has since travelled to Venice to work on curating exhibitions leveraging his learning, outreach and engagement programs experience.
Mr Griffiths said: "The Venice Biennale provides a space to better understand creative practises on a global scale. We can experience firsthand how curatorial rationales vary through how artists structure their work. It's this that that makes the Venice Biennale strikingly unique.
"I am always on the lookout to understand the curatorial potential when working with collectives and communities and am extremely excited to be able to see this en masse at Venice," he added.
In addition to his role at the Biennale, Mr Griffiths has recently initiated a mentoring program - FRESHbark - which works with emerging Indigenous artists in far west NSW. He can be found in Montreal speaking at the Communicating the Arts forum on the FRESHbark program after his involvement in Venice.
Sessional Lecturer Jasmin Stephens has also been selected by The Australia Council for the Arts to mentor the EAPs at this year's famous art show.
"The dense mix of art and cultural workers from across the world offers an amazing opportunity to canvas a wide range of ideas, enjoy serendipitous encounters and immerse yourself within the artworks."
As an independent curator, Ms Stephens finds the experience of mentoring emerging art professionals rewarding and is excited by the long-term relationships that are formed through such programs.
"For the EAPs, the most valuable associations will be with each other and I anticipate that connections will continue following our time in Venice. It's an amazing opportunity to canvas a wide range of ideas, enjoy serendipitous encounters and take time to be with artworks."
Art & Design's Associate Professor Caleb Kelly also has a strong role to play within the 2019 show, having been directly commissioned by the Australia Council to develop the Venice Biennale catalogue essay, an opportunity which is viewed as a widely prestigious achievement.    
Mr Kelly's catalogue essay also supports the work of alumna Angelica Mesiti. Her exhibition 'ASSEMBLY' is a three-channel video series, which officially opened in the Australian pavilion in May. Complementing her piece, Mr Kelly's essay focuses on the role of music in Mesiti's multi-screen installation piece.
The Venice Biennale runs until 24 November 2019. Find out more about Angelica Mesiti's work and the Emerging Arts Professionals Program. 
Comments